Fact or Fiction
It is that time of year when gifts may come in small packages. Where demand for profit preempts all else and "shop early" takes on a whole new meaning. The 2011 holiday shopping season has by my estimation set an all time "pre" record. Relegating both Halloween and Thanksgiving to secondary status in the process. I can personally validate this stat from visits to both Home Depot (NYSE:HD) and Lowe's (NYSE:LOW) in mid October - pre - Halloween. Entire Holiday departments were open for business selling: trees (artificial), lights, ornaments, cards, gift wrapping, and hats that play "Jingle Bells."
As in years past, a possible near term buying opportunity for traders using a shorter time frame exists. By taking a look at the performance of retailers and their supply chains on a 5 year basis it can be concluded that "Black Friday" retail sales sets the tone for full year expectations. Since 2006 a "Black Friday" weighted portfolio has returned between 2.50% in 2010 to 37% in 2008.
Will this pattern repeat itself in 2011. Some of the set up is already in place as reports surface showing stronger consumer spending. The caveat as I see it is the actual chart patterns. While there is room to push higher the overall scenario does not bode well for a 2008 type 37% return. Nonetheless here are some prime candidates - I've updated the technical pictures as well.
The trade - the trading week following Black Friday (Thursday or Wednesday) is the time period when many retail sub sectors outperform the market. Keep an eye on initial sales reports which will likely start to be reported sometime over the weekend into early Monday morning. Due diligence is remains very important since the trade is very short term in nature and support and resistance levels provide entry and exit points that should not be overlooked.
Upscale Retailers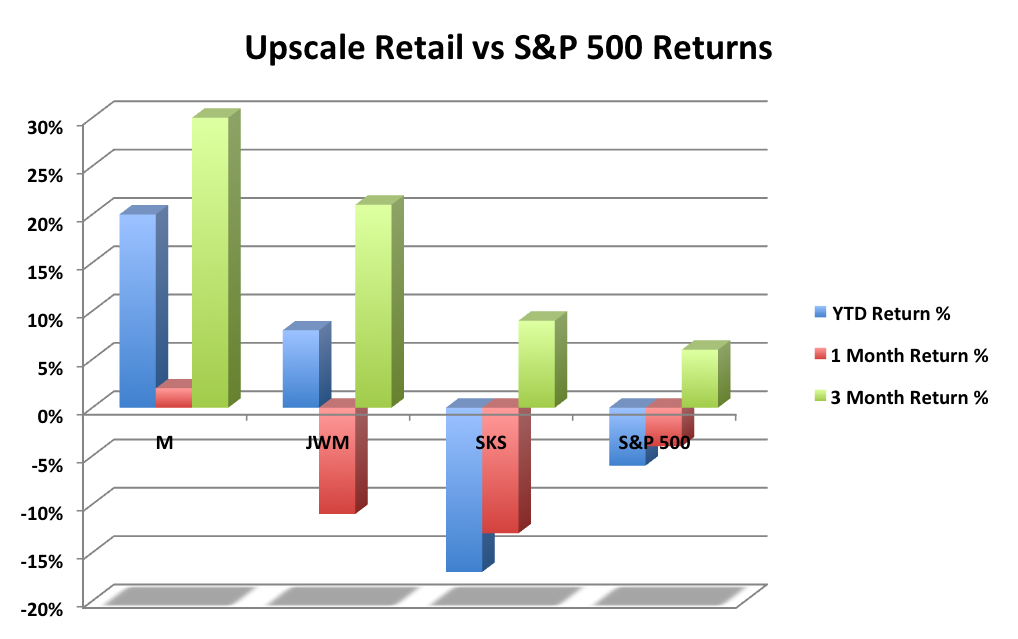 (Click to enlarge)
From the graph above it would appear that Macy's and Nordstrom have the best potential for a "Black Friday" trade.
Macy's (NYSE:M)
The near term picture:
A strong uptick in retail sales could set up a nice trade in M. Near term support at 28.70 needs to hold and contain selling. A break below 28.70 with follow through would negate the trade for now. Near term resistance would be expected at 31.20, and then 32.70 -- a break above raises exit points to those points respectively. The stochastic oscillator is heading for oversold readings and the RSI oscillator is sitting at neutral although pointing lower as well.
Target (NYSE:TGT)
The near term picture for Target does present a buying opportunity with tight downside parameters. Important support at the 50.80 level is the (IMHO) make or break point. Below that level (with follow through) would negate near term upside potential above resistance at 55. 65. Due diligence should include your risk/reward ratio, which would be tailored to your portfolio and risk levels. The risk/reward ratio (1:4) favors an upside move based on the support and resistance parameters given.
Wal-Mart (NYSE:WMT)
Ignore this titan at your own peril. WMT and its supply chain add an all important determinant to not only the near term trade, but also to the near to midterm economic outlook and mood.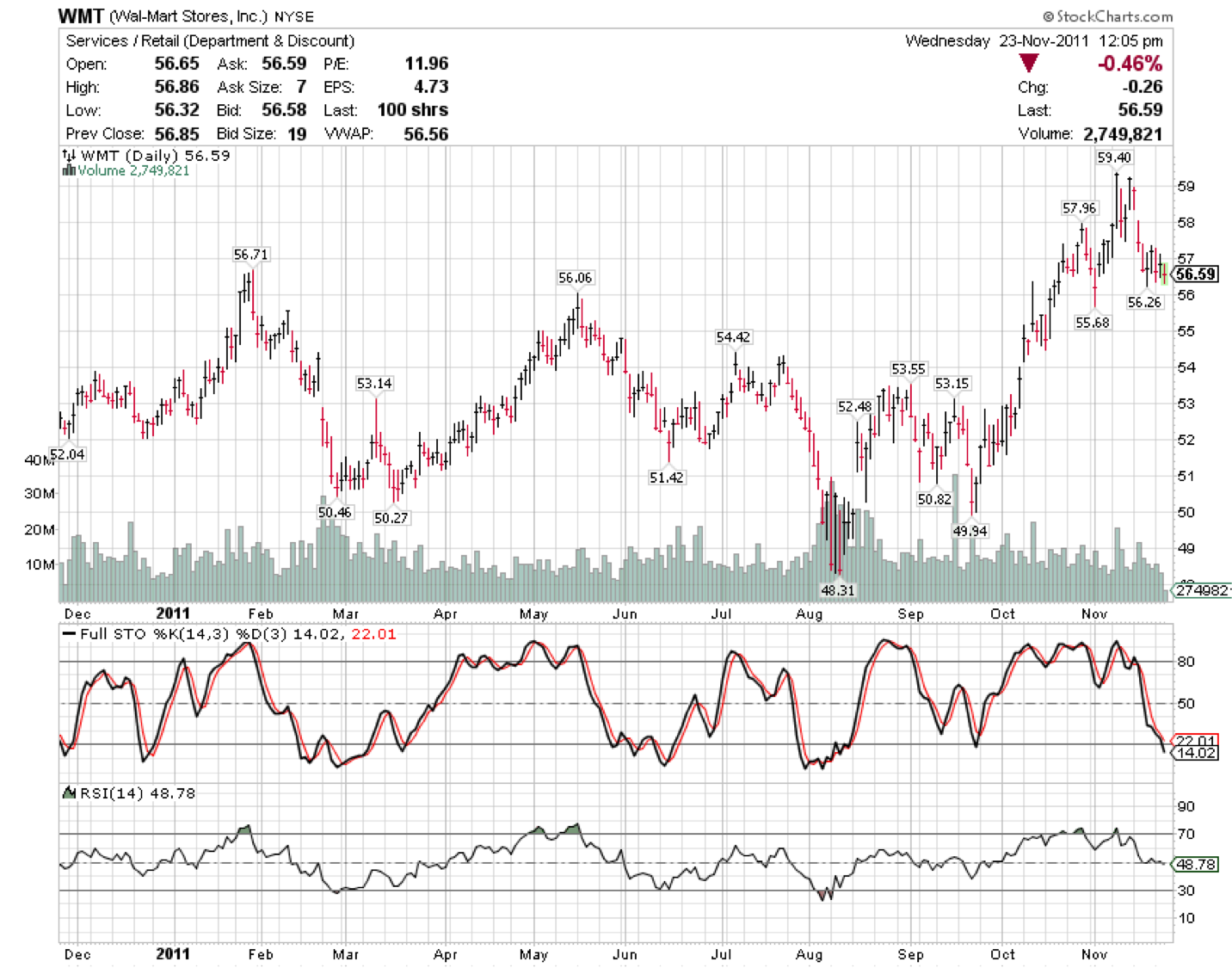 Wal-Mart "Black Friday" numbers will play a significant role in near term direction. A basic understanding of WMT's supply chain(s) is also critical in determining the depth of (if any) upside momentum generated by retail sales numbers. A strong increase should create enough momentum to carry WMT back above 59.40. The near-term support zone should be found at 55.80,54.67 with 53.55 being the near term make or break point. The resistance zone on a break above 59.40 begins at 61.04 up to 64.30.
Taking the risk of sounding like a broken record I want to reiterate to perform your own due diligence, checking the risk/reward ratio for a portfolio fit, using solid trade discipline by utilizing stops both to limit loss and also protect profits (trailing).
Snack Food Companies vs. ISE Revere WMT Supplier Index and S&P 500
CONCLUSION
Tis the season to be jolly - and just how jolly retail consumers get over the coming weekend will set the tone for the balance of the year's sales numbers. Studies have shown that in the past 5 years a portfolio of "Black Friday" stocks outperformed the S&P 500 and S&P Retail Index in 4 out of 5 years.
Much continues to contribute to the overall mood and trading tone and heading into year end insures to keep it interesting if not volatile. A very short term trade opportunity is coming up. While the overall economic picture would allow for a respite and rally within the retail sector the longer term picture continues to present a more bleak outlook. So if your focus is mid to long term skip this trade -- if though you like to jump on opportunities for a quick turn this trade might suite you well.
Disclosure: I have no positions in any stocks mentioned, but may initiate a long position in WMT, TGT, M over the next 72 hours.