It's getting worse by the day. And warning lights are increasingly flashing across the board.
Last Friday I posted an article on the FINS – France, Italy, the Netherlands and Spain – and the debt problems that are building among the four economies that make up 56% of the eurozone. I followed that post on Sunday with another article that listed 22 systemically important financial institutions that were worth watching as leading indicators that a financial crisis was about to unfold. Given the pace at which the situation is now deteriorating in Europe, it is worthwhile to take a close look across the dashboard to evaluate the latest warning signals as we head into the holiday weekend. Starting at the top, let's evaluate the FINS.
FINS Warning Light Check
France
France 10-Year Government Bond Yield
July 22: 3.41%
August 8: 3.15%
October 4: 2.56%
November 18: 3.48%
November 23: 3.70%
Flashing Red: A 22 basis point increase in 10-Year yields over the last three days indicates that stress is continuing to get worse. This is a critical development, for if the infection at the core of the eurozone continues to spread, all bets may soon be off.
Italy
Italian 10-Year Government Bond Yield
July 22: 5.41%
August 8: 5.29%
October 4: 5.49%
November 18: 6.64%
November 23: 6.98%
Flashing Red: The European Central Bank is fighting against the tide in trying to keep Italian 10-year bond yields below 7%. If yields begin to spike out of control beyond 7%, it could only be a matter of time before a full-blown crisis were to unfold.
Netherlands
Netherlands 10-Year Government Bond Yield
July 22: 3.17%
August 8: 2.69%
October 4: 2.13%
November 18: 2.51%
November 23: 2.61%
While a 10 basis point increase in Dutch 10-year bond yields is not perfect, it's not necessarily lighting up the warning board either. And with absolute yields still at low levels relative to its peers and before the latest phase of the crisis broke in July 2011, this does not present an area of concern at the moment.
Spain
Spain 10-Year Government Bond Yield
July 22: 5.77%
August 8: 5.16%
October 4: 5.10%
November 18: 6.38%
November 23: 6.67%
Flashing Red: Like Italy, the situation in Spain is teetering on the brink of full-blown crisis. 10-Year bond yields have jumped 29 basis points since last Friday and are trending sharply toward the critical 7% level. If the problems in Italy weren't enough, growing debt fires in Spain are only adding to the pressure.

Beyond the FINS, some additional notes bear mentioning:
Germany
Flashing Yellow: The relationship between U.S. 10-Year Treasuries and German 10-Year Bunds has suddenly diverged, as U.S. Treasury yields continue to move lower while German Bund yields have reversed and turned higher. Adding salt to the wound was an exceptionally poor German 10-Year Bund auction on Wednesday, which further fueled the idea that the crisis is increasingly infecting the very core of the Euro Zone. Further developments on this front must be watched closely in the coming days and weeks.
Belgium
Flashing Red: Belgium 10-Year Bond yields exploded above 5% to 5.46% on Wednesday as the complications associated with the Dexia bailout are increasingly bubbling to the surface.
In summary, the situation across European sovereigns looks much worse than it did just a few days ago. What about the banks that are directly impacted by these developments? Are any showing signs of going over a literal cliff in terms of their stock price?
Bank Warning Light Check
US Banks
Bank of America (NYSE:BAC)
Flashing Red: Although it remains above the catastrophically low levels from early 2009, Bank of America is now on the brink of breaking below the previous lows from early October at $5.13 per share. The next stop is a drop below $5, which is also not a good sign.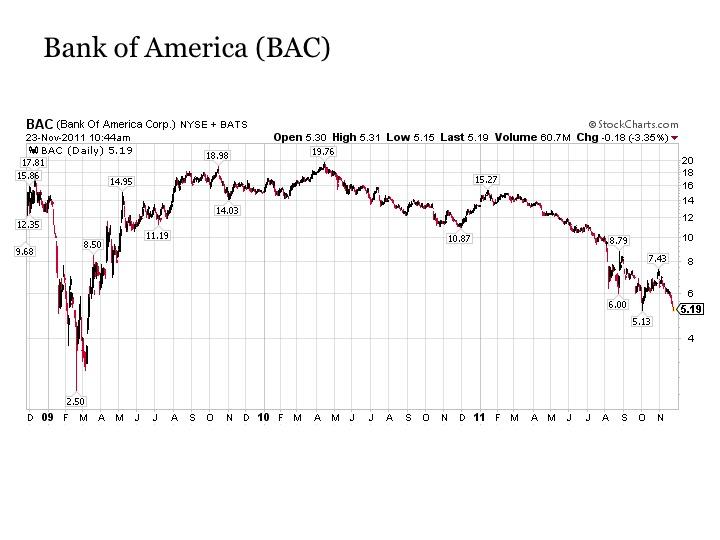 Citigroup (NYSE:C)
Flashing Yellow: A slightly better story, but still troubling in its own right with the stock price making a sharp move toward the early October lows at $21.40 per share. And viewing this through a different lense, when backing out the 1:10 reverse stock split carried out by Citigroup in May 2011, this translates to a pre-split stock price of $2.14 per share.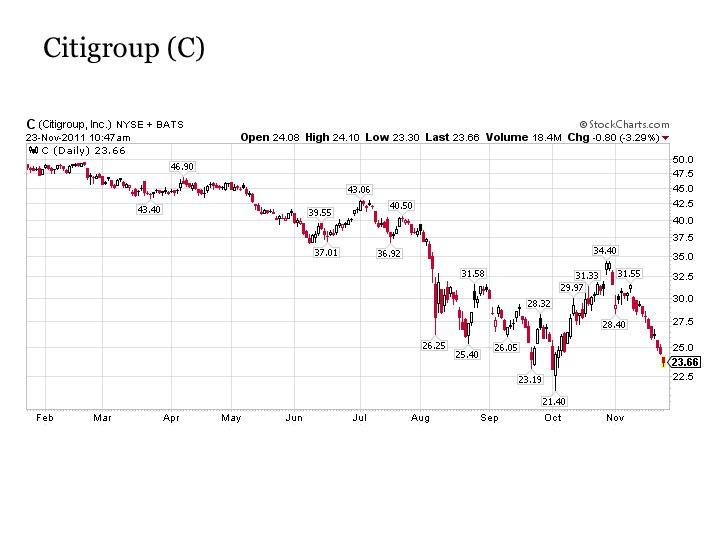 Goldman Sachs (NYSE:GS), Morgan Stanley (NYSE:MS), JP Morgan Chase (NYSE:JPM), Wells Fargo (NYSE:WFC)
Flashing Yellow: These remaining charts essentially speak for themselves. What they demonstrate is that today's problems are not bank-specific. Instead, the current crisis is plaguing the entire sector.
Deutsche Bank (NYSE:DB)
Flashing Yellow: While Deutsche Bank is trending lower, it's still trading well above its early September lows and is holding up better than its global peers.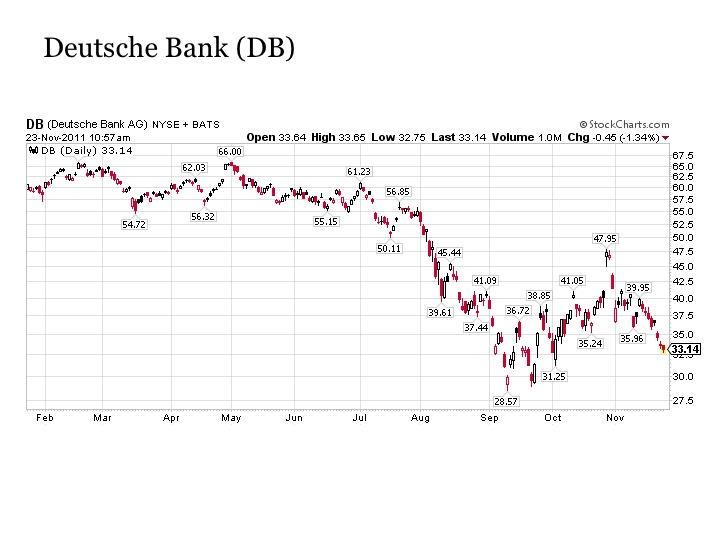 Commerzbank (CBK.DE)
Flashing Red
: The situation for Commerzbank is looking increasingly dire.
The bank had already broken through early 2009 lows some time ago.
And shares cratered to new all-time low on Wednesday on the news that it may need to build more core capital.
This is a very troubling development.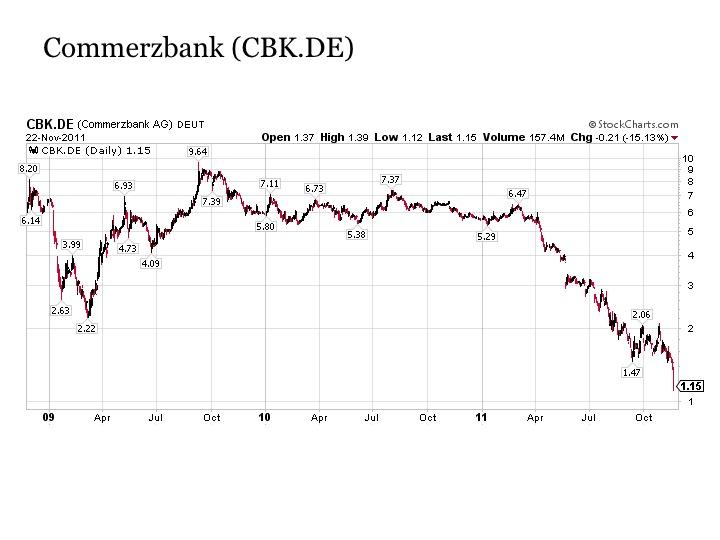 French Banks
BNP Paribas (BNP.EU), Credit Agricole (ACA.EU), Societe Generale (GLE.EU)
Flashing Red: The developing situation in France is not good. While BNP Paribas continues to trade above late September lows, the slope of the decline suggests it may not be long until this support may be broken. Fellow banks Credit Agricole and Societe Generale are already threatening these previous support levels, with Credit Agricole right at previous support and Societe Generale not far above it. And unlike BNP Paribas, both of these banks broke below early 2009 lows long ago.
Unicredit (UCG.MI), Intesa Sanpaolo (ISP.MI)
Flashing Yellow: Both Unicredit and Intesa Sanpaolo have actually shown some signs of relative stability versus its global banking peers. Of course, this latest development must be taken in context, as the shares of both banks have already sustained extreme damage to this point. Unicredit is clinging it support at its early 2009 lows, while Intesa Sanpaolo already broke through these levels a few months ago.
Dutch Banks
ING (NYSE:ING)
Flashing Yellow: ING continues to trade above its late September lows and is still well above its early 2009 bottom, the steep slope of the recent decline warrants a close watch moving forward.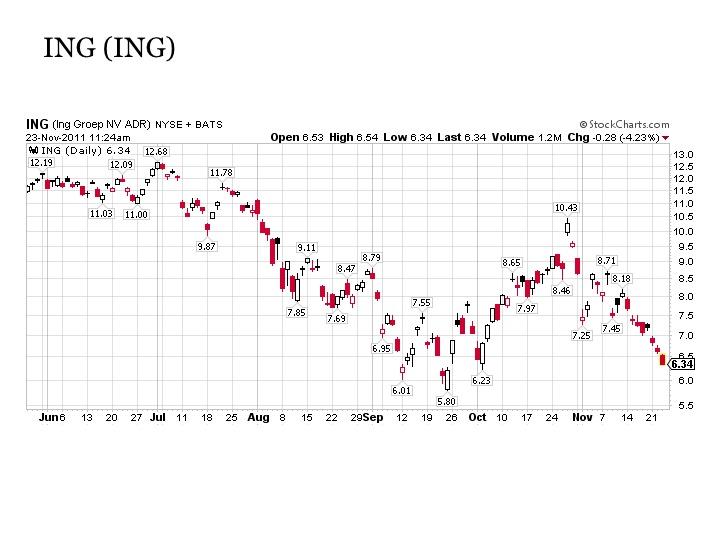 Spanish Banks
Banco Santander (STD), Banco Bilbao Vizcaya (NYSE:BBVA)
Flashing Red: While Banco Santander continues to trade well below early 2009 lows, it recently sliced below early September lows this week. The story isn't much better for BBVA. While it is still trading above early September lows, it continues to charge hard toward this support level. Both of these developments suggest that more trouble may be ahead.
UK Banks
HSBC (HBC), Barclays (NYSE:BCS)
Flashing Yellow: Of the four banks in the UK, these are the better two from the bunch. They both continue to trade above lows from mid September as well as early March 2009. However, the pace of the decline in the shares from both banks merits close attention going forward.
Royal Bank of Scotland (NYSE:RBS), Lloyds Group (NYSE:LYG)
Flashing Red: And these are the worse of the two. Both have been recipients of massive government support, but both institutions continue to show signs of extreme duress. Royal Bank of Scotland recent broke decisively below what had been strong support in the mid $6 range since the beginning of August. And the situation at Lloyds Group appears decisively worse, as shares have cascaded sharply lower in November to new all-time lows as the banks restructuring plans are under question following the announced leave of its CEO.
Swiss Banks
UBS (NYSE:UBS), Credit Suisse (NYSE:CS)
Flashing Red: Switzerland has long been mentioned as a safe harbor in a sea European instability. This status remains under fire as evidenced by the performance of its two major banks, as both have traded off sharply in recent weeks along with its global peers. While UBS continues to hold just barely above late September lows, Credit Suisse has cut below such support this week.
Bottom Line
Warning signals of an impending crisis both from European sovereigns and banks on both sides of the Atlantic are flashing across the board. This suggests that the stock market may have much further to go to the downside from here.
Looking ahead, this sets up for a potential a binary outcome for stocks in the days and weeks ahead. Either the global policy makers intervene further and more aggressively with policy support to stem the crisis, which would likely help either stem the tide of the decline or perhaps even reverse it and send stocks higher. Or European policy makers continue to equivocate and the crisis finally unwinds beyond their reach, which would be decidedly negative for stocks.
Overall, these potential outcomes are biased to the downside for stocks. As a result, investors would likely be best served to remain cautious in the current environment. This would include limiting stock exposures to only the highest quality names in the market. Examples include PepsiCo (NYSE:PEP) and HJ Heinz (HNZ). In addition, hedging stock exposures in an overall asset allocation would also be worthwhile. This would include positions in high quality fixed income such as U.S. Treasuries (IEF, TLT), OTC:TIPS and Agency MBS (NYSEARCA:MBB) as well as GLD and Non-Financial Preferred Stocks (XCJ), (NYSE:DRU), (NYSE:SCU), (NYSE:ELA), (NYSE:GUA).
Disclosure: I am long PEP, HNZ, TIP, MBB, GLD, XCJ, DRU, SCU, ELA.
Disclaimer: This post is for informational purposes only. There are risks involved with investing including loss of principal. Gerring Wealth Management (GWM) makes no explicit or implicit guarantee with respect to performance or the outcome of any investment or projections made by GWM. There is no guarantee that the goals of the strategies discussed by GWM will be met.