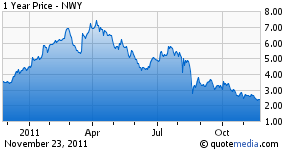 We have to chuckle when reading the New York & Company (NYSE:NWY) quarterly earnings press release. The company suggested the following when discussing the poor top-line performance:
"We believe our product continues to resonate with our customers as evidenced by our improved retail inventory turns."
Question … when did NWY's product 'resonate' with customers? 10 years ago? 15 years ago?
CEO Gregory Scott should be embarrassed to make a statement like that on his press release. The fact is that comp store sales declined -5.2% in Q3 2011 and merchandise margins declined -200 Bps versus LY in the quarter.
Given those metrics, to suggest the product "continues to resonate" is beyond the pale for a retailer that will likely report a -2% to -3% annual EBIT margin this year.
Disclosure: I have no positions in any stocks mentioned, and no plans to initiate any positions within the next 72 hours.