The healthcare sector sustained only minor spending cuts when the debt reduction 'super committee' failed to agree on what and how much should be cut – but the issue will be back on the chopping block in 2013. This means that while some view the healthcare sector as a strong defensive play with steady profit regardless of market cycle – slow national growth coupled with the need to cut debt could hurt this sector much like a cyclical.
Still, many investors see good value in healthcare and some are making judicious stock selections for portfolio diversity and a measure of stability in these volatile markets.
HealthCare Sector Strategy
I am a fan of portfolio re-balancing. Once a year, we will re-balance our portfolio where we keep the top 15 stocks as determined by our screening criteria (and after you perform due diligence of course). According to the scanning, this results is 5 stocks staying the same and 10 stocks being switched out for new ones.
How do we settle on which healthcare companies to add in our portfolio? Below are the filters and ranking methods:
Healthcare sector
Price greater than $1
Volume above 10,000 shares daily
Current fiscal year estimate equal or greater than 8 weeks ago
USA company
Top 15 stocks according to the Portfolio123 value ranking method (min score 80 out of 100)*
*Value ranking is determined by lower trailing and forward PE ratios, lower PEG ratios, lower price to sales and price to free cash flows, and lower price to book ratios.
It's a simple trading strategy that looks for value stocks, which can be a good defensive move, within a defensive sector.
Back-Testing the Strategy
Has this previously been a profitable strategy over the last 10.5 years? The chart below outlines the historical gain. (Compliments of Portfolio123 - click to enlarge)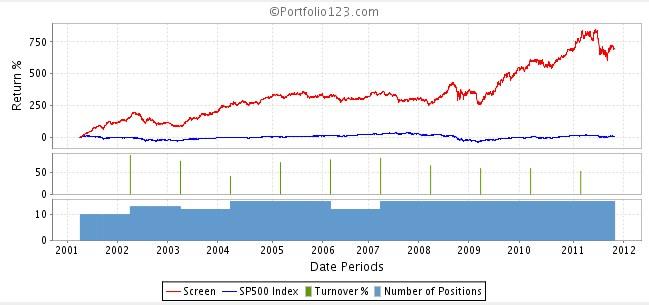 This translates into a compound annual growth rate of 21.27%.
A robustness check picks over 550 random entry points with 12-month holding periods to make sure we didn't simply 'cherry pick' the best results. It too gives an average annual gain of 21.19%, which is 18.12% higher than the market.
You should know that this strategy has traded with more volatility than the S&P 500 (NYSEARCA:SPY) over the past 2 years. In up markets it goes higher and in down markets it falls faster. Again, this might be suggesting that some of the 'defensiveness' of the healthcare sector could be waning - or it might simply be a 'reset' of valuations based on new changes to healthcare.
Current Healthcare Sector Picks
| | | | |
| --- | --- | --- | --- |
| Ticker | Name | MktCap | Industry |
| (NYSE:KND) | Kindred Healthcare, Inc. | 596.79 | Healthcare Facilities |
| (NYSE:CYH) | Community Health Systems | 1651.63 | Healthcare Facilities |
| (NASDAQ:LPNT) | LifePoint Hospitals, Inc. | 1774.97 | Healthcare Facilities |
| (NASDAQ:NUTR) | Nutraceutical Int'l Corp. | 129.12 | Biotechnology & Drugs |
| (NYSE:BSX) | Boston Scientific Corporation | 7866.79 | Medical Equipment & Supplies |
| (NYSE:SEM) | Select Medical Holdings Corporation | 1143.4 | Healthcare Facilities |
| (GB) | Greatbatch Inc. | 476.02 | Medical Equipment & Supplies |
| (NYSE:PBH) | Prestige Brands Holdings, Inc. | 444.82 | Biotechnology & Drugs |
| (NYSE:THC) | Tenet Healthcare Corporation | 2193.69 | Healthcare Facilities |
| (AVCA) | Advocat Inc. | 34.26 | Healthcare Facilities |
| (NYSEMKT:INFU) | InfuSystem Holdings, Inc. | 31.65 | Healthcare Facilities |
| (NYSE:CBM) | Cambrex Corporation | 186.07 | Biotechnology & Drugs |
| (AGP) | AMERIGROUP Corporation | 2586.03 | Healthcare Facilities |
| (NASDAQ:MGLN) | Magellan Health Services, Inc. | 1399.51 | Healthcare Facilities |
| (NYSE:SKH) | Skilled Healthcare Group, Inc. | 155.09 | Healthcare Facilities |
As you look these stocks over you will see that they are trading all over the place. Some have been trending up since August such as MGLN, LPNT, CBM, and SEM. Others have been sliding since the beginning of the year such as THC, SKH, NUTR, BSX, CYH, GB, INFU, and KND. You can follow the link to examine the charts more closely at FINVIZ.
Lastly, there are those who want to trade this strategy with shorter re-balancing periods. The trading fees and slippage costs will go up, but so will your gain. For instance, if you re-balanced monthly, the gross annualized gain is 35.65%. The robustness check verifies this with a 2.73% (vs. 0.20% of S&P 500) average monthly gain or 5.35% (vs. 3.33% of S&P 500) average monthly gain in up markets and -1.12% (vs. -4.39% of S&P 500) monthly loss in down markets.
If that seems too short-term for your liking, both the 2- and 3-month holding periods have generated strong historical results with an average 2-month gain of 5.04% and an average 3-month gain of 6.87%.
Cautious Investing is Warranted
Just because healthcare has typically been a defensive sector in years gone by does not mean you should turn a blind eye to the market and potential problems in the healthcare sector. It is recommended that you use short-term rebalancing while keeping your eyes on the news for some new and potentially large cutbacks that would weigh heavily on this sector.
Disclosure: I have no positions in any stocks mentioned, and no plans to initiate any positions within the next 72 hours.