The financial sector as a whole has been a total disaster this year, but there is opportunity amongst the rubble. The opportunity is in going short European banks and long American banks. The news from Europe will continue to dictate which direction the banks move, but American banks should outperform European banks under all circumstances.
Any real solution to the European banking crisis will likely result in the de-leveraging of European banks coupled with government bailouts, or worse, the failure of European banks. American banks would benefit greatly from a bailout, but European banks would probably be only modest beneficiaries. Any bailout for the banking system in Europe is likely to come at a high cost to equity holders in European banks. American banks would benefit greatly, because the market will no longer penalize American banks for having counter-party risks to European banks. The chart below shows JP Morgan (NYSE:JPM) vs.. Deutsche Bank (NYSE:DB) year to date.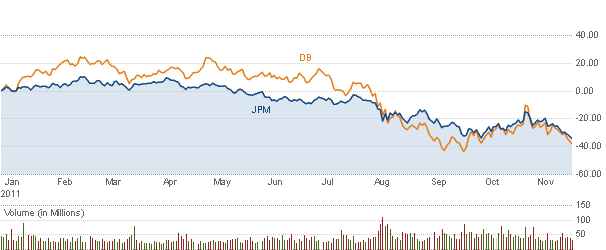 (Click to enlarge)
(CNBC)
Both stocks are down about the same amount in 2011, but JPM should be doing better than DB. The way to take advantage of this is to go long JPM and short DB. If things get worse, JPM will go down less than DB. If things get better, JPM will be a bigger long term beneficiary than DB.
There are countless other pair trades to be made (shorting European banks, buying U.S. banks) Another compelling case is to buy Bank Of America (NYSE:BAC) vs. Banco Santander. (STD) A year to date chart is shown below.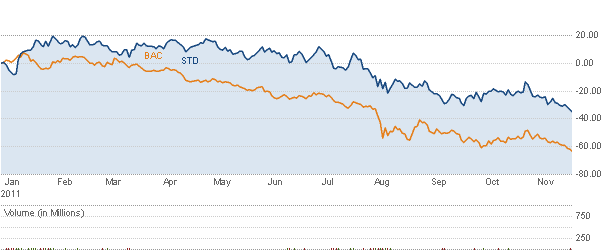 (Click to enlarge)
(CNBC)
Interesting, STD has outperformed BAC so far in 2011. Obviously BAC if facing some significant headwinds do to mortgage issues, but are they really in worse shape than a Spanish bank? I don't think so. Buy BAC and sell STD against it.
This pairs trade can be put on using various other U.S. and European banks. Key European banks to sell would be Royal Bank of Scotland (NYSE:RBS), Credit Suisse (NYSE:CS), UBS (NYSE:UBS), HSBC (HBC). U.S banks to buy would be Citigroup (NYSE:C), Goldman Sachs (NYSE:GS), Morgan Stanley (NYSE:MS), Wells Fargo (NYSE:WFC).
Disclosure: I have no positions in any stocks mentioned, and no plans to initiate any positions within the next 72 hours.