The response to my daily options trading strategy has been really overwhelming. I receive tons of e-mails and comments every day about it. I do my best to answer the questions as quickly as possible, because I understand that there is definitely a learning curve involved. Hopefully you are finding that the strategy works very well. You can read my two previous articles about the strategy here (most recent) and here (first in the series).
My strategy uses the following five indicators to take advantage of extreme oversold and overbought levels, allowing the trader to enter and exit a trade in a short time frame:
Bollinger Bands - I use the 12,2,2 as my parameters, i.e. (12) as the Simple Moving Average (NYSE:SMA) and Standard Deviation, (2) as the standard deviation of the top band, and (2) as the standard deviation of the bottom band. As a personal preference, I will not begin to even consider making a trade until I see the current price action move below the bottom band (calls) or above the top band (puts), but this is only one of the indicators needed out of five (5) total.
Relative Strength Index - I use a length of twelve (12). The RSI is an indicator that shows when a stock is at overbought and oversold levels. It has a range of 0-100. A reading on the RSI of 70 indicates overbought levels, while 30 is considered oversold. Some traders like to go even below the standard 30 level for a buy confirmation, but it is ultimately the trader's choice.
Intraday Momentum Index - The IMI is invaluable as far as I'm concerned for an options trader who gets in-and-out of positions quickly. The Intraday Momentum Index is similar to reading the Relative Strength Index, in that both of them have a range of 0-100. Again, 70 indicates overbought, while 30 is considered oversold. I also use the range of twelve (12) to correlate with the RSI. Again, it is the trader's preference as to what length works and what he or she likes to use. The Intraday Momentum Index is a very powerful technical indicator to use for any type of trader.
Money Flow Index - follows the IMI as the next indicator. The MFI is a momentum indicator that is used to determine the conviction in a current trend by analyzing the price and volume of a given security. The MFI is used as a measure of the strength of money going in and out of a security and can be used to predict a trend reversal. The MFI is range-bound between 0 and 100 (like the RSI and IMI) and is interpreted in a similar fashion as the RSI and IMI. The fundamental difference is that the MFI also accounts for volume, whereas the RSI only incorporates price. It is also different in the fact that instead of the number thirty (30) indicating oversold levels, the Money Flow Index uses twenty as oversold and eighty as Overbought.
Full Stochastic Oscillator (do not use only the Fast or Slow Stochastic) - Used by many Forex traders, I find the FSO tremendously helpful in my trades as another indicator that confirms what the previous four have already done. Combining all of these indicators together really validates when it is an opportune time to buy. The FSO is a combination of the Slow Stochastic and the Fast Stochastic and is more advanced and more flexible than the Fast and Slow Stochastic and can even be used to generate them. Readings above 80 act as an overbought signal while readings below 20 act an oversold signal. The parameters I prefer to use are (10,6,6) for daily trading.
One of the problems people seem to have with this strategy is jumping into a trade too quickly. A very important part of the strategy is knowing to avoid buying when it may appear like a good time to do so, but really isn't. I will show some of my streaming charts and point out common mistakes that can be made.
Since I wait until the markets have been open for at least one hour and will not trade during the last hour, we are dealing with about 4.5 hours of actual trading. That is plenty of time. There is no need to buy if the indicators and trend are telling you not to.
I really can't stress how important patience is when using this strategy. It's one thing if you are seeing a major oversold level at 10:30 EST and all indicators are in line. Under those circumstances, it is a good time to buy. However, if you are seeing the bottom or top Bollinger Bands barely touched, or the current price action line is hugging the band for a period (which I will go into more detail about later in the article), and all of the other indicators barely at oversold/overbought levels, why force a trade?
To keep everyone up-to-date with the stocks I am currently using with this strategy, they are the following:
Apple Inc. (NASDAQ:AAPL)
Google (NASDAQ:GOOG)
CF Industries (NYSE:CF)
Wynn Resorts (NASDAQ:WYNN)
F5 Networks (NASDAQ:FFIV)
Intuitive Surgical (NASDAQ:ISRG)
Chipotle Mexican Grill 9CMG)
International Business Machines (NYSE:IBM)- just added.
Baidu (NASDAQ:BIDU)
Sina Corp. (NASDAQ:SINA) has been removed from this list. The price per share has dipped too low for it to be utilized with the minimum sell order of $0.60 above what you paid for each option contract. In addition, the Chinese government is getting out of control with its regulations. Baidu (BIDU) may be removed soon if any more of these reports keep coming out. The last thing we need using this strategy is uncertainty. This is why I always stress that before you place a trade be sure to check the ticker symbol on such sites as Yahoo! Finance or CNBC for any news events that may affect the stock.
Whenever you see a stock sliding very quickly in a short amount of time, always find out to see why immediately. There is almost always a reason. SINA on Monday was a very good example of this. Even though the stock was down all day, at about 1:24 EST, the stock completely tumbled (along with most Chinese technology stocks). This was a good indicator to stay away from that stock, along with BIDU (Chinese tech stocks tend to move in tandem). You just don't want to be caught in a position holding call options with that much risk there, no matter how low the indicators are.
The example below of SINA on Monday from my streaming chart is an excellent example. Note the downward trend, while never breaking the bottom Bollinger Band. No matter what stock you have up on your chart, if you see a trend like this it should immediately raise a red flag that something is going on with the stock, most likely detrimental news.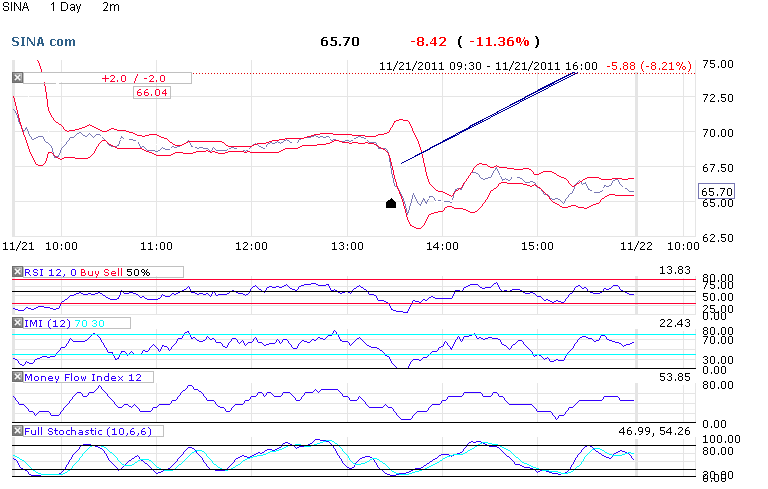 Click to enlarge
From the chart above, this is what I like to call "hugging the Bollinger Band." It's a bad trade to make, so avoid any and all situations like this anytime you see it.
To confirm this, we can also see the same situation with BIDU on Monday, as this chart shows: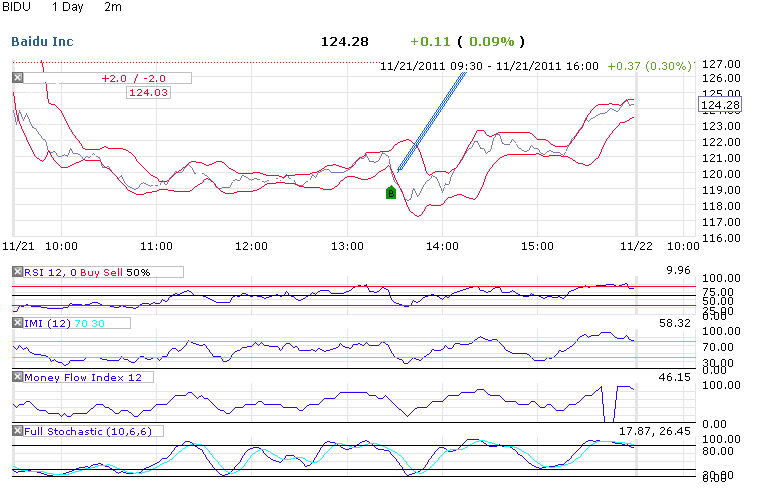 Click to enlarge
While BIDU recovered later in the day, this was a bad entry point from about 1:28 EST until 1:34 EST. You really want to see the lower Bollinger Band crossed on your chart, in addition to the other four indicators signaling a buy.
The truth is that while you may miss some opportunities, you will also avoid getting burned on a continuing downward spiral.
On Monday, there were actually few call buying opportunities. Some days you will see that (last Thursday this happened). FFIV had one that I definitely want to point out to you. It occurred at 1:58 EST. Here is the chart and I marked the spot where it was a good time to buy. At times, when you see this, other indicators can be slightly off by a couple of points. There is some leniency when appropriate. (Note: I am showing the Bollinger points only here, not the numbers of the other four indicators at that time.)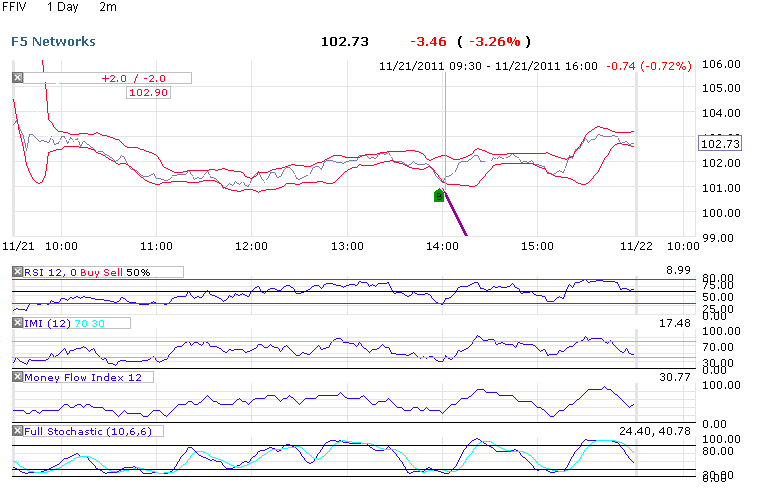 Click to enlarge
As you can see, FFIV was in a downward trend, but without really hitting the lower red band in a triangular formation that really confirms a low point. It was either just riding the band or "hugging the band" from 1:33 EST to about 1:57 EST.
Another question I have been asked is if they can set up automatic buys? I strongly advise not to do this. Automatic buys do not take into account any news related to the stock or market conditions. An automatic buy would have put you in a SINA call position earlier today. That should explain how I feel about them.
As I mentioned in the beginning of the article, it can be very challenging to wait until the best time to buy comes along. There are some days where you will see over 10 trades you can make a day. For others, there may be only one. On average, there is usually 3-5 really good buys a day. Patience will pay off, however.
I would also like to mention that it is not a very good idea to hold anything overnight. I receive e-mails telling me that they made a lot of money on the trade already and still want to hold the trade. From the minute you decide to hold that trade, you are no longer using this strategy. You are now a long call or put holder. This strategy has nothing to do with what happens the next trading day. You will be able to avoid holding overnight if you keep your trading times between 10:30-3:00 EST.
One of the things I like to ask myself before I make a trade is this: will there probably be another trade that comes along that will be much better than this trade? If I can answer that with a yes, I move on to something else. It may sound simple, but it can really save you from making mistakes.
I hope some of these examples helped show you what I look to avoid and what to buy in my daily trades. As always, if you have any questions or comments, I will try to respond to you as soon as possible. I also recommend reading the comment section from the first two articles, as I have answered many there.
Disclosure: I am always buying calls or puts on the stocks mentioned in the article, depending on opportunity. I also own long AAPL calls.