After receiving a Complete Response Letter (CRL) from the FDA on July 14th citing concerns about language used in the company's NDA, Transcept Pharmaceuticals finally received the regulator's highly coveted approval for its flagship product, Intermezzo, for the treatment of a specific type of insomnia where a patient has difficulty returning to sleep after waking in the middle of the night. Intermezzo is the first and only prescription sleep aid indicated for middle-of-the-night dosing. For a link to the drug's prescribing information and indications, click here.
The stock had fallen sharply and relatively quickly from its 52-week intraday high of $11.88 in late May to its not-so-recent 52-week low of $2.58 in August. It has since risen 160% from its lows to $6.69, where it was halted pending the announcement of the new drug approval.
TSPT 52 Week Chart
Click to enlarge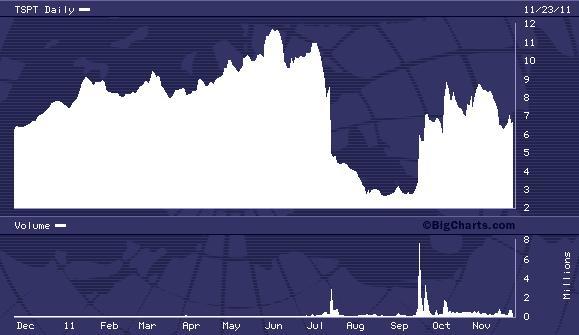 Click to enlarge
Insomnia is a multi-billion dollar market, and while there is some speculation as to how big the "difficulty returning to sleep" sub-market really is, Transcept's CEO Glenn Oclassen has asserted that "middle of the night waking" is the most commonly reported insomnia symptom. It should be noted that the highest sell-side analyst price target is over $20 a share, representing a potential 200% premium to current levels.
There are questions to be answered about how Transcept's relationship with Purdue Pharma will play out, whether it will choose to seek out any additional partners, if it will need to raise additional capital for the product launch and the development of future product candidates, or if the company will entertain any acquisition offers it may receive, among other items.
Under its original partnership agreement with Purdue, Transcept was slated to receive a payment of up to $30M for the FDA approval (it is now more likely to receive between $10M-$20M for the approval due to the aforementioned regulatory delay) and is eligible to receive up to an additional $90 million upon reaching future milestones related to achievement of intellectual property and U.S. net sales targets. Purdue is also set to pay double-digit royalties to the company ranging up to the mid 20% level on U.S. net sales of Intermezzo.
I'm thinking approval has mostly been baked-in to the current share price and given the relatively high short interest in the name, I anticipate the usual short-lived-one-drug-biotech-company-post-approval-pop, followed by a drawn out melt down to levels that are near or lower than the share price was at the time of approval. We shall see if this company shall suffer the fate of Somaxon (NASDAQ:SOMX) and it's flagship insomnia product, Silenor, which is currently down more than 90% from its post-approval high.
The company is currently in the middle of an upbeat and celebratory conference call as I write this. Needless to say, I will be watching TSPT very closely when trading resumes and may take a short position shortly thereafter.
Disclosure: I have no positions in any stocks mentioned, but may initiate a short position in TSPT over the next 72 hours.