By David Urani
There was a lot of data to go through on Wednesday morning, here's the recap:
Initial claims clocked in at 393k versus the 390k consensus estimate and above 388k from the previous week. That broke an encouraging three week string of declines that took us below the 400k mark, and was arguably one of the highlights of the economy over the past month. I'll still feel okay with anything below 400k for the moment though considering the current risks at hand, and the four week average did manage to continue a four week downtrend. Continuing claims rose by 68k, breaking a downtrend of its own, rising to 3.69 million from 3.62 million. Meanwhile, 7k people fell off of extended unemployment benefit programs.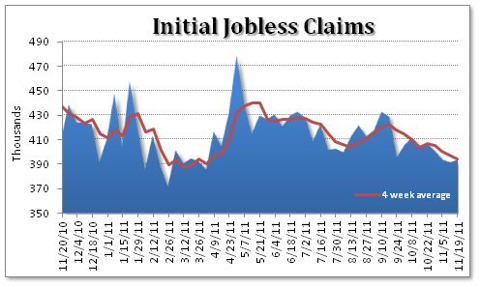 Click to enlarge
Durable Goods orders fell by 0.7% month to month in October, adding to the 1.5% decline in September but coming in slightly better than the expected 1% decline. On the positive side, new orders excluding transportation were up 0.7%. A decrease in commercial aircraft orders was largely to blame for the decrease in total orders, while auto did continue to rise (by 6.2%). The core gain in orders (minus transportation) reflected decent gains in metals and machinery. The low-light for the month was probably the 1.8% drop in capital goods spending (excluding aircraft), which was the largest decrease since January.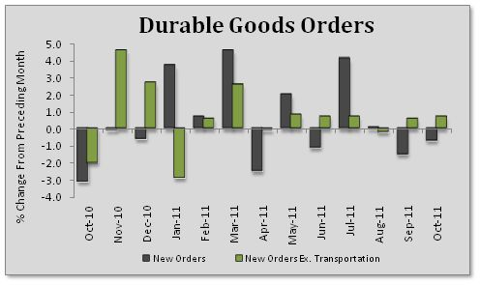 Click to enlarge
Personal income increased by 0.4% for October, just above the 0.3% consensus estimate, and faster than the 0.1% increase in September. We were glad to see this increase, which was the biggest since March, particularly after incomes had fallen slightly in August and were minimally higher in September. Personal spending was up 0.1%, below the 0.3% consensus estimate. Combined, those factors led to an increase in the overall savings rate to 3.5% from 3.3%. We had been somewhat alarmed previously by the savings rate, which had fallen from 4.1% in July to 3.3% in September. Often times a decrease in savings can be seen as a good thing as it can suggest consumers more freely spending cash, but in this case it seemed more like a red flag as the carnage in the global markets clamped down on incomes. The latest increase in the savings rate seems to suggest a resumption of income increases to make up for stalling in August and September, combined with some ongoing caution on the part of consumers.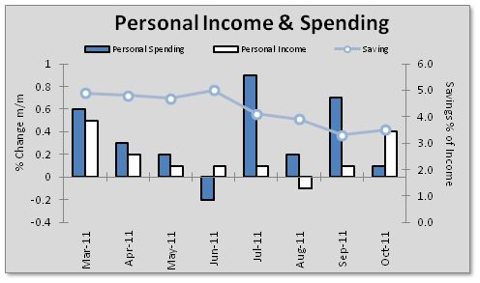 Click to enlarge
European industrial orders was a real disappointment, falling by 6.4% month to month in September. At this point, it's fairly old news, but at the same time it's quite alarming as it shows just how bad things have become recently. Perhaps the key item was Germany, the industrial powerhouse of the EU, falling by 4.4%. For many, Germany has continued to be seen as a pillar of strength in the eurozone, but this raises red flags that the whole of the eurozone is being dragged down. There was also an alarming 9.1% drop in Italy.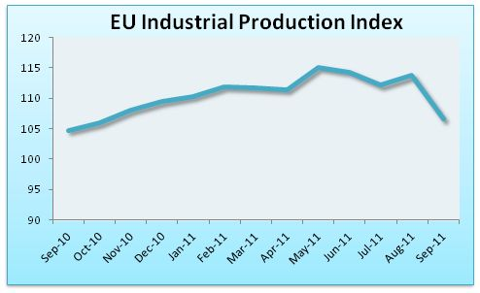 Click to enlarge
Finally, there was HSBC's Chinese manufacturing index which was a real let down that is likely to make those "hard landing" fears return. The index was 48.0 for November, down significantly from 51.1 in October. This is the lowest reading for the index in 32 months. That is a telling figure as to just how much the European malaise is hurting the global economy. One thing to note about China, however, is that inflation has been relatively subdued recently, and this is likely to keep it down further. That is important, because Chinese leadership has been hinting at removing some of the tightening controls it has put on the economy to prevent runaway inflation, and this will provide yet more of an argument for the government to stimulate.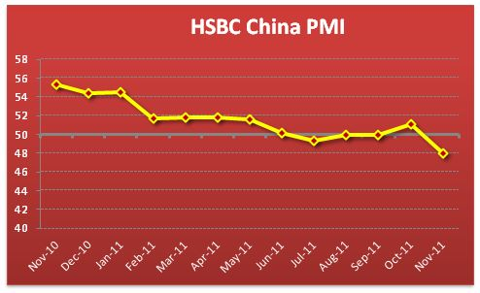 Click to enlarge