A preliminary purchasing managers index reveals that China, the world's second-largest economy, could be slowing down, weighing on exchange traded funds that track Chinese stocks.
The iShares FTSE/Xinhua China 25 Index Fund (NYSEARCA:FXI) was down 2.24% at last check Wednesday, and the SPDR S&P China ETF (NYSEARCA:GXC) was 2.1% lower.
The HSBC preliminary China PMI fell to 48 in November, a 32-month low, after posting a 51 reading in October, report William Kazer and Eliot Gao for The Wall Street Journal. Anything above 50 is considered expansionary while readings below 50 signal a contraction. [Silver ETFs Tarnished by Debt Worries, Stronger Dollar]
"The dipping headline manufacturing PMI implies that industrial production growth is likely to slow further," Hongbin Qu, HSBC chief economist for China, said.
Analysts believe that if the preliminary numbers are confirmed by Beijing, the Chinese government would be forced to take action, such as diminishing reserve deposits in banks or further cutting interest rates.
"China may cut its official reserve-requirement ratio as early as the end of November to relax liquidity conditions, as the latest HSBC preliminary China PMI reflected downside risks to the country's economy are increasing," ANZ economist Zhou Hao said in the article. "China needs a swift response to the downside risks as its exports are showing the effects of the deteriorating global economy."
"As inflation is likely to decelerate at a faster-than-expected pace, it will leave more room for Beijing to step up selective easing measures," Qu added.
The markets will be watching China closely as the country acts as a leading indicator for global economic health. ETF investors may want to keep an eye on China ETFs, like FXI, to get a sense of the country's direction.
"It's not a great number," Michael Turner, strategist at RBC Capital Markets, said in a separate WSJ report. "China is really a key part of the global-growth mix for next year… If China starts to show signs of weakness then you have to question where the growth is going to come from."
iShares FTSE/Xinhua China 25 Index Fund
click to enlarge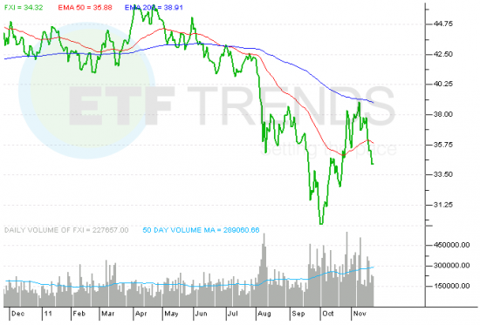 Max Chen contributed to this article.