Chimera Investments (NYSE:CIM) is one of those stocks that should appeal to dividend investors. At the current share price around $2.60, the stock yields a magnificent 19.50%. That is, of course, if it can continue to pay the dividends it has in recent times. This may be under question, however.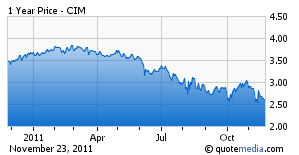 On Wednesday 16 November the company was downgraded to a sell from a hold by Wunderlich, which said that it believes the severity of losses on underlying loans has exceeded expectations. On Friday 18th November, it announced lower third quarter profit of $0.06 per share versus $0.13 for the same period last year as investment income collapsed, and interest payments increased. Chimera announced that it would pay a dividend of $0.13 for the third quarter, but this dividend will be under threat if the numbers get worse.
With cash of just $16 million available to it, and debts of $6.49 billion, the company has a debt to equity ratio of 188.77. Its trailing price to earnings ratio is 4.66, which is far below the sector average of 12.64, and below competitors such as Annaly (NYSE:NLY) at 11.87, Capstead Mortgage (NYSE:CMO) at 7.15, and MFA Financial (NYSE:MFA) at 7.20.
The company invests in residential backed mortgages and its investment portfolio is externally managed by Fixed Income Discount Advisory Company (FIDAC), a wholly owned subsidiary of NLY. With the economy weakening, and salaries under threat, investors are starting to shy away from mortgage backed securities. Yields look very attractive, but if defaults gather pace then income and profits would be under threat. This will filter through to the dividend and cause the share price to fall. What is given in one hand will more than be taken away in the other.
Before the latest results were announced, analysts were looking for a fall in earnings per share to around $0.50 for the fiscal year ending in December 2012. These estimates are sure to come under further scrutiny in the coming days as the company report is digested. Its results have come in under expectations in three of the last four quarters, and it is my guess that estimates will now be slashed further. There is only so much humiliation that an analyst can take.
The shares are trading below their 50-day exponential moving average of $3.29, and the 200-day exponential moving average of $3.71. These averages have been on a steady decline along with the share price since mid-March. The chart shows a slow-burning falling share, and iterates just how poorly shareholders have done over the last year when measured against the S&P 500 Index and its peer NLY.
A cynical investor might say that NLY's wholly owned subsidiary, FIDAC, has not performed particularly well for NLY's competitor. Perhaps action here would be a route to recoup some losses?
At this point in time, I see no redeeming features in the shares. If the dividend collapses, so too will the share price. There is no cash in the coffer to get expensive debt off the balance sheet. The weak economy will not offer any help. Potential investors should wait until there is more certainty about the future. In the meantime, don't hold your breath in hope for the dividend yield to remain in the high teens.
Disclosure: I have no positions in any stocks mentioned, and no plans to initiate any positions within the next 72 hours.