The talk on the Street is about parallels with 2008. The Aden Sisters, who publish the respected 'The Aden Forecast', wrote a piece in MarketWatch entitled 'Beginning to Look a Lot Like 2008'. They say "we're hearing more talk about a 2008 repeat and this is indeed a possibility. In fact, more signs are starting to point in that direction...".
Now that Steve Jobs has departed, a 2008-style crash is probably the biggest fear of the average Apple (NASDAQ:AAPL) investor. So it pays to take a look at Apple's technicals and assess the likelihood that this could occur. I thought it would be interesting to compare Apple's current stock chart with that of 2008, to see if there really are parallels that we can actually see in the price action.
What I found is disturbing.
Take a look at the first chart below, which covers the period from March – September 2008. I have circled most of the points of interest, which should be fairly self-explanatory:
click to enlarge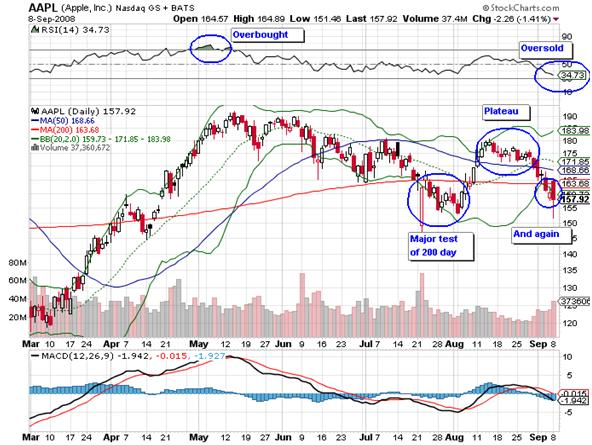 Now take a look at the next chart, which depicts Apple's current performance in the period June to November 2011. In order to ensure a like-for-like comparison, I have deliberately kept the periods under review constant (6 months). I have again circled points of interest, which this time correspond with those of the 2008 chart: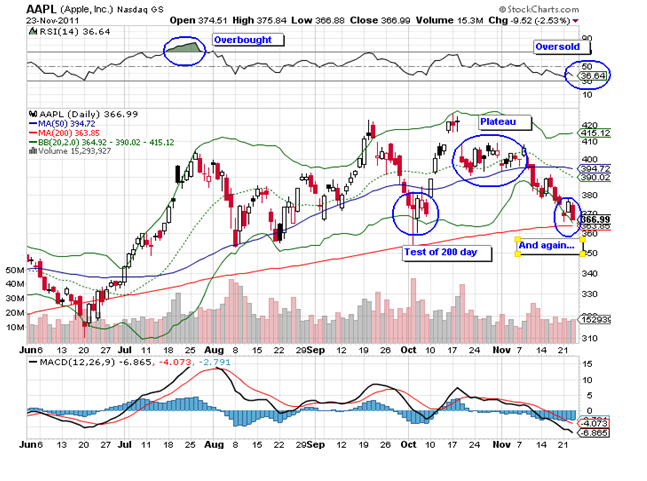 Notice just how similar the two charts are:
1. We begin with a major run-up in the stock starting in month one and ending in month two, which pushes the top of the B-band in identical fashion.
2. At the end of month two we have an overbought RSI indicator at around the 75 level, followed by a pullback which tests the bottom of the B-band.
3. We then have a period of consolidation where the stock trades within the B-bands in months 3-4, before majorly testing the 200 day SMA in month 5.
4. We then have a strong bounce from the 200 day, shooting straight from the bottom to the top of the B-band.
5. What follows is a month-long plateau where the stock trades broadly flat and the B-band narrows in anticipation of a breakout.
6. In month 6 we have a decisive breakout lower and a re-test of the 200 day, leading to an oversold RSI in the mid 30s.
When you look at just how many similarities there are in these charts, it's no wonder folks are nervous about where Apple's stock price is headed next. You will notice that in both charts the 200 day SMA acts as strong support. When this has corresponded with a breach of the lower B-band like we have just had, Apple often rallies hard.
But will it rally again this time? Let's take a look at what happened in 2008 by extending the chart by two months: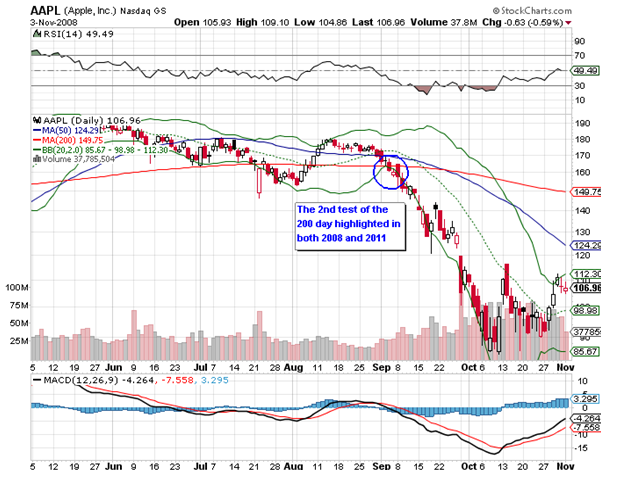 As you can see, things did not pan out well after the second test of the 200 day back in 2008. This was the start of the 2008 crash that saw Apple plummet by around 50% in only 6 weeks.
Now, before all the Apple bulls start flaming me, I am not saying we will definitely get a repeat of 2008 right now. And I am also not saying Apple will fall by 50% as it did in 2008. There is no way this will happen - Apple is a different animal now and the P/E is around 13.3 vs close to 50 back in 2008. Reasons for hope are that volume is rather lower than it was in 2008, coupled with the fact that we are approaching December – historically one of the best trading months for Apple. What I am saying, however, is that if we are going to get a repeat of the pattern, it probably isn't too far away.
Just as in 2008, we live in dangerous times. Many on the Street are predicting that the European sovereign debt crisis is going to come to a head in the next couple of months, possibly before the New Year. Yields like we have on Italian and Spanish debt cannot continue at current levels for much longer without either (a) a resolution of sorts or (b) a violent market reaction. An unexpected market shock - such as a downgrade of France's AAA rating or something out of left field - could well be the catalyst that sends us over the precipice.
Hopefully this will not happen and the crisis can be averted. However let's be clear – this is a critical pivot point for Apple, happening right now. The Euro crisis and current market weakness corresponds to a critical re-test of the 200 day. Either we bounce strongly from here and put in a decent end of year rally into quarterly results, or we could be in for a rough ride. The action in the next few days will likely suggest which of the two outcomes we can expect.
Disclosure: I am long AAPL.
Additional disclosure: I am short CRM from $136 as a partial hedge to my Apple position.