It is hard to find the courage to put new money into this market given the substantial possibility that Europe will accelerate into a worse contagion. One way to reduce market risk is to buy stocks with robust and growing dividend yields, strong technical support and rock bottom valuations. AstraZeneca qualifies on all three criteria.
AstraZeneca (NYSE:AZN) – "AstraZeneca PLC discovers, develops, and commercializes prescription medicines for cardiovascular, gastrointestinal, infection, neuroscience, oncology, and respiratory and inflammation diseases worldwide. Its products include Crestor for managing cholesterol levels; Seloken/Toprol-XL for hypertension, heart failure, and angina; Atacand for hypertension and heart failure; Nexium for acid reflux; and Synagis for the prevention of serious lower respiratory tract disease caused by respiratory syncytial virus in pediatric patients". (Business description from Yahoo Finance)
7 reasons AZN is a solid buy at $43:
1. AZN is selling at the very bottom of its five year valuation range based on P/S, P/E, P/B and P/CF.
2. AstraZeneca has a robust 6% yield which has increased significantly over the last five years. This yield should put a hard floor under stock at about these price levels.
3. AZN is selling at under six times its robust operating cash flow. In addition to increasing its dividend, it is using this cash flow to buy back stock.
4. AstraZeneca has long term technical support at just under $42 (See Chart, click to enlarge).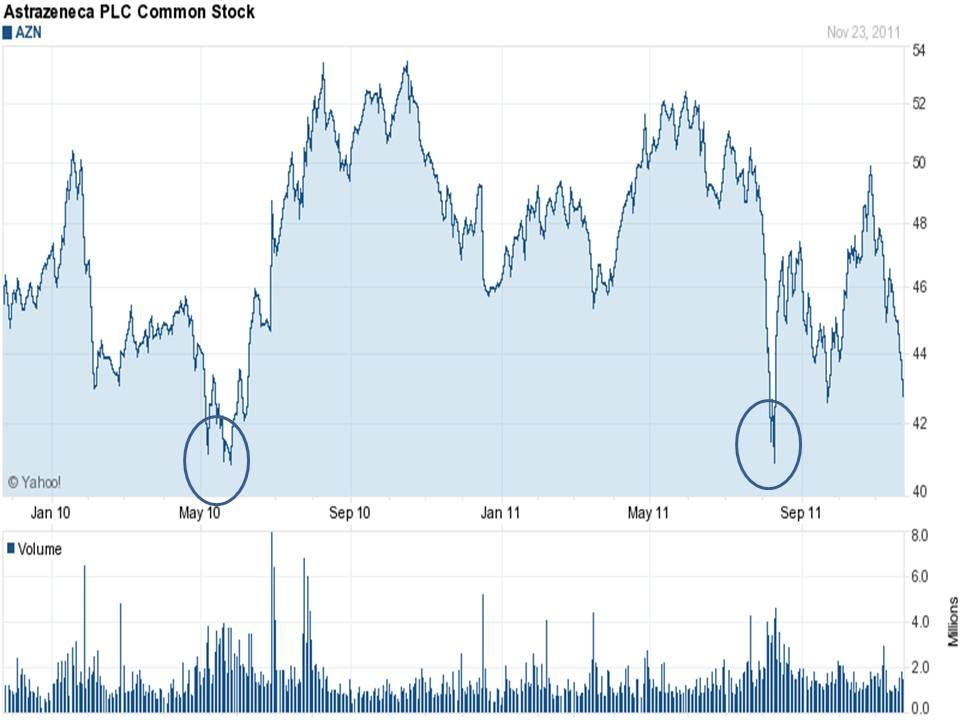 Click to enlarge
5. AZN has 8 drugs with over $1B in sales and has 88 projects in clinical trials.
6. AstraZeneca has an AA- rated balance sheet, a low beta (.58) and a forward PE of under 7.
7. The median analysts' price target on AZN is $52 which is the same price target that S&P has on AstraZeneca.
Disclosure: I have no positions in any stocks mentioned, but may initiate a long position in AZN over the next 72 hours.