At around $25 a share, Microsoft's (NASDAQ:MSFT) stock is a steal. Just like all great stocks, Microsoft has both outstanding current financial performance and a great future outlook. Microsoft is currently blessed with strong product lines from the Windows, Business, and Servers and Tools divisions. With a stockpile of cash from its recent successes, Microsoft has had the luxury to devote billions of dollars to research and development and is now on cusp of releasing some bold and innovative products and services. Once people realize this, Microsoft's stock will soon be as hot of a commodity as it was back in heyday of its meteoric stock rise in the 1990s.
Microsoft's Current Successes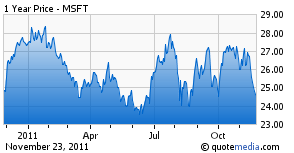 Currently, Microsoft's products are strong. Microsoft's Windows, Business, and Tools and Servers divisions are the strongest in their respective fields. Microsoft sells the most popular PC operating system (OS), Windows, which operates on 92.90%[i] of all personal computers around today. Currently, the Windows division is still reaping profits from the Windows 7 upgrade from 2009 and is preparing for the release of Windows 8 next year. In addition to leading the PC OS, Microsoft dominates the field of IT OS and Servers with a 74%[ii] market share. In addition to the Servers and Business OS it provides, the Microsoft office client places Microsoft amongst the most innovative business tech companies. The Microsoft Office client is known to all, as it is the overarching software package that includes the practical Word, Excel and PowerPoint applications. It is a must have for every business or student user which explains its 94%[iii] market share. These three divisions alone make Microsoft one of the most powerful and valuable companies today.
Microsoft's Stock is Priced at a Bargain
[iv] [v] [vi]
Measured by Microsoft's P/E, its stock is priced at a great value. The price to earnings ratio, or P/E, is a common stock valuation metric used to determine if a company is fairly valued. It is calculated by dividing share price by earnings per share, so the lower the P/E, the better the bargain. As seen above, Microsoft stock is priced at a discount compared to the average publicly traded company as well as its rivals. Microsoft is traded at such a discounted value because its negative image has scared investors away.
The Effect of Image Upon Microsoft
Recently, Microsoft's stock has faced limited growth due to the negative image that hinders the company. There is a current superficial misunderstanding of Microsoft not being perceived as innovative enough to stay around in the tech world. This image originates from negative press. Because Microsoft and Apple are two of the largest tech companies, they are often compared side by side. According to the press, there can only be one good guy. Since Apple creates more consumer related products and is more visible to consumers, the press continues to talk about how great Apple is. And because many consumers see more Apple products, it creates an echo chamber effect of positive press and feedback about the quality of Apple products. So since Apple is considered the trendsetter, the general belief is that Microsoft is the laggard.
However the image of Microsoft as a lumbering behemoth is incorrect. Although Microsoft's innovations have not always been as visible to most, Microsoft has and always will be an innovator. To the average consumer, Microsoft's innovations have mostly gone unseen because a lot of their products are solely for business users. However in the next several years, once Microsoft releases numerous consumer oriented, ground breaking products and services, consumers will have to reconsider their image of Microsoft. The products will not only be more powerful than their rivals' alternatives but they will exceed most people's expectations as to what a Microsoft product can do for them. Just as Apple (NASDAQ:AAPL) did with the MP3 industry, Microsoft will redefine TV, search, and mobile.
The Future of Television
First, Microsoft aims to recreate the TV experience with the upcoming additions to its Xbox video game device. Microsoft plans to use the Xbox as the gateway to the TV and employ it as the TV's entertainment hub. This hub will provide simpler navigation features as well as an immersive media library to each consumer. To make the TV experience enjoyable, Microsoft has been streamlining the TV navigation process by adding features such as Bing Voice search and Kinect Gestures to create simpler navigation and rid consumers of the dreaded remote.
Microsoft also has added TV services such as Comcast (NASDAQ:CMCSA), Verizon (NYSE:VZ), and Time Warner Cable (TWC) and on-demand services such as Netflix (NASDAQ:NFLX) and HBO to the Xbox entertainment offering in an effort to provide the best media experience for the consumer. These additions are expected to make Xbox the lead Smart TV product because Microsoft can implement the same features as Smart TV's created by Google (NASDAQ:GOOG) or Apple at the lower cost of an Xbox. Therefore, it is likely the Xbox will become the next must have living room accessory for all consumers.
The Future of Search
With Bing, Microsoft will redefine Internet search. In the span of only a few years, Bing has increased its search market share from 2% to 30%[vii]. However in order to expand more, Microsoft must take users away from Google. Since "Googling" is a habitual routine for most consumers, to gain market share of the search industry, Bing must recreate the standard of search. Currently, "Microsoft is trying to beat Google at this different game", says Esther Dyson, a tech analyst. Qi Lu, president of Microsoft's Online Services division believes "to break through, we have to change the game." Lu is in the process of turning Bing into a "decision engine."
To do this, Bing would "present users with context and structure, more a map of the world of information instead of just ranking it, especially in specific subject areas like travel and health."[viii] In other words, Bing is attempting to create an engine that would gather data for users on the search page rather than gather webpages that may or may not be relevant. These features would expand the field of search and help consumers make informed decisions. Once the features are implemented, Bing will become the superior search product so users will soon begin to flock to Bing.
The Future of Mobile
The Windows Phone Mango is the phone OS of the future. Engadget believes that "with Mango, WP7 has caught up with Android and iOS in nearly every way, and in some areas it's even surpassed the other two in functionality."[ix] What distinguishes Mango from its competitors is its functionality and connection to the real world. Bing Vision and Audio helps users identify and interact with visuals and sounds through a WP7 phone. Bing Vision can detect, identify, and search text, visual images, and barcodes captured by the camera on the handset.
Bing Audio is the WP7 alternative to Shazam, which allows users to identify a song playing in the background. Lastly, Bing Local Scout is like a pocket sized, worldwide Zagat review book. It identifies a user's location and recommends attractions nearby based upon recommendations. Local Scout provides information for each local attraction such as location, pricing, and reviews at the users fingertips. These features help turn the cell phone into a useful tool for navigating through the real world rather than a cyber world distraction. By 2015 analysts from the IDC stock firm expect Microsoft will expand their market share from 3.8% to 20.3%[x], which would make Microsoft a lead phone developer.
Wrap Up
Since Microsoft's current divisions were built to last they will continue to generate profits for years. So once its future products are unveiled and excel, Microsoft's revenue streams will be off the charts. Just as Microsoft took control of the Personal Computer, Business OS, and Work Clients sectors, by using its vast recourses, Microsoft will soon control the Online Search, Cell Phone and Media markets.
Now that Microsoft has once again begun to innovate in a way that will be more visible to the public, Microsoft will be considered a reborn, cutting edge company. With all this consumer tech innovation, it would not be surprising to see Microsoft's stock skyrocket over the next five to ten years in much the same way Apple's has recently.
Sources:
[i] seekingalpha.com/article/293630-why-micr...
[ii] www.zdnet.com/blog/microsoft/behind-the-...
[iii]www.dailytech.com/Office+2010+to+Launch+...
[iv] seekingalpha.com/article/293630-why-micr...
[v] ycharts.com/companies/GOOG/pe_ratio
[vi] ycharts.com/companies/AAPL/pe_ratio
[vii] techcrunch.com/2011/09/22/as-bing-bleeds.../
[viii] www.nytimes.com/2011/07/31/technology/wi...
[ix] http://www.engadget.com/2011/09/27/windows-phone-7-5-mango-review/
[x] gigaom.com/mobile/idc-thinks-wp7-will-so.../
Disclosure: I am long MSFT.