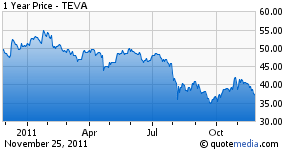 By Mark Bern, CPA CFA
Teva Pharmaceuticals (NASDAQ:TEVA) is one of the largest manufacturers and marketers of generic drugs in the world, and has a proprietary drug development, manufacturing and marketing effort with a global reach as well. While the dividend is lower than other companies in the drug sector, there is a good reason that it should provide investors greater return over the long-term.
The mature companies in the drug sector like Merck (NYSE:MRK) and Pfizer (NYSE:PFE), while still promising some growth and a higher dividend, are growing revenues and earnings at a much slower pace than previously, if at all in some years. Thus the return of cash to shareholders in the form of dividends makes sense. When capital can no longer produce a better return on capital from investing into the business it just makes sense to return that capital to shareholders rather than waste the capital on unproductive assets. This is not the case with Teva.
Teva needs that capital to expand its capacity in order to meet future demands for its products. As major drugs come off patent Teva is possibly the best positioned company in the sector to take advantage of the opportunities for transitioning to generic sales. Billions of dollars in revenue for drugs at the leading drug companies will come off patent in 2012 and 2013. As the cliff approaches for Pfizer, Merck and other major drug companies that are focused primarily on proprietary drug formulation and marketing, Teva is waiting patiently at the bottom of the cliff with a big basket, ready to catch the falling opportunities and turn them into sales and profit.
That does not mean that Teva is completely immune to the dilemmas facing other drug companies. Its own highly successful multiple sclerosis drug, Copaxone, is beginning to face more competition, especially from Novartis (NYSE:NVS), and will eventually be met with sales erosion by generic offerings that will someday enter the market. But Teva has a significant number of new products, both generic and proprietary, under development, swelling its pipeline and threatening to overwhelm its current manufacturing capacity. And thus is the need to use capital for internal growth and expansion.
The closing price for Teva on Wednesday, November 23, 2011 was $37.50 a share. The consensus 12-month target price is $54.54 and the range of estimates is from $43 to $65. It is not often that I find a stock that is trading below the lowest predicted 12-month target by so much. By that metric, the worst case would be a gain of 14.7% while collecting a dividend of 1.8% that is likely to rise again in the future.
The company raised its dividend in every year since it began paying dividends 12 years ago until 2011. Beware that the company may not raise its dividend in 2012 due to its need for capital investment. The company has a prudent management that eschews debt. The company has only about $4 billion in long-term debt while shareholder equity is over $20 billion and climbing. The payout ratio is a very conservative 18%, but that is because the company is still growing relatively fast.
Looking five years out from now I expect the share price to be near $80. When growth subsides down the road, I suspect that the dividend and payout ratio will both expand, providing further share price support far into the future. I do not own Teva, but I'm considering a purchase in the near future. As always I will sell a put option below the current price in hopes of getting an even better cost basis.
Disclosure: I have no positions in any stocks mentioned, and no plans to initiate any positions within the next 72 hours.