One of poorest performing stocks in the Dow Jones Industrial Average this year has been Alcoa (NYSE:AA). It is down some 50% since its highs in the second quarter of this year. However, the stock appears to be bottoming and could be a good pickup for long term and intrepid investors.
8 reasons Alcoa is a good value at $9:
1. Over the last two years, Alcoa has tended to bottom in the $8.75 to $10 range (See Chart)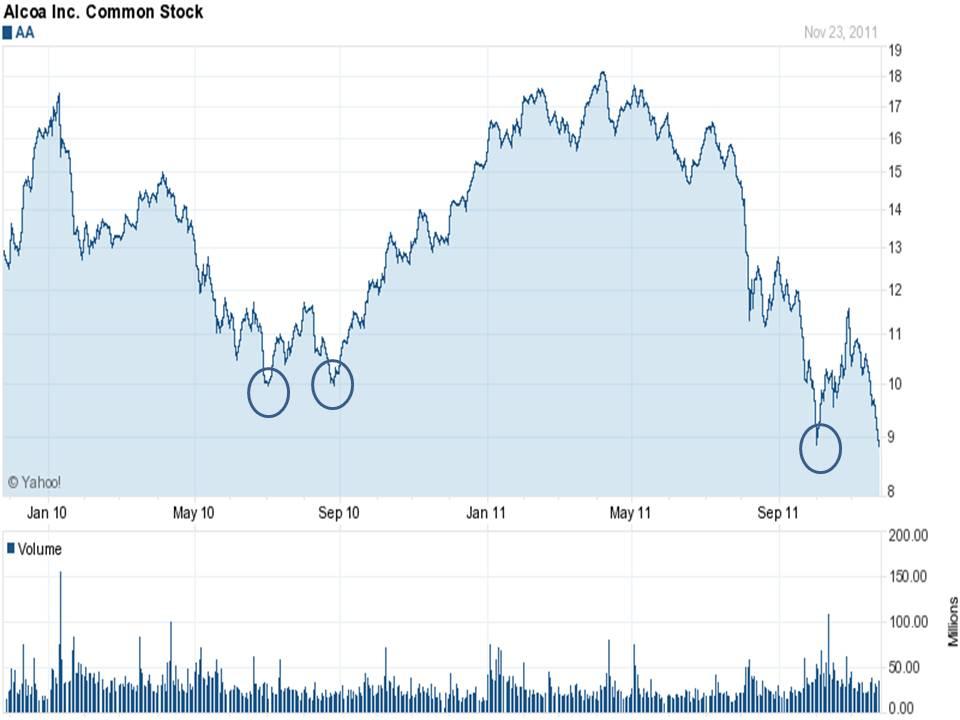 Click to enlarge
(Click to enlarge)
2. AA is poised to post rapidly increasing earnings. It earned 54 cents in FY2010, is projected to earn 84 cents this year and $1.02 in FY2012.
3. Several insiders have purchased new shares over the previous three months.
4. Its forward PE is under 9 which is an over 40% discount to its five year average.
5. Long term Alcoa appears to be dirt cheap based on historical earnings power. AA is selling for 3 times its 2007 EPS and four times its 2006 EPS.
6. Alcoa is selling near the bottom of its five year valuation range based on P/E, P/S, P/B and P/CF.
7. Alcoa is gradually moving production to lower cost plants and should benefit eventually from the secular trend of increasing demand in the emerging markets.
8. AA is selling under analysts' price targets. S&P has a $13 price target on AA which is also the median analyst' price target on this equity.
Disclosure: I have no positions in any stocks mentioned, but may initiate a long position in AA over the next 72 hours.