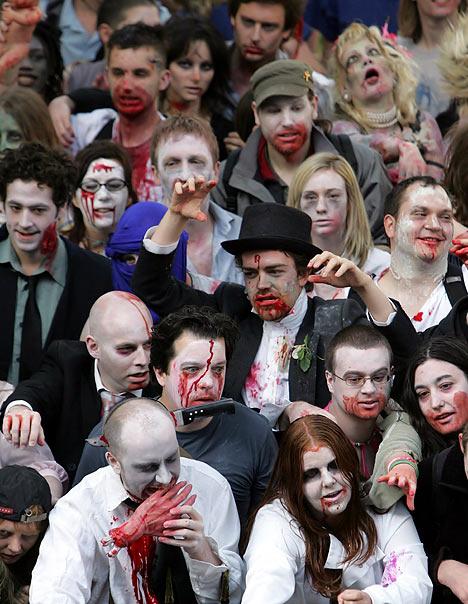 Yahoo (NASDAQ:YHOO) used to be a stock that I loved to trade. To be more specific, it was a stock I loved to short. Thanks to the great direction of Jerry Yang and Carol Bartz, the company has been able to fall behind competitors and fail miserably in almost all of its projects. In fact, the one thing that been working well for Yahoo was its Asian investments in companies such as Yahoo Japan and Alibaba (OTC:ALBCF) which have both been run independently. Even in those cases, yahoo managed to screw up big time. It even made me wonder if it was time to buy Yahoo.
At its peak, Yahoo not only had the best brand on the internet, but also products such as Yahoo Mail and Yahoo Finance that were better than anything else on the web. A few years later, those products have fallen behind, the company's direction is unclear and while there are a few success stories (Flickr would be one), the lack in other key areas (mobile, apps and social being the three key areas) overshadows everything else.
What Is Yahoo Doing To Turn Things Around?
A company that has performed so badly must be very desperate and acting very quickly right? You would certainly think so. But it's not the case. In fact, the company has not yet replaced CEO Carol Bartz, who was let go in September. Firing her was the right move although it should have been done a long time ago. Not replacing her though is certainly not helping things. In the fast changing tech sector, not having anyone truly leading the company is surely making all of Yahoo's assets just a little less valuable every day.
It is well recognized at this point that Yahoo's board is incompetent. That board has hired bankers to help determine the next few actions. There are many possibilities but those usually involve either:
Selling Assets such as its Asian assets
Simply hiring a new CEO to turn things around
Selling the company outright
Going Private (this would likely involve one or several private equity groups)
Yahoo's Stock Is Now A Walking Zombie
To me, Yahoo's stock is not tradable these days. Why? A large portion of Yahoo's assets is tied to its Asian operations, which are in limbo but trying to remain solid despite the economic context. The other part of Yahoo, its "base," continues to become less relevant every day, thanks to its bad leadership, direction and very stiff competition in Silicon Valley from the likes of Google (NASDAQ:GOOG), Facebook, Apple (NASDAQ:AAPL) and Amazon (NASDAQ:AMZN). The fact is that the stock is not moving. Just take a look at its chart: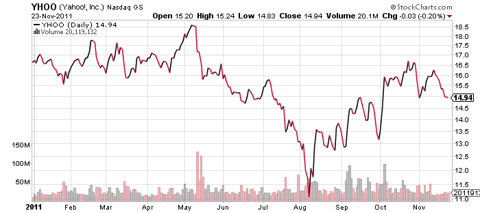 Yes, there are movements, but those are not so much related to the company products or even the markets. Rather, most movements are related to M&A activity rumors. It is not so much about trying to determine if Yahoo can get decent growth in its advertising sales but rather about trying to figure what type of deal Yahoo will be able to get and with who. Yahoo thus becomes one of two things: A gamble on what the new Yahoo will look like, or a way to gamble on insider information that some individuals/firms have. I'm not interested in either of them, so for now, unfortunately, I will remain on the sidelines.
Disclaimer: No position on YHOO.