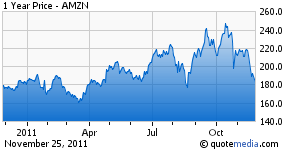 I was reading the website GigaOm that Amazon Inc. (NASDAQ:AMZN) is having some trouble with the book lending business. I also had the opportunity to play with the Kindle Fire at dinner last night (heavy device, that did not appear intuitive to control, at all, as a contrast to the iPad). Both made me think about one of the most difficult stocks to value in the market today. So, right around the biggest shopping day of the year, I am going to take a stab at trying to apply an appropriate and conservative valuation for AMZN common stock.
AMZN is, by all accounts, a fabulous company from an operational perspective. Order anything (to which, they pretty much sell everything through its network of sellers), and the company will get it to you, quickly. For example, I typed in Chicken Feed as a search, and, yes, I can get Chicken Feed on AMZN (and no, I can't answer why chicken feed came to mind). The company is famous for its warehouse and fulfillment process, and serves as the B2B solution for small (and medium) companies looking to sell stuff on the Internet without the fulfillment. Jeff Bezos, the visionary founder, is still running the company (I like it when founders are in charge). The website is intuitive, and, to the company's credit, AMZN has gone further with content distribution through the Kindle suite of products and customer loyalty through Amazon Prime. The company is in solid shape fundamentally, with a track record of strong free cash flow and no debt on the balance sheet.
However, the company sells a lot of DVDs and books (hard copies), which is a melting ice cube as portable media for both movies and books (the iPad) and streaming content (movies on demand) will take share away from traditional platforms. Further, the market continues to price in massive top-line growth ($34.2 billion realized in 2010, $48.8 billion forecast for 2011, $65.1 billion for 2012, $83.6 billion in 2013, $109.3 billion in 2014 and $135.2 billion in 2015), which is the primary support for the current 89.0x 2012 P/E ratio (against 2015, AMZN is trading at 21.9x 2015 estimates, so bulls look at the growth potential to justify the current valuation exorbitant valuation, under the premise that AMZN will grow into the current multiple over time).
Sales tax across all states (which is not the case for AMZN), combined with shipping costs, may also impact the business over time, should the economics of going to the bricks and mortar store ever flat line (this is not my biggest concern, but it is out there). The bottom line, though, is that the market has imputed tremendous growth into the company's top-line, outlining a thesis that AMZN will be able to find ways to continue to sell more and more "stuff" with a world shifting away from bricks and mortar (pretty quickly).
So how do you value this business? Assuming that AMZN is going 3x revenues between year-end 2010 and year-end 2015, as the market is implying, feels ambitious, especially considering we are talking about over $100 billion in incremental revenue. That is a lot more throughput through AMZN (32% topline, to be precise) in a world where demand for "stuff" isn't gangbusters thanks to a slower growth economic picture going forward.
Further, as Apple (NASDAQ:AAPL) continues to take share (and Apple is taking share) in music, movies and books, there will be some topline erosion that needs to be made up (which is very possible, as again, AMZN sells just about everything, and not just books, movies and music). Let's assume, for arguments sake, that AMZN can grow the topline at 20% over the next five years. We are assuming a natural slow down as the business gets bigger (and thus, it becomes harder to move the needle) but giving the company a fabulous topline growth rate as credit for being a great company. That puts revenues at around $85.0 billion in 2015.
The company runs a net income margin of around 3.5%-3.7%. Let's say that drops to 3.25%, on the back of loss leader products (like the Kindle) and giving away more to vendors to run through AMZN. In 2015, that means we are looking at $2.76 billion of net income in 2015.
If high quality bricks and mortar trade at 10.0x 2015 (hard to gauge that far out, but we are trying to make a rationale argument here), and if we chose to value AMZN at 2x that multiple (20.0x) to reflect a PEG of 1.0 and all the benefits of being able to expand as an Internet retailer, AMZN stock is worth around $121 per share. Discounting the results backward, that places the stock around 37x 2012 earnings, which is 3x-4x retailers like Wal-Mart (NYSE:WMT) and Target (NYSE:TGT), not perfect comparable companies but similar in that they are companies that also sell a lot of "stuff." At almost 40x next year, and 20x the 2015 earnings, I am giving AMZN a huge premium, valuing the company as the seller of everything and a company that is emerging as the outsourcing agent of choice for all kinds of medium and small businesses.
The issue, which is what makes AMZN such a difficult stock, is that my 20% is just as arbitrary as assuming the company can continue to grow at 30%. While my multiple, and valuation, feels more rationale at 20x very forward earnings using (again) a PEG of 1.0 on a very high growth rate, who says the company can't exceed that?
Here is the bottom line: I don't think you can own AMZN where it is currently trading. The stock is priced to perfection, and considering the disappointing 3Q (and resulting dislocation in the stock price post), taking a long position here is indicative of a very bullish stance on forward prospects for a long-time.
The better question is: should you short AMZN? My answer is no, you shouldn't. At least not yet. Why? Because shorting based upon valuation alone is a suckers game. Unless you have a strong opinion on catalysts around a short, you run the risk of being wrong just because the market does not agree with you in a reasonable amount of time. I have read a bunch of articles on this website and others, from writers clamoring for a short on any "expensive" stock, with very flimsy fundamental analysis as the underpinning of why the stock is actually expensive.
My conclusions about what AMZN is worth is based, basically, on my belief that as a company gets so big (as AMZN is), keeping up the same topline growth rate will become increasingly difficult, thus, leading me to conclude that the time for the market to apply a more balanced rationale to AMZN might be sooner rather than later. But that is all opinion and that realization could happen in 2013, or next week. Who knows?
AMZN has been a great stock. But for those in, it is time to get out of the way (even after the recent pullback). For those who want to short, be careful, as a great 4Q will run you over (and your short is just a guess, on when growth does finally slow, which is tough). Interesting stock. Reality will set in. Someday. Until it begins to, be patient, and take your profits.
Disclosure: I have no positions in any stocks mentioned, and no plans to initiate any positions within the next 72 hours.