Prepayment speeds determine the timing of principle cash flows coming back to the MBS investor. The faster the prepayment rate, the quicker cash flows are paid back to the bond investor, and therefore the shorter the life of the fixed income investment. Conversely, when prepay speeds slow down, the average life of the bond's cash flows are extended. This occurs because of the embedded call option in mortgage-backed securities. Only the borrower has the option to pay off the mortgage debt. If a borrower's mortgage rate is below current market yields, the borrower will be less likely to refinance. If an investor buys a mortgage-backed security with cash flows supported by borrowers that have mortgage rates near current market, and rates unexpectedly rise, that investor will be holding an MBS that is unlikely to prepay because borrowers will have no incentive to refinance (because current market rates are higher).
Prepayment speeds are an important factor for mREIT investors to keep in mind. As interest rates remain low, high prepayments will mean that new investments are put on at lower rates, thus shrinking net interest margins.
In addition to interest rates, investors should monitor prepayments speeds for levered mortgage REITs due to the significant government intervention in the mortgage market. The administration is working to reduce interest rates for underwater mortgages which will increase prepayment speeds for many high earning securities.
From Annaly Capital Management (NYSE:NLY):
"For now, prepays are coming in faster than in prior quarters but still slower than expected. [The chart below] shows the refinancing speeds (calculated as the 1 month constant prepayment rate or CPR) on 2008 vintage Agency MBS of various coupons in the most recent month, September 2011, and the months of September and December 2010, when mortgage rates were higher. It appears that despite the possibility of upcoming policy initiatives and lower rates, the effect thus far on prepayment speeds has been muted except possibly at lower coupon levels."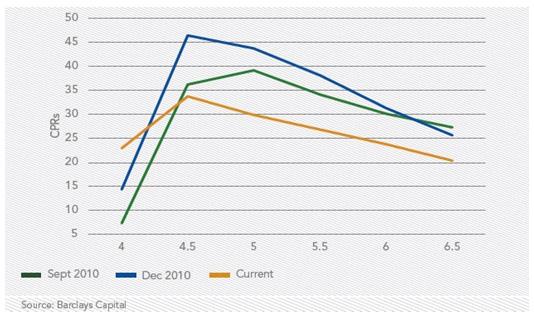 Below are the current CPRs for two of the most actively-traded agency mREITs -Annaly Capital Management and American Capital Agency (NASDAQ:AGNC):
Annaly Capital Management
Q3 2011 - 18%
Q2 2011 - 11%
Q3 2010 - 20%
American Capital Agency
Q3 2011 - 13%
Q2 2011 - 10%
Q3 2010 - 18%
Conclusion
Structural issues in the housing market as well as other economic headwinds will continue to put structural headwinds in the refinance market.
In general, we think interest rates will remain low for the foreseeable future (next 12-24 months). As such, we believe REITs (particularly agency-focused REITs) offer investors an extremely compelling risk/reward profile. However, we caution investors to watch interest rates and prepayment rates very closely if invested in the space.