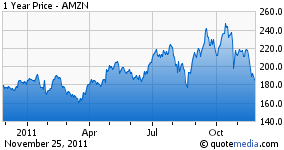 By Sejuti Banerjea
With Thanksgiving drawing to a close and Black Friday shopping gathering steam, this is clearly a retail weekend. Brick-and-mortar outlets, such as Target Corp (NYSE:TGT), Best Buy Inc (NYSE:BBY), Macy's Inc. (NYSE:M) and Kohl's Corp (NYSE:KSS) opened their stores at midnight, vying with each other to catch the first shoppers. Shoppers, too, have been lining up to bust the doors for the best selection and deals.
While consumer dollars will no doubt pour in, this year is different from others. Mainly because a number of traditional retailers, such as Gap Inc. (NYSE:GPS) and J.C. Penney Company (NYSE:JCP) have not been doing so well and may not have promo offers available for long. Consumers on their part are also more cautious and have started comparing the offline shopping experience to the online one.
The main (and possibly the only) advantage for offline retail is the fact that shoppers can see, touch or feel their products before purchase. But during rush hours such as this, the scope for this connection also gets limited.
On the other hand, the online experience, while not allowing this personal connection, does enable effective comparison shopping without queuing, waiting and wastage of time. OK, so actual delivery does take a bit of time. But since Christmas is still a month away, this is not such a big problem.
The convenience aside, there are many other reasons why consumers are likely to do more shopping online this year.
Selection/Availability and Pricing
For one, the two largest online retailers, Amazon.com (NASDAQ:AMZN) and eBay Inc (EBAY), appear very well-stocked heading into the holiday season. According to a study by Wall Street analyst Doug Anmuth, of the 40 most-wanted holiday items - which include consumer electronics ("CE") (19%), home and garden (17%), books (12%), toys (10%), video games (7%) and other (36%) categories - Amazon was the one with the best product range and pricing, closely followed by Wal-Mart Stores (NYSE:WMT).
A study carried out by a team of Deutsche Bank analysts reveal that Amazon is the most cost effective supplier across categories, followed by eBay and then Wal-Mart. According to the analysis, Amazon is least expensive in the books, music and movies, CE and software, and toys categories, lagging eBay in video games. eBay trails Amazon in music and movies and CE and software, while Wal-Mart trails Amazon in books and toys.
Amazon and eBay have the best product availability in the CE and toy categories. In the CE segment, Best Buy has 90% of Amazon's selection and Wal-Mart 65%. In the toy segment, ToysRUs has 70% of Amazon's selection, while Wal-Mart has 65%.
Free Shipping
Most online retailers ship their wares for free. Amazon did this sooner than eBay, but eBay has been making many changes over the past year and the company is also expected to do well this season. Despite the free shipping, online retailers are more profitable because they do not have huge overhead costs that traditional retailers are stuck with.
Fulfillment
This is a key feature at Amazon, which has warehouses all over the country and now, increasingly, in important international markets as well. This feature has enabled Amazon to leave other online retailers behind.
Well in advance of the holiday season, Amazon ran a qualification process, short-listing the most reliable suppliers and temporarily taking other suppliers off the list. However, if the suppliers used Amazon's fulfillment services, they would be exonerated from many of the restrictions.
eBay has been repositioning its business and the company recently bought GSI Commerce, which has warehouses for fulfillment. However, eBay will take a little more time to get its act together. So this season, it is very likely to be Amazon all the way.
We think that having its own fulfillment centers is probably removing product distribution inefficiencies and thereby helping Amazon to cut costs and price its products even more competitively. It is not without reason that products on eBay are 8.2% more expensive than on Amazon this year compared to 1.8% more expensive in 2010 (Deutsche Bank analysis).
New Products
As if all these advantages were not enough, Amazon has launched a $200 tablet called the Kindle Fire. No doubt the device is not comparable with Apple's (NASDAQ:AAPL) iPad, but it is a very effective tool for consumption of books, music and movies and also for making online purchases. So it is basically the best device for consumption of Amazon goods and services. And this is not a mean thing, considering all Amazon has to offer. The fact that it comes with a month's free Prime subscription is the icing on the cake.
We think that this was a very good time to launch the first-generation device, since people are likely to upgrade from the Kindle e-reader. The price point being attractive, it will also catch those buyers that want a little bit more than an e-reader, but don't really want to spend as much as a tablet.
Relationships
Amazon has been extremely focused on building customer relationships through the Prime platform. It is one thing to ring up huge sales when everyone is buying, but the real winner is one that gets buyers to come back time and again. And this is where Amazon excels. When you already have a long-term relationship with the leading online retailer with the best selection, availability, pricing, deals and platforms, there has to be a very good reason to buy elsewhere.
To Summarize
One again this year, online retailers will grow at the expense of brick-and-mortar sellers. However, with the expansion of the online retail marketplace and the entry of many new players, competition between different online retailers is also picking up. At this point, however, Amazon remains the one with the earliest start, the best positioning and the best strategic planning, so it should be able to enjoy its lead for a while.
APPLE INC (AAPL): Free Stock Analysis Report
AMAZON.COM INC (AMZN): Free Stock Analysis Report
BEST BUY (BBY): Free Stock Analysis Report