It's getting increasingly dangerous out there.
Stocks have been declining sharply in recent days, and for good reason. Since November 15, the stock market as measured by the S&P 500 has fallen for seven consecutive trading days through Friday in posting a total decline of nearly -8%. At the heart of investor concerns is the increasingly unraveling situation in Europe. What was once largely considered a eurozone periphery problem only a few weeks ago is now being widely regarded as a eurozone core problem that threatens to bring down the euro currency altogether. Such an outcome would likely lead to a global banking crisis that could become vastly more severe than the 2008 episode.
The situation continues to deteriorate further with each passing day. Italian sovereign debt yields have skyrocketed. Not only have 10-year government bond yields moved well in excess of 7%, but the yield curve has also inverted with Italian 2-year bond yields spiking over 8%. Put simply, these are signs of extreme stress in the world's third largest bond market. In addition, France's bond yields continue to move higher, suggesting that the eurozone core is becoming increasingly infected. And even Germany, the eurozone's largest economy and financial bulwark, endured a notably poor Bund auction on Wednesday, only adding to concerns that confidence in the region is falling apart. And these are only a few of the many troubling headlines coming out of the eurozone.
click to enlarge image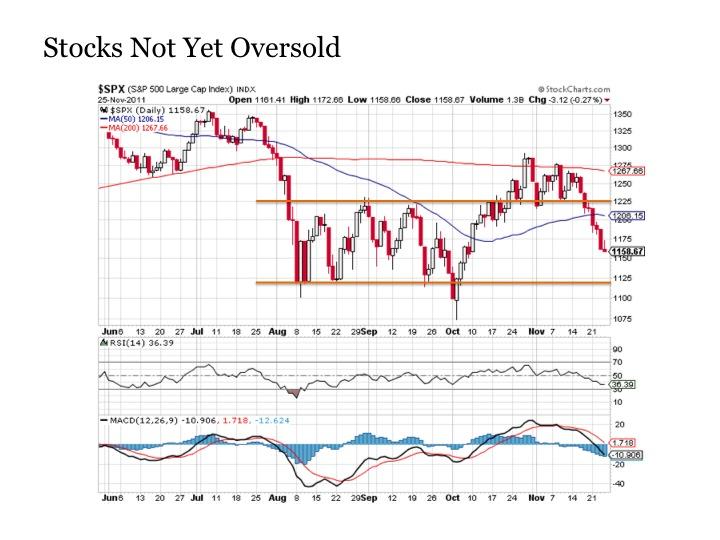 So where do stocks stand heading into the new week following this recent sharp decline? Unfortunately, stocks are nowhere near any major support levels. The S&P 500 Index ended the week at 1158, which is right in the middle of the previous trading range from early August to early October in the 1120 to 1225 range. While the pace of momentum deterioration has accelerated, it is far from any extremes. And the stock market is not yet oversold based on its Relative Strength Index. All of these factors suggest that further downside may be in store for stocks in the coming days.
All of this raises an important question – is it time to exit the stock market and move to cash?
What looks like the most logical move for stock investors may not end up being the best move. We have a situation in Europe that is teetering on the brink of full-blown crisis that would likely result in a global financial contagion. Such an outcome would be decisively negative for stocks. Thus, moving fully from stocks to cash might almost appear like a no brainer.
But making such a decisive move amplifies a particular element of risk in your portfolio. It is policy risk. And it is measured by the actions or lack thereof by global fiscal and monetary policy makers in addressing the various crises that arise along the way. Just as the lack of any policy action is a downside risk, the execution of aggressive policy action is a profound upside risk for stocks. Therefore, while waiting for policy action that never comes can be perilous, it can be equally crushing to exit the stock market just as unexpectedly aggressive policy action sends the stock market soaring.
The primary challenge in managing policy risk is that it is difficult to measure. This is due to the fact that it is highly dependent on the whims of human behavior and decision-making. On what day, if ever, does German Chancellor Angela Merkel suddenly decide that Eurobonds may actually be a good idea? At what hour, if at all, does the European Central Bank opt to announce that they will engage in quantitative easing through the large scale asset purchases of the bonds of at risk sovereigns across the eurozone? And at what moment, and to what scale, does U.S. Fed Chairman Ben Bernanke decide to begin pulling the trigger on QE3? While investors can spend their days reading various tea leaves, there's no telling exactly when during times of crisis that policy makers may finally be compelled to act if at all. This leaves stock investors on a constant tight rope since the two outcomes associated with policy action and policy inaction are so widely divergent. Stay in the stock market that receives no policy support and suffer further declines, or exit the stock market that suddenly receives policy support and miss a dramatic rally. Frustrated stock investors have to look no further than the afternoon of October 4 to see how swiftly the market can shift, seemingly without any reason whatsoever other than the policy response – Operation Twist in this case - that often only becomes apparent in retrospect.
So what is an investor to do? All signs out of Europe indicate that it's time to get out of stocks and get to the sidelines. But we could wake up on any given day and the stock market is suddenly soaring behind some extraordinary (or perceived to be extraordinary) policy response from the ECB, eurozone leaders and/or the Fed. So what is the answer? It's not necessarily about choosing between stocks or cash. Instead, it's about hedging your stock positions with allocations that include cash.
A variety of asset classes outside of stocks are likely to perform well in the event of another financial crisis. These include U.S. Treasuries (IEF, TLT) and gold (GLD, IAU, PHYS). While they may suffer declines at the very early stages of a financial crisis due to mass liquidation activity by global banking institutions, these two categories in particular have historically shown a low correlation with the stock market and the ability to post strong gains in the midst of crisis. This is due to the fact that these categories are widely regarded as either a safe havens or a store of value during periods of extreme uncertainty.
So instead of selling stock positions entirely in the current environment, it may be more productive to maintain selected stock positions and complement these exposures with allocations that are set to perform well if these stocks come under extreme pressure. To begin with, stocks should not make up a disproportionally large percentage of most investor portfolios anyway. Instead, it should represent just one of many allocations and should be of a size that can be effectively hedged if necessary. And in the current environment, stock investors may be best served to focus this allocation on higher quality defensive names in the U.S. stock market such as PepsiCo (NYSE:PEP), HJ Heinz (HNZ) and Clorox (NYSE:CLX), as these are positions that stand to hold up best during periods of stock market crisis. Lastly, the inclination to raise cash should be carried out when the opportunity presents itself to lock in gains on selected stock positions.
As for complementary positions to this stock allocation, this may include a variety of selected allocations including U.S. Treasuries including traditional nominal U.S. Treasuries, Treasury Inflation Protected Securities (NYSEARCA:TIP) and Agency MBS (NYSEARCA:MBB). Precious metals including gold (NYSEARCA:GLD) and silver (NYSEARCA:SLV) also have appeal for both returns potential and portfolio risk control. And Utilities Preferred Stocks (XCJ, DRU, SCU, ELA) are also attractive in this context, as they provide high quality and predictable fixed income along with the liquidity benefit of trading on an exchange. Lastly, holding a meaningful cash stockpile makes sense in its own right. Sure, interest rates are low on cash, but this is a short-term position during a time of continued uncertainty, and a +0.1% return is vastly better than a -50% return if a crisis were to unfold. And by holding some cash in reserve, an investor stands ready to execute when unusual opportunities suddenly present themselves during such crisis episodes.
Bottom Line
It should not be a question of stocks OR cash in the current environment. Instead, the answer is stocks AND cash along with a variety of other complementary positions that are designed to withstand crisis and have the potential to perform when stocks are under extreme pressure. This way, stock investors can more effectively manage against policy risk so that they can participate if stocks suddenly rise due to aggressive policy action but are also protected if stocks continue to fall.
Disclosure: I am long PEP, HNZ, CLX, TIP, MBB, GLD, SLV, XCJ, DRU, SCU, ELA.
This post is for information purposes only. There are risks involved with investing including loss of principal. Gerring Wealth Management (GWM) makes no explicit or implicit guarantee with respect to performance or the outcome of any investment or projections made by GWM. There is no guarantee that the goals of the strategies discussed by GWM will be met.