The U.S. dollar's role as a "safety" currency has finally returned although the market has only reluctantly marched back to the dollar's printing presses. This year's first two market swoons sent the dollar index to lower levels. The last two swoons have sent the dollar soaring higher as the euro, and now the British pound, suffer particularly large hits. Even as the eurozone crisis supposedly gets worse than ever, the dollar index has not cracked the highs from last month. However, if the dollar index breaches this resistance level, I expect a further acceleration in the currency's gains. The chart below summarizes the dollar's gyrations for 2011.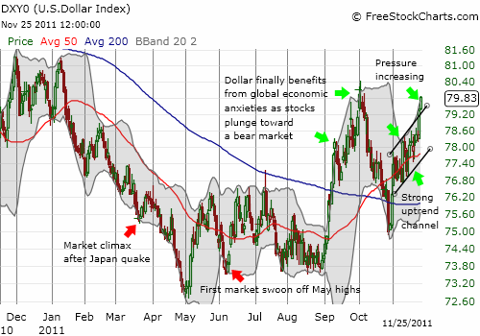 The dollar has gone from much maligned to much desired in less than a year's time.
Source: FreeStockCharts.com
As I claimed in mid-September, the dollar's main attraction remains that the currency is a relatively cheap safe haven. The dollar index remains near multi-decade lows. The Japanese yen sits at generational highs with a government constantly intervening to weaken the currency. The Swiss franc is well-off generational highs after the Swiss National Bank successfully intervened by establishing a peg against the ever-sinking euro. Finally, gold has rallied for a long time in anticipation of currency woes. It is possible that some long-term holders may first respond to a full-blown crisis by locking in profits (and/or answering margin calls) even as printing presses go into overdrive. Such a correction in gold, if it happens, will provide another great buying opportunity.
For now, I remain bullishly positioned versus the dollar, but during the past week I began a transition back to eventual dollar weakness. I closed out my long USD/CAD position. On Friday, November 25, I went short with a very small position. Because I am already long AUD/USD as a partial hedge, I plan to trade in and out of USD/CAD until the dollar breaks down. The currency pair's daily range typically facilitates such a strategy. I remain firmly bearish against the euro and the British pound. I continue to lower my stop on my EUR/USD short to just outside maximum daily volatility. If (once) it is tripped, I will switch to a neutral (or slightly bearish) dollar position. As usual, the 200-day moving average will serve as my ultimate dividing line between bullish and bearish bias against the U.S. dollar index.
Prospects are fading for a pro-active resolution to growing economic anxieties. Financial markets are more and more likely going to deliver the climactic catalyst to force policymakers to make difficult choices. This climax will likely feature a dollar at much higher levels. In a recent Bloomberg interview, Mohamed El-Erian, chief executive officer and co-chief investment officer at Pacific Investment Management Co. (PIMCO) provides his usual good summary of the tough choices ahead.
Here is my summary of El-Erian's key points on the issues that are currently driving the dollar higher:
"Worried" about double dip recession
Because economic conditions remain terrible coming out of the last recession, the economy cannot handle another shock.
Europe's woes could tip the economy back into recession. Without this concern, the U.S. economy would muddle along, but not drop into recession.
The U.S. has a political problem that can be solved. Policymakers just need to act to address the economy's structural issues.
Europe has BOTH a political AND an engineering problem. Major pain will be unavoidable.
The muddled middle in Europe is no longer sustainable.
Europe needs to make a choice to save the euro: 1) full fiscal union, which has a very large bill; 2) a smaller, less perfect eurozone, which has a smaller bill.
Because there are no easy solutions, the process in Europe is paralyzed. Policymakers see tremendous costs and disruption wherever they look.
Europeans must make the political decisions quickly if they want to maintain the power to influence outcomes.
Investors should be "generally defensive and selectively offensive." Investors are stepping back from markets due to anxiety.
Do not expect QE3. Bernanke has made it clear the Federal Reserve recognizes that the balance is shifting from potential benefits to costs and risks for further monetary action in the U.S.
The collateral damage of more action could be pressure on the U.S. dollar, dysfunctional markets, and questioning of the credibility and autonomy of the Fed.
Be careful out there!
Disclosure: I am long GLD. I am net long the U.S. dollar.