The Conference Board of Canada anticipates stronger growth in Canada over the next two years. The sovereign debt crisis in Europe represents the most significant downside risk to this forecast:
After posting modest economic growth in 2011, most provinces can expect their outlooks to improve in 2012 and 2013, according to The Conference Board of Canada's Provincial Outlook – Autumn 2011.

Private sector activity will pick up in 2012, helping to offset sharp declines in federal and provincial infrastructure spending…But despite little direct exposure to European markets, provincial economies would be affected if the EU sovereign debt crisis spread globally. As a result, risks to the forecast remain elevated.
Expectations for continued strength in the commodity-based sectors are of particular interest to me. The Conference Board highlights Canada's Western provinces as benefiting from "…high commodity prices and robust investment in the energy sector." Saskatchewan will have Canada's fastest growing economy thanks to potash, oil, and natural gas. Alberta is "poised to enter another period of prolonged economic expansion" thanks to continued investments in the energy sector. The Conference Board expects demand from emerging markets will keep oil prices elevated.
This bullish outlook holds even as the Canadian government goes about cutting its deficit. Spending reductions will hit Central and Atlantic Canada the most according to the Conference Board. In a speech to the Canadian Club in Toronto on November 25, Finance Minister Jim Flaherty reiterated the government's commitment to cutting its deficit even as some economists are looking for more economic stimulus:
…the government must continue doing exactly what it has been telling consumers to do: get spending under control and reduce debt.
Along these lines, the Canadian government forecast that higher-than-expected tax revenues will allow it to "beat its budget deficit target of $32.3 billion for this fiscal year."
The risks from Europe are very real. Flaherty noted that Europe is likely already in another recession and that "…ongoing uncertainty stemming from the European sovereign and banking crisis is leading to broader contagion outside Europe and global credit markets." However, hope remains for a resolution:
If European authorities move aggressively and with decisiveness to address the crisis and restore financial market stability and confidence, the situation can be stabilized. (Flaherty: Europe's Crisis Creating 'Contagion' – Bloomberg, Nov 25, 2011)
Overall, I consider Canada to be a "buy on the dip." To the extent that problems in Europe send Canadian assets to lower prices, I will be an even more aggressive buyer. My approach is consistent with the "commodity crash playbook" to the extent that China's economy finally tips over thanks to problems in Europe; Europe is China's largest regional customer for its exports.
The most immediate implication is on my currency-trading strategy. My bullish portfolio on the U.S. dollar included a long on the USD/CAD currency pair. The U.S. dollar is now closing in on its October high which in turn was a nine-month high at the time. This looming resistance represents a good time to start unwinding the long U.S. dollar position in preparation for an eventual return to secular weakness. Earlier in the week, I closed out the Canadian portion of my bullish dollar portfolio. On Friday, I shorted USD/CAD.
Based on a little over two years of trading, I am assuming for now that the Canadian and U.S. dollars will trade within the band shown below. I will get more aggressive in shorting the USD/CAD pair as it approaches the upper limits of this band. Note that the currency pair exhibits large intra-day ranges versus its overall (slow) trends. Thus, my positions in USD/CAD will feature shorting large upward moves and closing out these positions when gravity takes over. In the case of an extended rally in the dollar, say, similar to the run in late 2008, I will still have my overall bullish dollar position to generate profits. As usual, the complete return to a bearish dollar position will happen once the index confirms a drop below its 200-day moving average (DMA) (for more on the importance of the 200DMA for the U.S. dollar see "A Relief Rally For The U.S. Dollar As 'Safe' Alternatives Get Expensive ").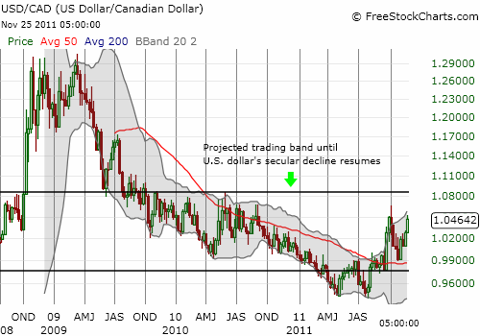 Presumed trading band for the USD/CAD currency pair
The Canadian stock ETF, EWC (iShares MSCI Canada Index Fund ETF) remains stuck in a downtrend for 2011. EWC has returned to a floor that served as price support from 2009 to 2010 before a QE2-inspired rally launched the index to pre-recession levels. Current price levels are attractive for starting a new position. I am waiting a while longer given I have an entire basket of other commodity-related stocks on the buy list.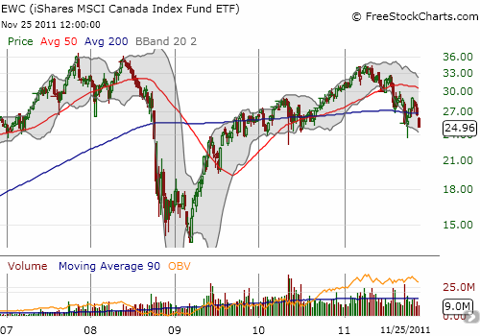 EWC has erased all its QE2-inspired gains
[Source for all charts: FreeStockCharts.com]
Finally, I re-initiated a position in 5N Plus [TSX: VNP] a Canadian primary producer of CdTe (Cadmium Telluride) and CdS (Cadmium Sulfide). These high performance compounds are used in thin-film solar panels manufactured by the likes of First Solar (NASDAQ:FSLR). The severe retrenchment in the solar industry has driven the price of 5N Plus to very attractive levels. It has now returned to the trading range that controlled its share price from mid-2009 through the end of 2010. 5N Plus also recently acquired MCP Group SA to diversify into bismuth, bismuth chemicals and other specialty metals (also see "5N Plus Inc. Completes the Acquisition of MCP Group SA and a $125 Million Equity Financing" (pdf) – April 11, 2011).
Disclosure: I am long FSLR. I am net long the USD but short USD/CAD. I am also long VNP (Toronto Stock Exchange).