Great corporations can be formed by harnessing a trend, but they can also be created by bucking a trend and giving customers something they thought was lost forever. Ray and Beverly Berry didn't know they were founding a nationwide business when they opened their first 'The Fresh Market' store in Greensboro, North Carolina, in 1982. Their aim was to open a service-oriented grocery store with a focus on fresh, premium-quality perishable goods and loose produce, in response to increasingly austere and inhospitable supermarkets stocked with so-called "fresh" food packed in cardboard and plastic. Still based in North Carolina, The Fresh Market now has 106 stores in 21 states.
The Fresh Market (NASDAQ:TFM) aims to source its high-quality food products from local growers, specialty producers and importers of artisan products. Adding to the appeal of the food offerings is the ambiance of the stores. Soft lighting, classical music, retro décor and the enticing aromas of baking bread and freshly roasted coffee make shopping a memorable experience for all the senses rather than a chore to be dreaded.
Engaging with customers about their food choices lies at the core of the company's strategy, as it attempts to create a 'neighborhood grocer' atmosphere in stores less than half the size of the average supermarket. Successfully marketing perishable goods requires close attention to inventory management, and this is one of the key drivers of the company's profitability. The Fresh Market is also well-positioned to take advantage of growing consumer consciousness about food choices and healthy eating, a demand for local sourcing and an ageing demographic more likely to eat at home.
Consolidated net sales in fiscal 2010 (which ended December 31 2010) were $974 million, a 13% increase on the prior year. The net income margin rose from 3.5% of sales to 4.2% of sales, and adjusted net income was up by 36% to $41 million. Further improvement of margins, together with increasing each store's sales and opening new ones, form the company's three-pronged goal for the future. Eight new stores were opened during the year, and total store count has tripled since 2000. Market research conducted on behalf of the company suggest that the US market can support 500 The Fresh Market stores. Investment payback period on each new store is expected to be less than four years( FY 2010 annual report (pdf)).
Results for the first half of fiscal 2011, the six months ended July 31 2011, showed net sales of $524 million, an increase of 11.8% over the corresponding 2010 period. Net income rose by 26% to $24 million. The sales increase was not only attributable to newly-opened stores, since comparable stores sales rose by more than 4% for the seventh consecutive quarter. Operating margins also improved, in line with the company's previously stated goal. The company raised its forecast earnings per share to a range $1.03 - $1.06, up from the previous forecast of $1.01 - $1.05. Between twelve and fourteen new stores are expected to open in fiscal 2011 (FY 2011 2nd quarter earnings news release (pdf)).
During the second quarter earnings conference call, CFO Lisa Klinger highlighted the temporary effects of a tax status change, fiscal year-end date change and transaction charges associated with the public offering of shares, which should be taken into account when assessing an apparent fall in net income. She also noted that the comparable store sales growth of 4.1% was driven by a 2.8% increase in transactions and a 1.3% increase in transaction size. On the cost side, the company continues to leverage its purchasing power to reduce occupancy and supplies costs.
Competition in food retailing is wide-ranging and fierce. The Fresh Market's competition includes national supermarkets such as Safeway (NYSE:SWY) and Kroger (NYSE:KR), regional supermarkets like Publix (privately held) and Harris Teeter (RDK), national chains such as Target (NYSE:TGT) and Wal-Mart (NYSE:WMT), less conventional food retailers such as Whole Foods Market (NASDAQ:WFM) and Trader Joe's (privately held), as well as local supermarkets, health food stores, smaller specialty stores and farmers' markets.
The Fresh Market's stock price has been in a trading range between $31 and $46 for the last year as shown below: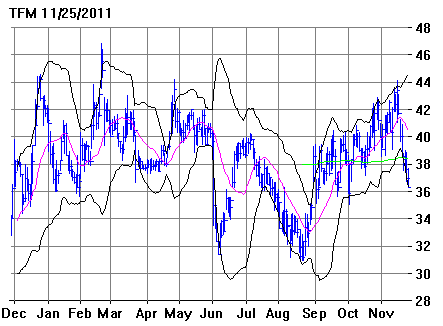 The company's P/E ratio of 77 indicates the stock appears to be trading at a premium. As a point of reference, Whole Foods Market currently has a P/E of 33.
With a maximum potential market saturation of 500 stores and a 13% compounded new-store growth rate, the number of years until saturation is calculated to be 12 years. Performing a discounted cash flow analysis over twelve years with a 10% growth yields a price for the company's stock of $25, which is significantly less than the current stock price of $36.50. So, the market must be incorporating some growth potential into the stock other than the addition of new stores, or perhaps the company's market saturation point is greater than 500 stores. For example, the saturation point for 1000 stores is 18 years with an associated discounted cash flow price of $43, which is much closer to the current stock price.
The Fresh Market's stock price looks expensive and with the company's next earnings report scheduled for Wednesday November 30, 2011, an investor in The Fresh Market might be getting a little anxious. An anxious investor might consider entering a collar position for The Fresh Market. A collar position can provide potential income while also providing protection. To enter a collar position against an existing position, a call option is sold and some of the proceeds from selling the call option are used to purchase a put option.
For example, using PowerOptions search capability, a collar position was found for The Fresh Market with a potential return of 1.5% and a maximum potential loss of 13%. The time frame for realizing the potential profit is 22 days. The specific call option to sell is the 2011 December 35 at $2.75 and the specific put option to purchase is the 2011 December 30 at $0.90. As long as The Fresh Market's stock price is greater than or equal to the $35 strike price of the call option at expiration in December, the position will return 1.5%. Additionally, if the price of the stock takes a significant dip, the maximum potential loss is 13%. A profit/loss graph for the collar position is shown below: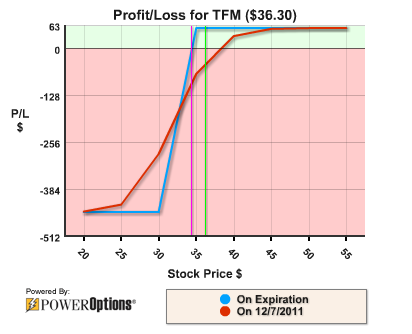 As consumers become more knowledgeable about the food they eat, and more concerned about the impacts of its production and distribution on the environment, and the effect of its consumption on their health, The Fresh Market appears to be ticking all the right boxes. Additionally, when times are tough and eating at home becomes a necessity, shopping for wholesome and appealing ingredients in a small, friendly and attractive store is an experience that eases the pain. Yes, with all of the positives for the company, its stock price looks expensive and an investor might want to consider having some protection during the upcoming earnings report.
Disclosure: I have no positions in any stocks mentioned, and no plans to initiate any positions within the next 72 hours.