While some might say this is a silly thing to track, we believe the increase in the price of a classic Thanksgiving dinner indicates a great deal about rising prices. Most market participants and government officials reference the consumer price index ("CPI"). According to the
BLS
, the CPI program produces monthly data on changes in the prices paid by urban consumers for a representative basket of goods and services.
Underlying Issue with the CPI
From time to time the BLS makes
hedonic
quality adjustments. As the quality or quantity of goods is changing, adjustments are made to try to captures changes as the sample set of goods is not shrinking. As stated on the BLS website:
"If a television in the CPI is replaced by one with a larger screen and higher price, the BLS can make an adjustment to the price difference by estimating what the old television would have cost had it had the larger screen size."
We believe that hedonic adjustments mask increases in the actual cost of living by adjusting prices. In the case above, the historical price would have been increased, thus masking the true change in price. Consumers are forced to purchase what retailers have on their shelves, not older models. Consumers are interested in purchasing the latest goods and services. If real wages are not rising their standard of living is going down.

Increase in the Cost of a Thanksgiving Dinner
According to the American Farm Bureau Federation ("AFBF"), the cost of a classic Thanksgiving dinner increased by about 13 percent in 2011. The cost of a feast for 10 was $49.20 this year, the farm group found, up $5.73 from last year. The AFBF shopping list includes turkey, bread stuffing, sweet potatoes, rolls with butter, peas, cranberries, a relish tray of carrots and celery, pumpkin pie with whipped cream, and beverages of coffee and milk.
We believe this measure is something investors should track as the increase is not masked by changes to the basket. Simply put, a Thanksgiving dinner is a Thanksgiving dinner.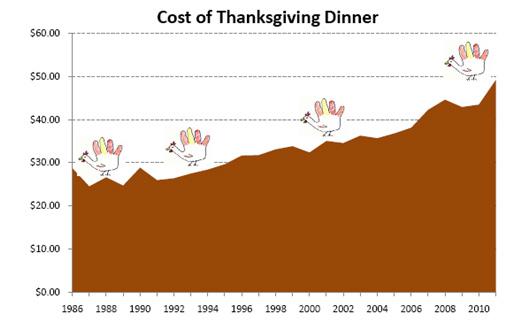 Click to enlarge
Inflation Hedges

We believe ultra accommodative policy is having the desired effect of producing inflation, but unfortunately not in the areas where the Federal Reserve would like to see it (i.e., wages and housing). We believe that investors should protect themselves from excessively easy monetary policy by building inflation hedges into their portfolio.
We advocate physical silver and gold as well as real estate. We own gold and silver in physical and ETF form, the SPDR Gold Trust ETF (NYSEARCA:
GLD
) and iShares Silver Trust (NYSEARCA:
SLV
). Investors interested in vehicles that retain physical metal should look into Sprott Asset Management's Sprott Physical Gold Trust (NYSEARCA:
PHYS
) and Sprott Physical Silver Trust (NYSEARCA:
PSLV
).
The most actively traded real estate ETFs include iShares Dow Jones Real Estate (NYSEARCA:IYR) and Vanguard REIT Index (NYSEARCA:VNQ).

Disclosure: I am long GLD, SLV.