The ever-present ominous collapse of the European Union along with the Euro has created significant buying opportunities in the market currently. Nevertheless, if the Eurozone fails, the buying opportunity of a lifetime will most likely occur for the following seven financial stocks. These stocks are already under extreme pressure from potential exposure to the Eurozone banking crisis.
Although the specific vulnerability of these stocks is in dispute, the stocks in question have paid the price at present. The stocks are as follows: Wells Fargo & Company (WFC), JPMorgan Chase & Co. (JPM), Citigroup, Inc. (C), American International Group, Inc. (AIG), MetLife, Inc. (MET), Morgan Stanley (MS) and The Bank of New York Mellon Corporation (BK).
Current Events
In a hot off the presses piece by Briton's "The Telegraph" James Kirkup, Deputy Political Editor details how British diplomats are preparing to help Britons abroad through a banking collapse and even riots arising from the debt crisis. Kirkup stated:
As the Italian government struggled to borrow and Spain considered seeking an international bail-out, British ministers privately warned that the break-up of the euro, once almost unthinkable, is now increasingly plausible. Diplomats are preparing to help Britons abroad through a banking collapse and even riots arising from the debt crisis. [Read more here.]
While Kirkup's piece is a terrifyingly chilling tale, German Chancellor Angela Merkel and French President Nicolas Sarkozy are doing their level best to defeat the impending debacle. A report out from Reuters details a plan by the two primary leaders of the Eurozone to implement a quick new Stability Pact. Reuters stated:
German Chancellor Angela Merkel and French President Nicolas Sarkozy are planning more drastic means - including a quick new Stability Pact - to fight the euro zone sovereign debt crisis, Welt am Sonntag reported on Sunday. [Read more here.]
Moreover, in an insightful piece by CNBC Fast Money executive producer John Melloy, Melloy reveals a key player at the center of the Eurozone crisis who believes worries may be overblown. Melloy stated:
Ironically, the chief U.S. economist at a company in the cross hairs of the European crisis believes investors are too concerned about a ripple effect on these shores and believes the American economy could be growing at the fastest pace in almost five years. [Read more here.]
Whichever way it goes, the myriad of negative headlines permeating the globe has driven banking stocks to cellar dweller status at present. You have to buy low to sell high. I believe the negative market conditions have been substantially baked in to these stocks and the risk / reward ratio presents a significant buying opportunity as is. There may be more downside in the near future, but there is much greater upside in the future for these stocks once the market turns - and it will - because it always does. I suggest layering in to these stocks as your risk tolerance permits.
Company Reviews
Noteworthy Fundamental Criteria
The stocks covered are large cap or better S&P 500 stocks trading at below book value with above industry average profit margins and PEG ratios of one or less. These stocks are speculative contrarian plays that have major upside potential once the geopolitical and macroeconomic issues of the Eurozone and U.S. are resolved.
Trading At Or Below Book Value
A stock trading at book value may perhaps signify the stock is undervalued. Conversely, it can also be a red flag that there is a fundamental issue with the company. In general, purchasing companies trading under book value has shown to be a decent play on condition that the book value amount can be trusted with realistic assurance. Buying a company at less than the replacement cost of the underlying assets has a certain appeal. This is where your due diligence regarding the net asset value comes into play. Without performing due diligence dour circumstances may arise.
High Profitability
A company's profitability is conceivably the most important statistic to understand before investing in a stock. Each time you consider starting a position in a stock, you should prudently scrutinize its earnings information. The reason earnings are so vital to investors is that they tell you about the relative profitability of a company. Earnings per share is defined as the net income of a company divided by the shares of common stock outstanding. With the EPS measure, you are looking at the amount of money left over for shareholders. The value is reported after taxes are subtracted, and we are normalizing those profits by stating them on a per-share basis.
When a company is profitable, and has money to give back to shareholders in the form of earnings, the company has two basic options: First, it can distribute some of the earnings in the form of a stock dividend. Factor this in with the fact that historically, dividend-paying stocks have outperformed non-dividend-paying stocks, and you have a recipe for outstanding returns. After the precipitous drop in the Dow in 2008, the high-dividend-payers were the first to recover. Whatever is not paid out in the form of dividends is placed into the retained earnings, which then become a source of capital that can be used to help support the growth of a company.
PEG Ratios Near Or Below One
The PEG ratio is a widely accepted indicator of a stock's prospective value. It is favored by many analysts over the price/earnings ratio for the reason that it also accounts for growth. Similar to the P/E ratio, a lower PEG means that the stock is more undervalued. Many investors use one as the cut-off point for PEG ratios. A PEG of 1 or less is believed to be promising. As Warren Buffett would say, "Price is what you pay, value is what you get." There is one caveat regarding the use of the PEG ratio though, and it's a big one, you need to perform additional due diligence and determine if the projected growth of the company is from healthy growth sources such as organic growth versus growth by acquisition or stock buy backs, which are not necessarily bad, but may be unsustainable.
Moreover, most of these stocks are trading well below consensus analysts' estimates, have recent upgrades, positive analyst comments and some pay dividends. Below are two tables with detailed statistics regarding each company's current summary and fundamental information.
Company Summary Statistics

(Click to enlarge)
Company Fundamental Statistics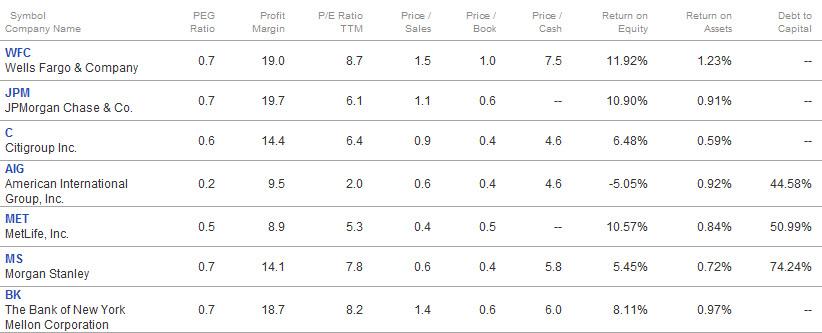 (Click to enlarge)
Conclusion
In finance, a contrarian is one who attempts to profit by investing in a manner that differs from the consensus when the consensus opinion appears to be wrong. A contrarian believes that certain crowd behavior among investors can lead to exploitable mis-pricings in securities markets. For example, widespread pessimism about a stock can drive a price so low that it overstates the company's risks, and understates its prospects for returning to profitability. Identifying and purchasing such distressed stocks, and selling them after the company recovers, can lead to above-average gains.
I believe these financial stocks may present such an opportunity. I expect these stocks to experience a significant rebound based on several bullish technical indicators, the market's unending resilience in the face of continual negative headlines, the performance of S&P 500 stocks this earnings season, a bullish outside month in October and the coming resolution of the Eurozone banking crisis.
Answer this question: How many times has the stock market roared back after a correction? The fact is, every time. If you told someone in 1987 on Black Monday that the Dow would be almost ten-fold higher within 20 years' time, that person would have called you crazy, but you would have been correct. Who is to say how high the market can climb from here? Fortune favors the bold, you must the courage to buy low to sell high. Nevertheless, everyone has their own risk tolerance profile; please use this information as a starting point for your own due diligence.