Many investors that I come across believe the investing world is black and white and simplistically allocate their money between stocks and government bonds. Some investors switch between the two asset classes as market conditions change. Other investors simply buy both asset classes and hold them for the long term.
Over the past 30 years, this binary risk-on/risk-off view of the investing world may have worked for long-term investors. But today, risk-on/risk-off traders are getting pummeled by market sentiment that seems to change daily. And with stock market volatility near all-time highs and government bond yields near record lows, investors who simply hold both asset classes fear they will be left holding the bag if both asset classes collapse.
So How Do Investors Stay Out of the Risk-On/Risk-Off Frenzy?
Stocks are obviously risky but now government bonds are no safe haven either for the long-term investor. The chart below shows just how low the yield on 10 year US Treasuries is. While some argue that yields could go lower (and therefore prices higher) many see this as a risky trade - according to many professionals the easy money in US Treasuries has already been made.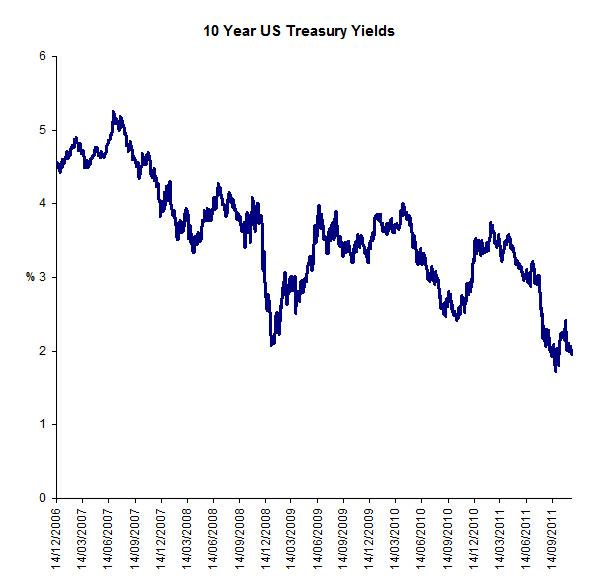 The Hybrid Solution
I believe there is a 'hybrid solution', namely US corporate bonds (HYG, JNK, PHB, LQD). While corporate bonds generally offer higher yields than government bonds, corporate debt tends to have less downside than equity of the same company. This is because of debt's higher rank in a company's capital structure. In the event of bankruptcy, debt holders have a claim on net assets that supersedes the claims of equity holders. As a result, I believe that corporate bonds are a softer, gentler way to participate in risk markets - this is what I mean by a 'hybrid solution'. For investors who don't want to get burned by equities yet don't wish to chase US Treasuries down a rabbit hole, I think high yield and investment grade corporate bonds might provide a compelling alternative.
In fact, with risk markets in tatters and government bonds rallying, I believe that now might be a great opportunity to invest in corporate debt. Yielding 8.96% as at November 22, the BofA Merrill Lynch US High Yield Master II Index, which tracks the performance of US dollar denominated below investment grade rated corporate debt publicly issued in the US domestic market, in my mind is an attractive opportunity.
Investment grade corporate bonds, as represented by the BofA Merrill Lynch US Corporate Master Index, which tracks the performance of US dollar denominated investment grade rated corporate debt publicly issued in the US domestic market, yield 3.95% - not a cause to salivate, but a fair number for a lower-risk asset.
In general, the risk-return characteristics of corporate bonds presents an interesting asset allocation opportunity for the total returns investor, and the yield pickup on credit may interest the income investor.
Note: yields on bond ETFs may differ from yields on bond indices. Also, yields don't necessarily equate to cash distributions.
The Potential Yield Spread Trade
The two charts below (click on each to enlarge) show the yield spread of high yield bonds and investment grade corporate bonds over US Treasuries. While today's spreads are nowhere near those reached during the height of the financial crisis, they are close to the spreads seen during the 2001 bear market. Using the 2001 bear market as a high water mark, in my opinion, corporate bonds look quite cheap relative to government bonds at the moment. (Of course, if you expect global economic Armageddon you might use the financial crisis as the high water mark.)
Any sign of economic stabilization could tighten these spreads by a significant degree.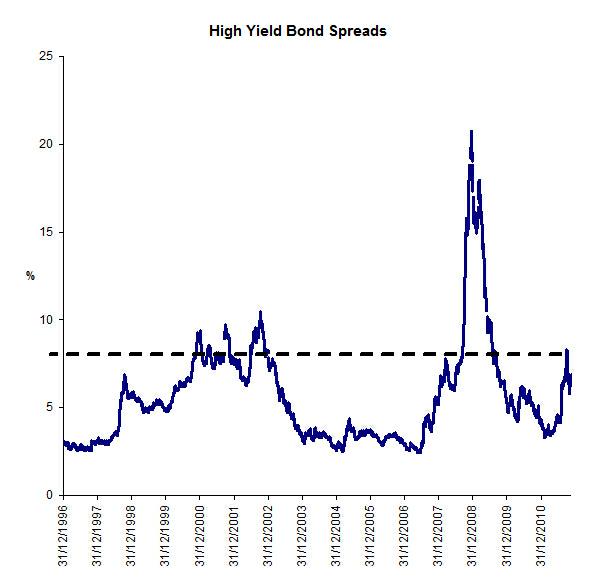 Click to enlarge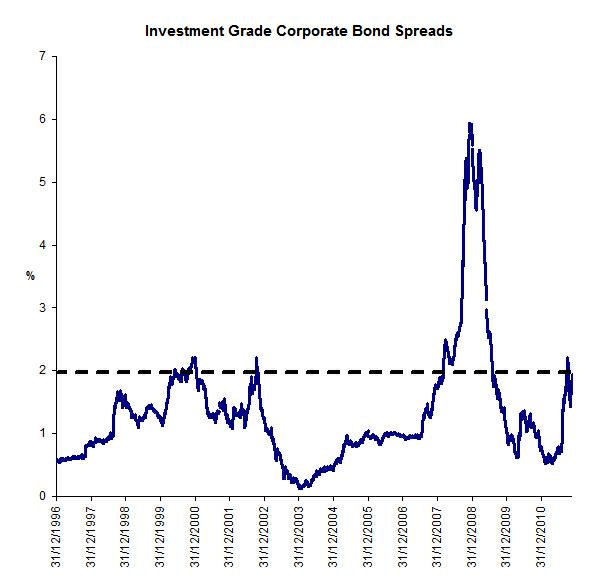 Click to enlarge
Conclusion
I am not saying that corporate bonds are a panacea for investors. But I do believe that investors need to consider high yield and investment grade bonds as ways to bridge the gap between stocks and US Treasuries. This is especially true for income investors.
Moreover, judging by current yield spreads, I believe now may be a good entry point for investors who believe spreads will tighten.
Disclosure: I have no positions in any stocks mentioned, and no plans to initiate any positions within the next 72 hours.
Disclaimer: This is not advice. While Plan B Economics makes every effort to provide high quality information, the information is not guaranteed to be accurate and should not be relied on. Investing involves risk and you could lose all your money. Consult a professional advisor before making any investing decisions.