There wasn't a lot of thanks for bullish investors this past week, as stocks were en route to seven straight days of losses as of Friday. All told, the market has tanked 7.7% since the close on Tuesday, November 15th, and it's still not exactly clear why.
Europe's woes and another budget stalemate in Washington (and more recently, a slowdown in China) got the blame. But, it's tough to think the worst-case scenario for those problems hasn't already been baked into stock prices.
Momentum is momentum though, regardless of the reason. So, the question now is, are we done with the selling effort? We'll look at the likely answer below, right after a closer look at recent economic reports. Fortunately there weren't many, due to the holiday.
Economic Calendar
As it turns out, the economy wasn't as hot as we first thought it was last quarter. Rather than growing at a rate of 2.5%, the second revision to the GDP change says it only grew 2.0%. That's still not bad – all things considered – but the market was clearly deflated.
Unemployment claims are holding steady, for better or worse. The initial claims level of 393K was a tad higher than the prior 391K, but still under the important (relatively) 400K mark, while the ongoing claims level moved from 3.623 million to 3.691 million.
Consumers are cutting back too. Incomes were up 0.4% last month, topping expectations of a 0.3% increase (and easily topping September's 0.1% rise). Yet, they're not spending it as freely. Spending was only up 0.1%, versus an expected 0.3% rise, and last month's 0.7% increase in consumption.
Economic Calendar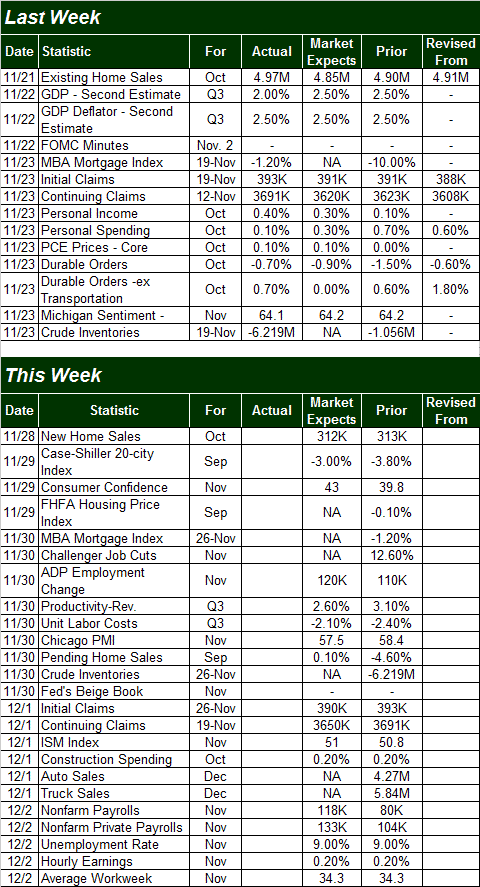 The coming week will certainly be much busier, particularly on the real estate front.
Specifically, we'll hear about new home sales on Monday. They should be even with September's rate of 313K, jiving with news from last week that existing home sales were transacted at an annualized rate of 4.97 million in October (versus 4.9 million in September). We'll also get news of home price trends later in the week.
The game-changing news will be on the employment front though. The word is we've (the nation) added around 120K new jobs for October, and 133K new jobs when just counting private payrolls. It's still not expected to be enough to change the unemployment rate from 9.0%, however.
The other biggie that's going to be sneaked in this week is on the sentiment front. The Conference Board's consumer confidence level will be released on Tuesday, and is expected to rise from September's score of 39.4 to 43.0. That would be consistent with the Michigan Sentiment Index rise from 60.9 in October to this month's 64.1. This won't necessarily undo the downtrend that took confidence to new multi-year lows last month (levels we'd not seen since early 2009), but it's a step in the right direction.
S&P 500
Wow. That's all that can really be said about last week, even though the pain began late on the week before. The S&P 500 Index (NYSEARCA:SPY) gave up 56.98 points last week to (-4.7%) to close at 1158.67. That in itself is tough to digest, but the salt in the wound is that it happened in only three and a half sessions thanks to holiday-related exchange closings; how bad would it have been if the sellers would have had more time?
Here are some more painful stats: The seven-day losing streak has now sapped the SPX by 7.7%, the index is now 9.8% off its high close from its close on October 27th, and it was the worst Thanksgiving week (for stocks) since 1932.
Now, there are a couple of ways to process this.
One of them is the acknowledgement that October's gain was the biggest October gain since the 80's, and we were probably due for an equally-impressive dip. Another way of looking at it is that traders are freaking out again in the shadow of another Federal budget crisis and/or the fact that Europe's woes are not yet resolved.
Or, there's the possibility that – and we say this in complete seriousness – last week was just one of those random things that happens for no particular reason (or the wrong reason), yet in the grand scheme of things ends up being a non-issue. As of right now, it's this option that seems the most plausible.
So a reversal is nigh, or at least a return to a less lopsided mode? The odds and clues seem to say yes, though with a caveat.
Not that candlestick analysis (using the way each day's open, close, high, and low take shape) is the end-all, be-all way to make predictions, but it can be a powerful took of kept on perspective – it's a tool.
And in the current case, Friday's open and close at the low for the day constitutes a key candlestick pattern called a bullish inverted hammer…. it literally looks an upside down hammer, with the handle sticking up and the head of the hammer at the bottom. The 'reversal' aspect comes into play when these occur after big pullbacks.
The fact that we're seeing it form after a sharp pullback bolsters the bullish argument behind it, as we're also due for a little bit of 'dead cat bounce' action after reaching such an extreme oversold condition.
With that idea on the table, we all also have to be prepared for the reality that reason and sanity may not seep back in for a while — now that the bears have spooked all the buyers that had just found enough confidence to trickle back in during October – the bulls are truly walking on eggshells here.
Or as John Maynard Keynes put is, "The market can remain irrational longer than you can remain solvent."
By early this week, the index could be as high as 1220, or as low as 1120, or anywhere in-between. The bullish case is just the higher-odds trade based on what we say unfold last week. The smart money right now, however, is on the sidelines waiting to see who flinches first on Monday or Tuesday.
S&P 500 – Daily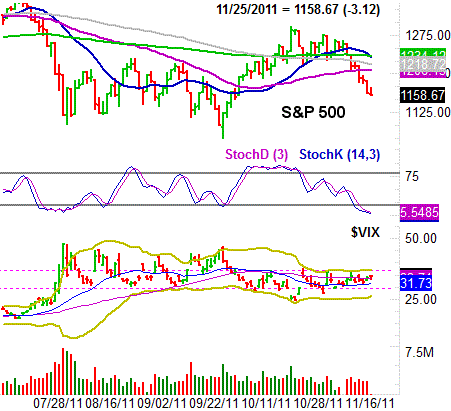 From here, the clue the bulls really need to be watching for is the CBOE Volatility Index (NYSEARCA:VXX) (NYSEARCA:VXZ). If it creeps above the ceiling at 37.0 (which has been a resistance level for a few weeks, and where the upper Bollinger band is now), then that's a true problem for the market. Until it does though, then we can't really say the recent selloff from the S&P 500 is an indication of a bigger underlying fear.
Hold on tight – this week is going to be wild one way or another.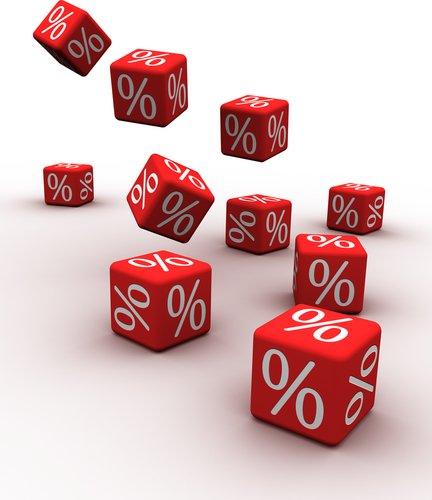 Trade Well.
Disclosure: I have no positions in any stocks mentioned, and no plans to initiate any positions within the next 72 hours.