Apple (NASDAQ:AAPL) has always been a strong and innovative company with a history of successful product launches. Apple has come under attack by several investors citing concerns with the company's share price. Now I'm not predicting that Apple will reach $10,000 anytime soon; I'm trying to open up your mind and bust a long-time investment myth. Many investors are calling the top of Apple purely because the company failed to break its high of over $426 share. They say, how high can Apple go now that its at over $360 a share? A stock's share price has nothing to do with how high or low a stock can go. In fact, the share price is determined by the investors in the stock and the performance of the company itself. Let's take a look at Berkshire Hathaway A shares (BRKA). Berkshire started trading in 1979 at $775 per share, and the company now trades at over $110,000 a share. All the company did was continue its history of successfully growing its business and generating profits. Here is a yearly chart of Berkshire's performance since 1990.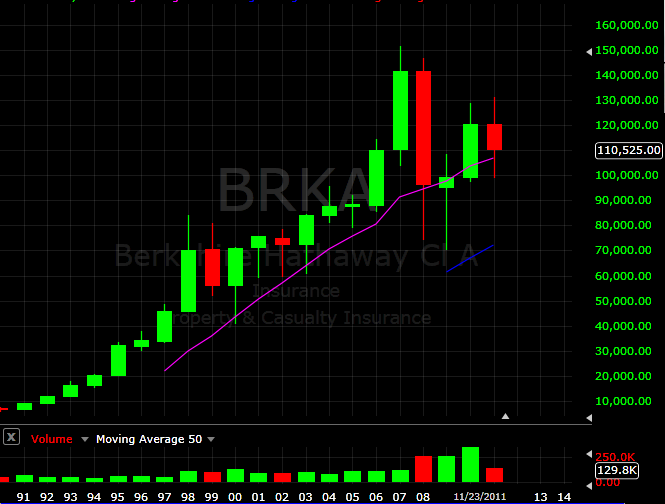 Many investors have called the top during Berkshire Hathaway's strong rise; this rally has now lasted over 30 years. You have to value companies based on performance and take your eyes off the share price. There will be times when the share price doesn't reflect what is currently happening in the company, but that is what gives investors opportunity to profit. A good example of this was in early 2008; Apple shares lost about 40% of their value despite delivering strong growth, with several quarters showing 30% to 155% EPS growth. Those investors that took advantage of that sell-off did extremely well. I believe Apple may be presenting investors with this type of opportunity once again. Apple has lost about 60 points since mid-October. Investors have been concerned with the company's share price as well as global economic issues. Investors feel that these concerns will trickle down and affect the company's sales. The market doesn't like uncertainty, so investors sell at the first hint of it. This presents great buying opportunities in companies that should be able to weather the storm. Apple is one such company that should benefit from its strong pipeline of products. I expect a strong holiday shopping season for Apple, with sales far exceeding last year's number. Here are more points I like about Apple:
Apple established a new all-time quarterly record with sales of 4.89 million Macs, exceeding the previous record set in the last December quarter by 760,000 Macs, representing a 26% increase over the year-ago quarter's results. Mac sales increased strongly in each of the company's operating segments led by Asia-Pacific with growth of 61% year-over-year.
Apple set a new record with sales of 11.1 million iPads during the September quarter compared to 4.2 million in the year-ago quarter, an increase of 166%. The iPad 2 launched in 20 additional countries, ending the September quarter with distribution in a total of 90 countries. Recognized revenue from sales of iPad and iPad accessories during the quarter were $6.9 billion compared to $2.8 billion in the year-ago quarter, an increase of 146%.
Revenue for the quarter was $28.3 billion, representing year-over-year growth of 39%. The year-over-year increase was fueled primarily by strong growth in iPad, Mac and iPhone sales.
Operating margin was $8.7 billion, representing 30.8% of revenue. Net income was $6.6 billion, increasing 54% year-over-year and translating to earnings per share of $7.05.
I'm bullish on Apple and have no concerns regarding the company's share price or future. I will look to buy pullbacks and ease into a position. Be careful not to buy too much too early. The market may challenge previous lows, which should give investors an opportunity to buy Apple much cheaper. In this case, you have to follow the trend. Apple has had a successful track record of continuously generating profits, and I expect that to continue. At current prices, the market is discounting the future pipeline of the company. Apple has done an amazing job of building its brand to a point that many consumers purchase every launch of its products; the iPad and iPhone lines are good examples of this. With expectations of additional product launches next year, I don't see any reason why Apple can't get above the $426 mark and go much higher.
Disclosure: I have no positions in any stocks mentioned, but may initiate a long position in AAPL over the next 72 hours.