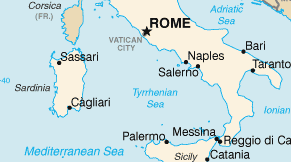 Italy's stock index, the FTSE MIB, was down nearly 2% on Friday while yields on government debt surged following a poor bond auction that highlights the markets' elevated fear over Europe's debt crisis.
The iShares MSCI Italy (NYSEArca: EWI), an equity exchange traded fund, is down nearly 30% year to date and was set for more losses on Friday. The sell-off has dragged the ETF dangerously close to its 2009 low in the aftermath of the global credit meltdown.
Exchange traded notes indexed to Italian bonds — PowerShares DB 3x Italian Treasury Bond Futures ETN (NYSEArca: ITLT) and PowerShares DB Italian Treasury Bond Futures ETN (NYSEArca: ITLY) – were also poised to open lower Friday.
The trouble in Italian bonds follows a weak auction in Germany earlier this week.
"Italy paid a record 6.5% to borrow money over six months on Friday and its longer-term funding costs soared far above levels seen as sustainable for public finances, raising the pressure on Rome's new emergency government," Reuters reported.
"The pricing is awful," said Padhraic Garvey, rate strategist with Dutch bank ING, in the article. "The object of the exercise this morning was to get the job done and they've done that, but that's about the only positive thing to say."
Moody's cut its credit rating on Hungary to "junk" status, further stoking sovereign debt fears in Europe.
"Unless politicians come out with clear signals and a clear plan on how to deal with these issues and let the ECB intervene accordingly, there will be more and more chaos," said Christian Tegllund Blaabjerg, chief economist at FIH Erhvervsbank, in a MarketWatch report.
iShares MSCI Italy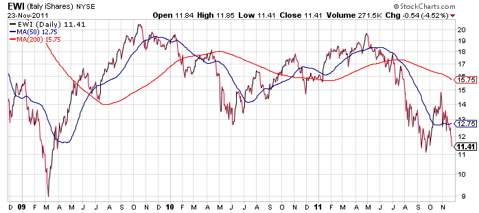 Click to enlarge
Disclosure: None