Venture capital is the lifeblood of the life sciences industry. Because of the high costs of R&D and clinical trials companies need cash, and a lot of it, in order to keep the lights on long enough to demonstrate their potential. Biotech is often sold as the best industry to hit home runs in, and entering at the VC stage provides the opportunity to hit grand slams. However, you also have a much higher chance of striking out.
Lately, some VC firms have been striking out more often than they would like. Increasing regulatory oversight and uncertainty has increased cost and risk causing several firms to spin off their healthcare arms or end healthcare funding completely. This is likely to reduce the level of investment, a negative for the biotech industry, but a benefit for companies that are still investing, as there will be fewer firms chasing deals causing valuations to decline. While the opportunities for returns are there, short of taking a rich uncle and some Ph.D. friends and starting your own fund, it is a space that is difficult for retail investors to get involved with.
One way to play is through the large cap pharmaceutical companies. Almost every big pharma company has discovered that, instead of acquiring or researching every promising technology, it is often more capital effective to make venture investments. The investment objectives of these VC arms are different from most VC firms in that their goal is to stay connected with potential new technologies without taking the full cost of the research. In a conversation I had with Johnson & Johnson's CFO Dominic Caruso he stated that JNJ's fund generally looks for investments that can be synergistic with JNJ's own research and products. Making a return is not the top priority.
Because these venture arms are generally making investments a few million dollars at a time they are not going to move the needle for the pharma companies on their own. However, they can help megacap pharma companies stay ahead of the curve and keep pipelines full. Often smaller companies with successful research are acquired by their larger investors. Investments by these companies can also be used as a signal for individual investors. If a company is coming public, having an investment from one or several of these firms can be seen as a "seal of approval." Additionally, by tracking what areas these firms are investing in, one can see where they see opportunity and can often invest in similar sciences.
For more of a pure play in venture capital, there are a few publicly traded venture capital firms. One of them is Safeguard Scientifics (NYSE:SFE). Safeguard is a Philadelphia based firm focused on growth capital investments of up to $25 million per company in the healthcare and technology sectors. Currently the firm has a portfolio of seven life sciences companies including NuPath Inc. (PATH), Tengion (TNGN) and five privately held companies. In addition, Safeguard holds a stake in healthcare billing company in their technology segment.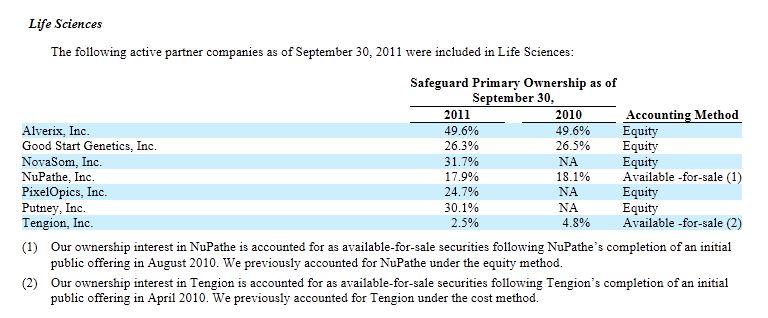 Unlike business development corporations which generally make debt investments only, Safeguard does not pay a dividend and almost all of its revenue comes when it sells its stakes. Exposure is concentrated and the failure of one or more of their investments would have a major impact on the value of the company. However, the company has a strong track record of investments including Advanced Biohealing (ABHB) which was sold to Shire, Avid Radiopharmaceuticals sold to Eli Lilly (NYSE:LLY), and Clarient sold to GE. Since January, 2006 the company has averaged a 2.4x cash-on-cash return on its investments.
Company management includes C-suite level executives with experience in large pharmaceutical companies, startup healthcare firms, other VC firms, and investment banking and accounting firms. They take a hands-on approach to their investments, with executives on the boards of every partner company.
Life sciences is one of the riskiest industries to invest in, and getting in before the company goes public is usually even riskier. However, the rewards can make it worthwhile if you have the expertise to do it well. If you don't have the capital, expertise or desire to start your own firm, investing in experienced VC investors can provide a good alternative.
Disclosure: I am long AMGN, PFE, LLY.
Additional disclosure: I am currently seeking employment in healthcare venture capital.