O'Reilly Automotive (NASDAQ:ORLY) has been on a very strong uptrend since the beginning of 2010. O'Reilly has held up well in this volatile environment. Many consumers are holding back on buying new cars and instead focus on repairing their cars; this trend has benefited retail automotive companies like O'Reilly. While miles driven is under some pressure, I speculate that the yield of auto parts demand per mile driven is better since a higher percentage of miles driven are in vehicles that are now out of warranty.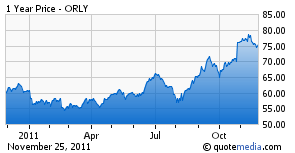 O'Reilly's third quarter comparable store sales increased 4.8%; this is on top of the 11.1% increase the company saw last year. This comparable store sales also exceeded the company's expectations of 2% to 4%. The better-than-anticipated performance came primarily from the commercial side of the business. The company also saw success from its CSK conversion stores.
Here are more points I like about the O'Reilly story:
- The company expects a 3% to 5% comparable store sales increase in the fourth quarter. This would mark two solid years of strong performance.
- Gross margin increased to a rate of 49.1% of sales, a 50 basis point improvement compared to the second quarter of 2011 and last year's third quarter. The company plans to further increase its margins by utilizing new technologies that make its distribution centers more efficient. The company also plans to utilize a new regional pricing model that would help ensure that the company is maximizing sales.
- O'Reilly opened 138 net new stores for the year. The company plans on opening another 32 stores in the fourth quarter, ending the year with 170 net new stores. I expect this strong growth to continue going into next year.
I'm bullish on O'Reilly and view pullbacks as opportunities to buy. Macro factors have a big effect on O'Reilly's business demand; these factors are miles driven, age of vehicles on the road, fuel prices and unemployment. I expect the company's strong performance to continue as the economy remains weak and the macro trends benefit O'Reilly.
Disclosure: I have no positions in any stocks mentioned, but may initiate a long position in ORLY over the next 72 hours.