The market has been looking for an excuse to rally. The US economic news has been relatively good with Initial Claims numbers below 400,000 lately. Black Friday is being called a success for retailers. The latest news suggests that Germany and France are planning a quick new stability fund that might convince the ECB to step up its purchases of EU member bonds, especially those of Spain and Italy. This is still speculation at this point, but it could well be the rallying cry for all of the money managers who want a traditional Christmas rally.
If there is such a rally, energy and precious metals may rally the most. Currently, the futures for Monday Nov. 28, 2011 are up significantly. Asian markets are up significantly. Any good news from Europe means good news for both the US and the Asian markets. It also likely means inflation and all that goes with it. A European solution may mean a stronger Euro near term. This usually means higher energy prices.
Some of the most trampled energy stocks are the coal stocks. The table below contains the current one year forecast percentage gains for each of the listed coal stocks based on each stock's current price and on its one year analysts' target price. The data are from Yahoo Finance. The stock's described are: Cliffs Natural Resources Inc. (NYSE:CLF), Rio Tinto Plc (NYSE:RIO), Peabody Energy Corp. (BTU), Alpha Natural Resources Inc. (ANR), Arch Coal Inc. (ACI), James River Coal Company (JRCC), Patriot Coal Corp. (PCX), Walter Energy Inc. (NYSE:WLT), and CONSOL Energy Inc. (NYSE:CNX).
| | | | | | |
| --- | --- | --- | --- | --- | --- |
| Stock | Forecast 1 yr. % price increase | Avg. Analysts' Opinion | 5 yr. EPS Growth Forecast | P/E | FPE |
| | 81% | 1.9 | 18.11% | 4.61 | 4.60 |
| | 100% | 1.6 | 9.00% | 5.68 | 5.04 |
| BTU | 84% | 1.9 | 30.99% | 9.44 | 6.26 |
| ANR | 100% | 2.1 | 29.92% | 39.43 | 10.01 |
| ACI | 100% | 2.3 | 41.23% | 18.72 | 5.14 |
| JRCC | 114% | 2.7 | 13.40% | 13.02 | N/A |
| PCX | 97% | 2.7 | 5.00% | N/A | 13.30 |
| | 61% | 2.5 | 21.18% | 10.31 | 7.09 |
| | 75% | 1.8 | 27.50% | 14.85 | 9.62 |
Is it ludicrous to play this bounce when the price of coal is falling through the floor? Actually, the price of coal has been fairly stable for most of this year. The five year price chart of Australian thermal coal (see the mundi chart below) shows coal may have suffered a small correction (in historical terms) this year, but it still looks healthy. Plus, the demand from India and China for imported coal is still increasing, and it is forecast to continue to do so for some time.
click to enlarge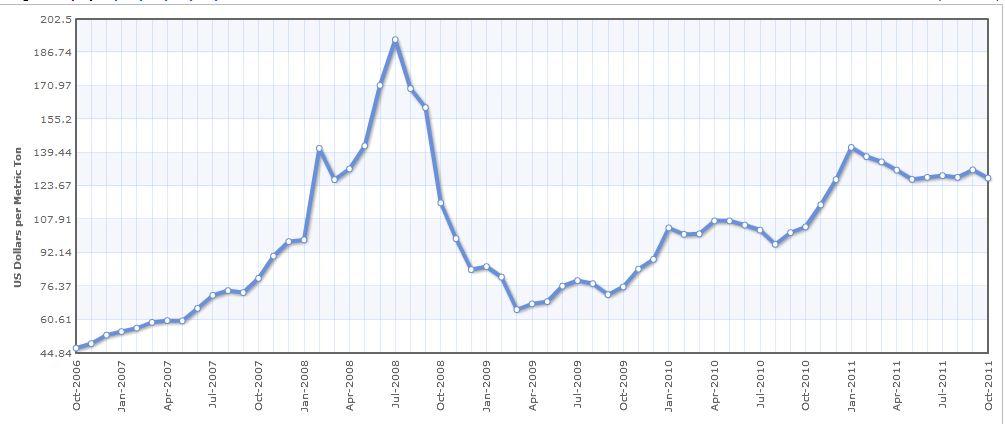 If this market bounce is just a flash in the pan, you may want to unload your coal stocks. They may continue to go down on expectations of worsening world economic conditions. However, many of the above stocks are great values now. You will not go too far wrong buying them, and they should hold up reasonably well, even in a continued downturn. Many of the above stocks seem well worth the risk, when a Christmas rally could be in the offing.
As both longer term holds and as short term plays, I like RIO, BTU, CLF, and CNX the best at current prices. However, most of the others are good too. PCX's fundamentals are poor compared to many of the other companies, so I would personally avoid it. Yet, it may get a good pop in the near term. RIO is a more diversified miner which mines many metals in addition to mining coal. These metals include gold. This should give RIO an extra lift as inflation expectations should go up on expectations of a new European stability fund to encourage the ECB to buy EU member bonds (effectively print money). BTU is the leader in the coal space, and it is the best pure coal play. With its 31% five year EPS growth rate per annum and its FPE of only 6.26, it is hard to find fault with this pick.
CLF is more of a play on the world economy as it produces huge amounts of both metallurgical coal and iron ore for the steel industry. With a FPE of only 4.60, it is hard to see this stock going much lower. CNX produces both thermal and metallurgical coal, but it is becoming an increasingly diversified energy company. In fact, it has recently started developing its leaseholds of approximately 200,000 net acres in the Utica shale oil window. These are purported to be as prolific as an analogous oil structure, the Eagle Ford.
If that proves to be true over time, CNX should benefit handsomely from its development efforts in this field. It and Chesapeake Energy Corp. (NYSE:CHK) and Chevron Corp. (NYSE:CVX) are two of the earliest developers in the Utica. The phrase, "the early bird catches the worm", seems apt. All of these companies should do well there, especially CHK with over 1 million net acres.
The 2 year charts of a few stocks are below. They seem to encourage the belief that these stocks may be due for a rebound.
The two year chart of RIO is below.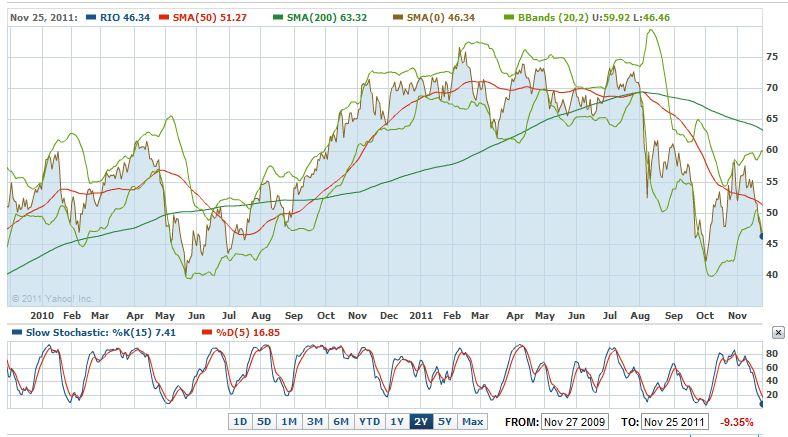 RIO is oversold for the near term on its slow stochastic sub chart. It is very near major long term support, and it is far below its 200-day SMA. It may be both a good short term play and a good long term investment.
The two year chart of BTU is below.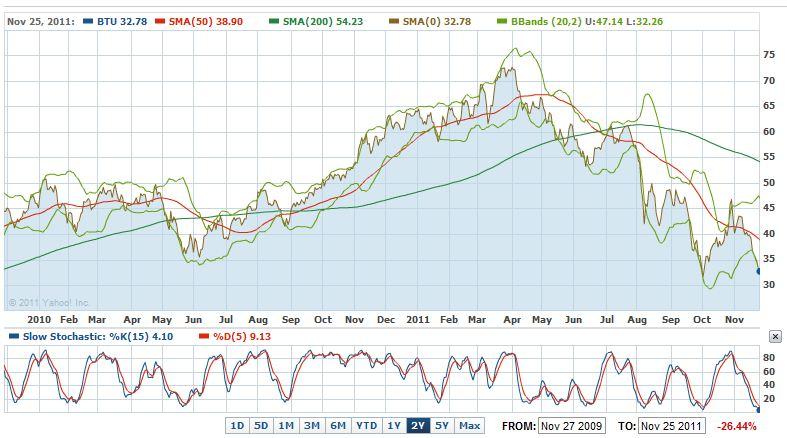 BTU is oversold for the near term on its slow stochastic sub chart. It is slightly below its long term support, which could give it somewhat of a slingshot effect on the way upward. It is far below its 200-day SMA. It is ripe for a rebound.
The two year chart of CLF is below.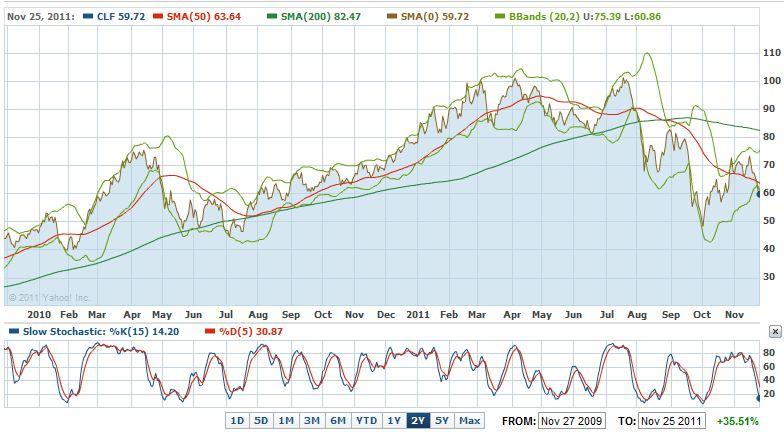 CLF is just above its long term support, which may indicate extra strength compared to its peers. It is oversold on its slow stochastic sub chart. It is far below its 200-day SMA. All indicate it is primed for a rebound. With an FPE of only 4.60, it should be a great long term investment, barring a major world economic downturn.
The two year chart of CNX is below.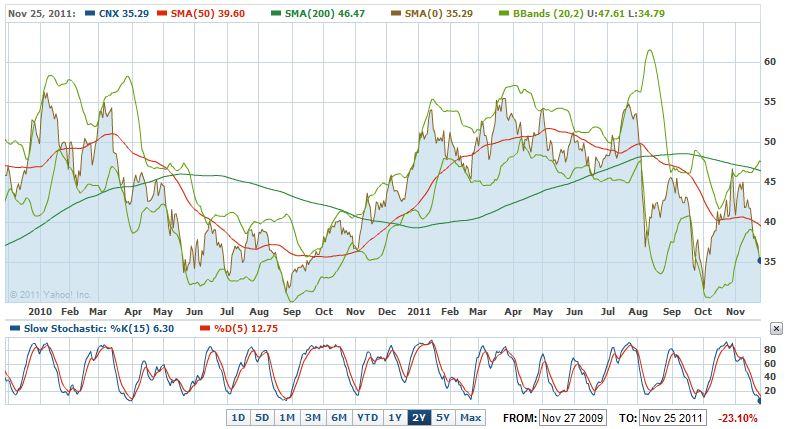 CNX is near long term support. It is oversold on its slow stochastic sub chart. It is far below its 200-day SMA. It should rebound nicely in the near term. Its emphasis on exporting coal to Europe and China should help it be one of the most profitable US coal companies for the near future. Its Utica Shale (Oil window) development should give it an added profitability bonus. If natural gas prices eventually take off as LNG transport ability and conversion processes are expanded, CNX should really take off due to its holdings in natural gas fields. This stock seems an excellent long term play in addition to its short term potential.
I do not mean to slight the other stocks. They all have good attributes. PCX, the only one of the above that is not currently profitable, is the only one that I would avoid.
Good Luck Trading.
Disclosure: I have no positions in any stocks mentioned, but may initiate a long position in BTU, RIO, CLF, CNX over the next 72 hours.