The short holiday week in the U.S. is a time when we come together with loved ones and give thanks for the many blessings we enjoy, but the mood in the financial markets was more fearful than thankful, as risk aversion drove the action once again. Let's break down the numbers.
Perspective
Stocks: Slumping equity markets remained under through the entire the week, with the S&P 500 closing in the red for each of the four trading sessions, seven in a row going back to the prior week, and nine of the last twelve. As is typical for a holiday week, volume was on the lighter side, particularly on Friday. When all had settled, the Dow Industrials and S&P 500 had dropped 4.7% for the week, the Russell 2000 more than 7%, and the Nasdaq 5%. All four indexes closed beneath their 50 and 200 day moving averages. Every S&P sector again posted losses for the week, with five sectors posting losses greater than 5%. Tech joined the financials, materials and energy in the heavy selling on big drops in heavyweights such as Amazon (NASDAQ:AMZN), Microsoft (NASDAQ:MSFT) and IBM.
Global markets also sold off, though less severely than the U.S.; many of the major indexes we follow were down in the 3-4% range. Asian markets generally held up better than their western counterparts; among the steadier performers were the Shanghai Composite, with a loss of only 1.5%, and the Thai Set Index, off 1.7%.
Bonds: Though Treasury yields at the longer side of the curve fell again, shorter maturities actually rose: the five year was up for the third consecutive week and continues to climb back toward 1%. The ten and thirty year are still yielding under 2% and 3% respectively, as global investors seek a safe haven. Corporate bond yields, on the other hand, continued to move higher. Municipal paper was relatively steady, and has performed very well in the latest bout of risk aversion, perhaps reflecting the measures local governments have had to take to shore up their finances.
In Europe much was made of the "failed" German auction of ten year bunds. The term "failed" may be a little overstated here, and the yield at 2% is simply correcting a previous drop but, whatever the cause, the bund now carries a higher yield than the corresponding U.S. note. In the markets perception often trumps reality, and the perception that Germany is not immune to contagion from the periphery is significant.
Commodities: Commodity prices again fell nearly across the board, driving the CRB index to another 2%+ loss. Oil prices held relatively steady but below the $100 mark as the Brent-WTI spread continued to narrow. Grain prices, and agricultural commodities overall, reached new year to date lows. Industrial metals were down 4%, precious metals in the 3% range, though gold fell only 2.4%. All look weak technically.
Currencies: The U.S. Dollar index advanced through short term resistance toward the 80 level. With renewed concerns about its future viability, the euro posted a fourth week of losses as it moves toward the $1.30 level. With the greenback rallying, Sterling and the Aussie and Canadian dollars also fell sharply, the latter two now below parity against their U.S. counterpart. Yen posted a smaller loss but has not broken the uptrend going back to April 2009.
Outlook
The past week's downgrade of U.S. Q3 GDP growth to 2%, above consensus unemployment numbers, and below consensus personal spending, cast a shadow on the economic recovery. On the positive side, above consensus existing home sales gave some reason to hope for a turn in the vital, and deeply troubled, housing sector. Once again, however, U.S. economic data was overshadowed by Europe's troubles. Not widely noted, the PBOC, which had raised reserve requirements for Chinese banks multiple times to slow inflation, began to reverse these moves as data comes in showing that important food prices have begun to fall.
Stocks: The current slump in the S&P 500 has made a nearly exact Fibonacci 61.8% retracement of the October rally – by my calculation the Fib number is 1158, and the index closed at 1158.67 Friday. Combined with severely oversold readings such as the NYSE McClellan Oscillator dipping below -100, my suspicion is that the market is poised for at least a relief rally in the coming week. That is, barring any new European worries. Absent those troubles, we would be nicely positioned for a "Santa Claus" rally in the U.S., but we can't ignore them, so the outlook remains uncertain. We have been bullish on the prospects for U.S. equities going into year end, but had to put our buying program on hold while the correction ran its course. I will be watching price and volume action this week for indication that the 1158 level on the S&P will hold.
(click on all charts to enlarge)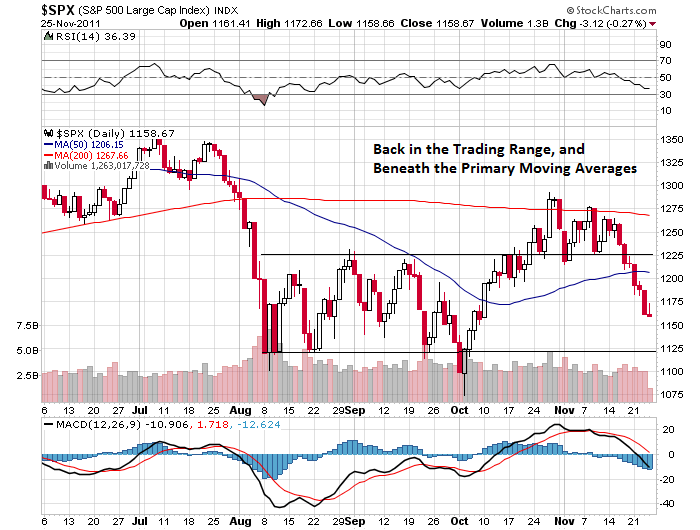 Click to enlarge
As usual, I will also be paying close attention to the action bellwether stocks. In particular Apple (NASDAQ:AAPL) has not looked sharp, and currently sits right on its 200 day moving average after forming an island top above $420, and what looks like a possible head & shoulders topping pattern. Note that most of the recent high volume days are down days, an indication that the stock is under distribution. Another is Amazon (AMZN), where profit margin compression is reflected in a breakdown on the chart that looks very uninspiring. We would like to see Apple hold the 200 day, and Amazon hold $180.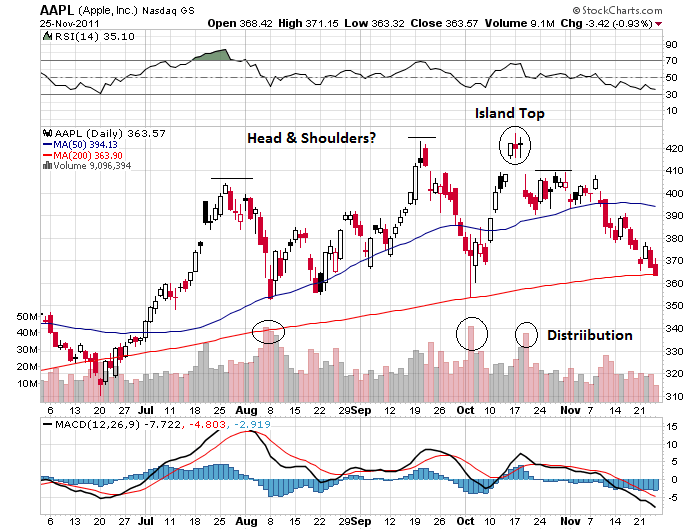 Click to enlarge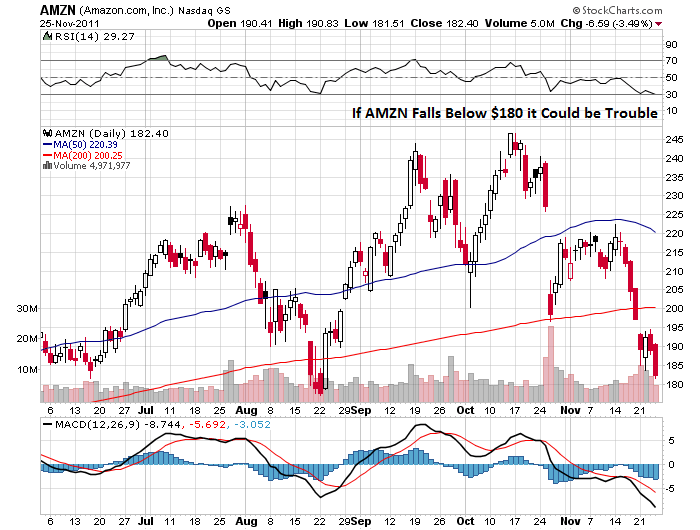 Click to enlarge
Bonds: With U.S. Treasuries bid higher and corporates bid lower, the aggregate bond index is drifting sideways. This is not a bad thing for holders of corresponding funds like the iShares ETF (NYSEARCA:AGG), but with a yield under 3.5%, it's nothing to inspire excitement. We continue to prefer corporate and municipal paper for our income portfolio. However, with muni prices rallying, new buys at current prices look a bit risky, particularly in some of the closed end funds. For example, one of our long term holdings, Federated Premier Muni Income (NYSE:FMN), is trading at a new high and a significant premium to NAV.
We hold overweight positions in short term securities, which is hurting current portfolio yield, in expectation of finding more attractive yields on high grade paper once market conditions return to something closer to normal. On the other hand, lower grade debt is more attractive now. We maintain an allocation to high yield through the iShares fund (NYSEARCA:HYG), currently yielding 8%; it would look attractive if it holds above the October lows for portfolio, for portfolios where this level of risk is appropriate.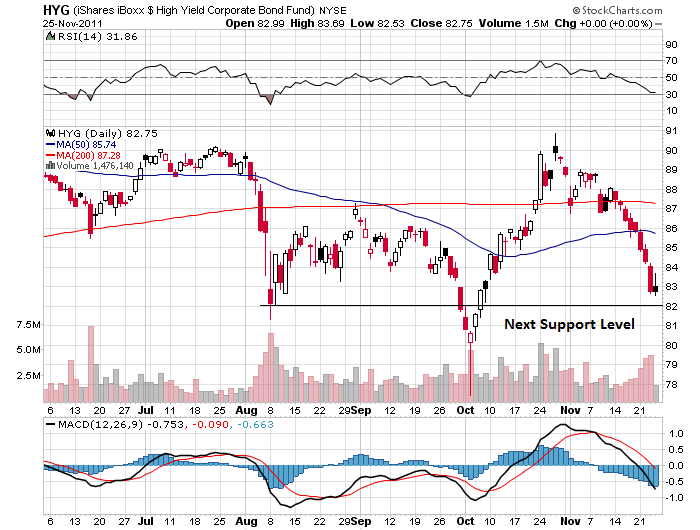 Click to enlarge
Commodities: A rallying U.S. dollar, European economies looking to be headed back into recession, and growth concerns for China are keeping pressure on commodity prices. The European situation in particular is contributing to the narrowing Brent-WTI spread mentioned above. Good news for pressed consumers is not so good for commodity investors. Were it not for stubbornly high oil prices in the U.S., commodities would likely be even weaker. One interesting note from the past week was Friday's pop in U.S. natural gas, however it is difficult to read much into it. Gold is still hanging in reasonably well with an intact uptrend, but the rest of the precious metals look broken technically. If Europe manages to actually get its program sorted, my suspicion is that gold could break as well. On the whole, it's difficult to find a reason to be bullish on commodities in the near term.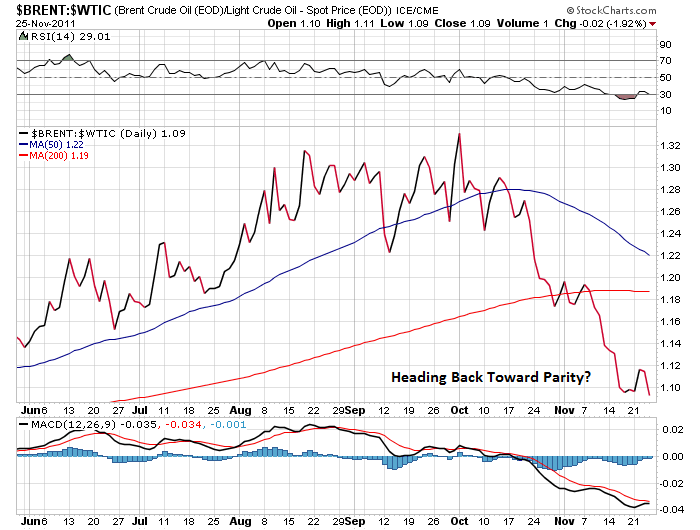 Click to enlarge
Currencies: In last weekend's article, we suggested the U.S. Dollar index would make another run at the 80 level of early October; by week's end that move was nearly completed, with the cash settle reaching 79.70. At this point we will be interested to see whether the rally fails at 80 a second time or pushes through. Again, much will depend on what gets done – or doesn't get done – in Europe. My own expectation is for the dollar to pull back early in the week, but the longer term technical outlook, as well as the fundamentals, support a further advance. That would be a problem for risk assets, as the correlation is well established empirically. As I so often remind my readers, keep an eye on the U.S. dollar.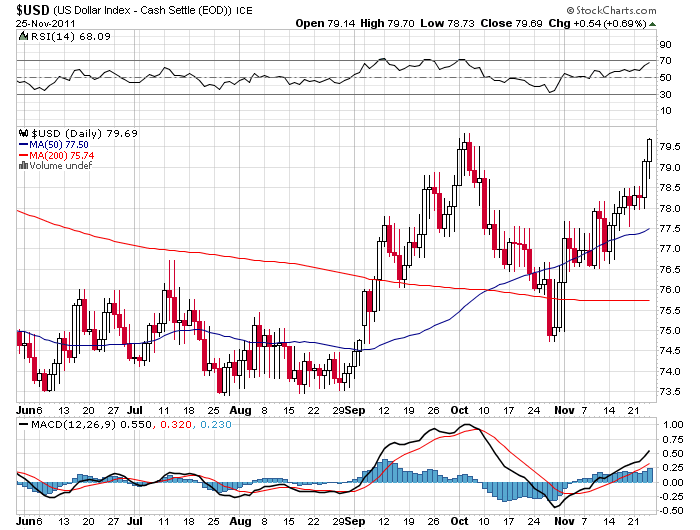 Click to enlarge
Disclosure: I am long FMN, HYG.