India has witnessed one of the longest periods of monetary policy tightening in recent history. India's repo rate stands at 8.5%. The Reserve Bank Of India (RBI) has hiked repo rates by 275 basis points since July 2010. However, wholesale price index (WPI) based headline inflation continues to remain sticky on the upside and touched 9.73% annualised (YoY) in October 2011. Core inflation (excluding food and fuel) driven primarily by non-food articles and manufactured products is exhibiting a persistent up-trend.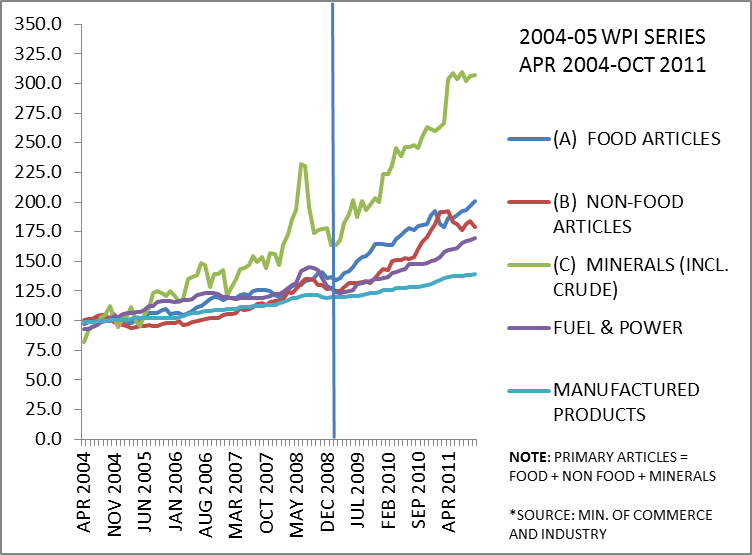 Click to enlarge
click to enlarge
This indicates that inflation is fairly broad-based and manufacturers are passing on effects of raw material price increases to consumers. Normally, a monetary policy shock (restrictive, in this context), should provide required counter-inflationary pressure within a reasonable time lag. Widely referenced research in the context of the US economy indicates that monetary policy tightening leads to a declining GDP in around four months and a drop in price levels around a year after tightening. So, what is driving persistent inflation in India despite prolonged policy tightening for over eighteen months now and what does it imply for equity investors?
Four important developments merit attention:
1. Late in 2008, the RBI proactively eased policy rates in response to a global slowdown and the credit crisis looming over most of the Western world. Repo rates were halved to under 5% by the first half of 2009. This had intended consequences and substantially insulated India from the global slowdown. By late 2009, India's annual GDP growth rate was pushing north of 8.6%. However, this also meant policy tightening had to start from a lower base to reverse the effects of inflationary pressures as the economy began to show signs of over-heating.
2. During the same period, clouds were gathering on the international crude-oil market horizon, with oil prices hitting a record high of $145 per barrel in July 2008. Since then, prices have settled closer to the $90-100 per barrel mark, substantially higher than historic averages. India has historically subsidized petroleum consumption through a complex and opaque mechanism called oil bonds. State-run oil marketing companies (OMCs) were issued bonds by the government against massive oil pool deficits.
Clearly, the economics of subsidising petrol were becoming increasingly unsustainable and tough measures had to be taken to avoid long term damage that could arise out of a burgeoning fiscal deficit. Consequently, petroleum prices were de-controlled in July 2010. An attendant creeping 3 year hike of over 50% in market price has had a knock-on effect on various components of WPI, adding to cost push inflation.
3. Bottlenecks in power, transport and supply chain infrastructure have contributed to supply side constraints impairing the timing and quantum of supplies (especially food products and perishables). As an example, fruits and vegetables WPI increased 16% in the year to October 2011, despite the monsoon being in line with Long Period Average (LPA), a metric monitored by the Indian met department to measure annual rainfall performance.
4. Most notable is the fact that India's real per capita GDP has grown at a CAGR of approximately 8% during 2006-09, putting more disposable income in the hands of consumers. Ability and willingness to consume, expanding distribution networks by corporates and media penetration have contributed to increased consumption of food and non-food articles. In particular, 'protein inflation' driven by demand for milk, pulses and enriched foods is indicative of rising income levels and a desire for a healthier standard of life.
The take-off pattern in food and non-food primary article prices since December 2008 is evident from a review of WPI series above. While there are no conclusive studies in the Indian context, historic data for advanced economies indicates that a propensity to consume increases over time as economic development takes hold. And herein lies the opportunity for equity investors.
Indian inflation appears to be undergoing a structural shift. While the RBI has been firm in implementing a sustained tight monetary policy, further policy measures are needed to augment supply side capacity. On Thursday, the Indian Cabinet cleared the decks for foreign direct investment up to 51% in multi-brand retail. While there are hurdles to cross before the bill gets signed into law, including the support of India's left of centre political parties, policy momentum to counter supply chain bottlenecks is beginning to pick up. Given fundamental changes in demography, income patterns, time to fruition for investments in supply chain and international market linked fuel prices, the Indian economy may exhibit higher than historic average inflation rate, in its quest for economic growth. The on-going policy challenge will be to ensure an optimal trade-off between inflation and growth. Both the RBI and the government now appear to be seized of this challenge.
Now, for the opportunity. Indian equity markets have steeply corrected over 2010 price levels. Interest rate sensitive stocks, primarily banks, infrastructure and auto companies have dropped steeply. For example, the Bank Nifty and CNX Auto indices on the National Stock Exchange of India have fallen 25% and 18% respectively in the last one year. Much of the bad news is already factored in, including the recent ratings outlook downgrade on the Indian banking sector by Moody's.
India's long term consumption growth story remains intact – visionary private sector banks and auto companies continue to focus on innovative products and building reach and scale into India's rural hinterland. For a value oriented stock-picker looking to diversify their portfolio and willing to take a contrarian view by raising exposure to India's domestic consumption story, the recent steep decline in November provides excellent opportunities to pick up fundamentally strong infrastructure, private sector banking and auto stocks.
Notable opportunities include Tata Motors (NYSE:TTM), Mahindra & Mahindra (OTC:MAHMF), HDFC Bank (NYSE:HDB) and India focussed funds such as iPath MSCI Index ETN (NYSEARCA:INP), heavily invested in financials, power, infrastructure and consumer discretionary.
Of course, there may be more near term pain on the back of global news flows, but that should only be looked at as an opportunity to bet on the long term growth potential of the Indian economy.
Disclosure: I have no positions in any stocks mentioned, and no plans to initiate any positions within the next 72 hours.