From 11/30/2001 to 11/25/11, shares of Microsoft Corporation (NASDAQ:MSFT) have fallen from $32.105 to $24.30. That's just under a 24% decline over the last decade. To say MSFT has been dead money over the years would be a gross understatement.
Click to enlarge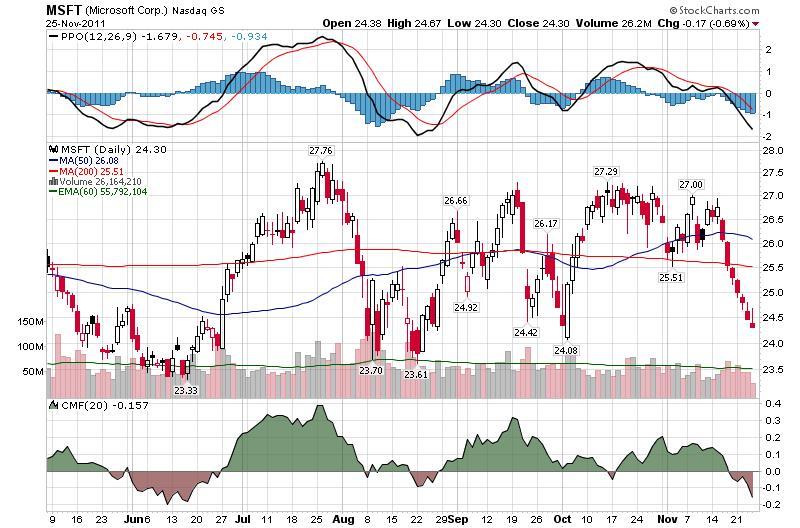 Anyone that didn't get in early in 2009 is very unlikely to be happy with Microsoft's stock performance over the last several years.
I plan to be one of the few who will succeed where so many have failed before me, and I expect to be correct in my belief that Microsoft will finally begin a long-lasting upward move, rewarding many long-suffering shareholders who have let their hard earned money sit relatively safely, albeit unproductively, in their portfolios over the years. (No, really-- it's going to happen this time.)
2012: The year Microsoft finally breaks above its decade-long trading range.
With the success of Windows 7, the all-in-one media and gaming content-providing Xbox, upgrades and updates to its innovative Kinect product (to go along with its increasing game selection), the upcoming release of the Windows 8 operating system [OS], and all of the cash it has on hand, now is the time for the company to capitalize on its current position.
Microsoft is working diligently to build and bring to market the Windows 8 OS, inspired by the successes and deficiencies of Windows 7. The new operating system should be the most PC, tablet and smart phone-friendly platform to date. Many believe Windows 8-powered mobile devices will eventually become the first true rival to Apple's (NASDAQ:AAPL) highly successful iPad (which frustratingly doesn't work with Adobe (NASDAQ:ADBE)), and the less accomplished Google (NASDAQ:GOOG) Android-powered mobile devices, as it once again begins to rebuild its once unquestioned stronghold in the consumer space. The Windows 8 tablets and smart phones should also considerably slow and potentially reverse Apple's momentum in swiping Microsoft's corporate market share.
Microsoft's Xbox is currently the gaming console to own, and is expected by many to hold the top spot for years to come. With its wide variety of gaming options, the Xbox looks to be the first all-in-one set top console. To go along with its convenient media center extender, which allows you to access media from any device on your home network, and its HDMI, USB, ethernet connections and wireless connectivity, it currently supports an external HD DVD player, streams Netflix (NASDAQ:NFLX) in high definition, allows access to Pandora (NYSE:P), Zune and Last FM, among other applications.
The company recently signed a partnership with Comcast (NASDAQ:CMCSA), Verizon (NYSE:V) and more than a handful of other media providers to allow cable content and other forms of digital media to be streamed through its Xbox, thus eliminating the need for a set top box for many cable subscribers. Its ultra compatibility should bode very well for the company in the near-term.
CEO Steve Ballmer recently said that by the end of 2011, the company plans to add the Bing search engine to the Xbox, where users will be able to take advantage of the Kinect device's voice-recognition to conveniently navigate shows and other media on the Web.
Ballmer on the Kinect:
We all know the frustrations of using guides and menus and controllers, and we think a better way to do all of this is simply to bring Bing and voice to Xbox...You say it, Xbox finds it.
Microsoft is also reportedly in negotiations with Time Warner's (NYSE:TWX) HBO, Sony Pictures's Crackle streaming service and NBC's Bravo and Syfy networks.
Which leads me into Skype video conferencing and the Kinect...
Microsoft's recent $8.5B acquisition of Skype for video conferencing appears as though it may prove to be a wise use of resources, as it should help the company make some serious inroads into and grab some market share from its sector peers in the tele/video communications realm. The company recently announced an agreement with Facebook, which will allow friends and family to connect for a video chat with relative ease, and plans to continue seeking out new applications for the service and develop new partnerships to expand its use.
The Xbox Kinect is a revolutionary hands-free controller, which is more or less a webcam-ish add-on for the console with multiple cameras and sensors. It enables its users to control and interact with the Xbox console, without the need to use a game controller or remote control, through a natural user interface using simple hand gestures and spoken commands.
In its current form, the Kinect is light years beyond its gaming competitors (Nintendo (OTCPK:NTDOY) and Sony (NYSE:SNE)), it will be improved upon in the months and years to come, and it will likely be integrated for use with Skype and other types of video conferencing. I had a good laugh the other day when I heard someone say that it may also be used as a nanny-cam someday. While the inexpensive add-on is just plain fun for gaming and communicating with others, the device's possibilities seem limitless.
Considering all of the above, and given the fact that Microsoft is keeping up with the Jones' with regard to cloud computing and giving users the ability to access their data around the clock with multiple devices, it is well positioned to become the company it unfortunately never really had a chance to be years ago.
Key Data:
| | |
| --- | --- |
| Market Cap (intraday) | 204.42B |
| Enterprise Value (Nov 27, 2011) | 161.57B |
| Trailing P/E (ttm, intraday): | 8.83 |
| Forward P/E (fye Jun 30, 2013) | 7.97 |
Balance Sheet

Total Cash (mrq):

55.94B

Total Cash Per Share (mrq):

6.65

Total Debt (mrq):

13.10B

Total Debt/Equity (mrq):

22.05

Current Ratio (mrq):

2.95

Book Value Per Share (mrq):

7.06
Cash Flow Statement

Operating Cash Flow (ttm):

27.29B

Levered Free Cash Flow (ttm):

17.10B
There aren't many companies out there with such tremendous long-term growth potential to compliment an impressive balance sheet, that trade at a meager forward P/E of 8. There are many potential revenue and growth drivers in play, and I really find the Xbox model to be intriguing. An all-in-one hand, voice, and remote controlled cable box, high definition streaming video content provider, an external HD DVD player, audio disc player, video game console, media center extender, and potential Skype gateway that is soon to have a Bing search bar. Did I mention it is capable of wireless connectivity? (am I leaving anything out?)
As such, I expect announcements of fruitful new partnerships, product innovations and the sensible deployment of some of its plentiful available cash. I am also looking for MSFT to begin seriously narrowing the valuation gap between itself and AAPL in 2012, and consider it one of my top picks in the space for 2012 and beyond.
For Microsoft's most recent annual report with links to its letter to shareholders and financial highlights, click here.