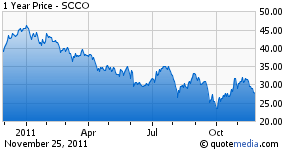 With the potential for a new round of quantitative easing, investors may want to seek an equity investment that offers a dividend yield that is above the 10-year treasury yield. A strong company to look at in the Metals and Mining industry is Southern Copper Corporation (NYSE:SCCO) traded on the NYSE. It is trading now at 10.29x Price-to-Earnings and offers a dividend yield of 9.70%. It has a twelve-month forward Price-to-Earnings of 10.30x making this a worthwhile stock to look at. Analysts on the Street have a mean target price of $37.16 for this company. If bought at the 11/22/2011 closed price of $27.81, there is a potential 33.6% upside return.
Base metals producers' P/E and EV/EBITDA multiples are trading within their historical range but towards the lower-end. With base metals falling in prices, the valuations and market prices have all suffered as investors fled to more promising investments. The current pessimistic outlook on the global economy may continue to negatively influence forecasters' predictions regarding the demand of copper. Nobody knows exactly how the European sovereign debt crisis will unfold. Until copper demand picks up, investors may want to watch closely at Southern Copper as it may continue to sell off. Over the last 52-weeks the stock made a return of negative 34.83%. This oversold stock may be worth picking up at a discounted price.
Southern Copper shareholders in the 3Q 2011 saw an 83% increase year-over-year diluted earnings per share of $0.79. Southern Copper looks to produce and sell off mainly copper, silver and molybdenum. EBITDA for the 3Q was $1 billion, which is 50.15% higher than the $666 million from the 3Q of 2010. It has an EV/EBITDA (ttm) of 6.30x with its Bloomberg peer group at 5.28x.
Southern Copper and the Copper industry both have a 5-Year expected PEG ratio under 1, which indicates a cheap company and industry. In the 3Q the company's ROA was 29.66% and the ROE was 57.39% beating the industry averages of 12.79% and 22.05%, respectively.
Southern Copper has a $5.5B capex plan for the next five years seeking to double its copper production. Copper mine production in the 3Q increased by 24.4% to a 155,789 tons whereas it was 125,192 tons in the 3Q of 2010.
With downside risk mainly coming from the price of copper, there is definitely value in this company, as the demand for this global commodity will certainly increase in the future. China is 36% of the global demand for copper according to CRU. Even though China is tightening and transitioning to a consumer based economy, experts such as the J.P. Morgan's economist believe the fundamentals there haven't changed dramatically. With a portfolio of mining projects in Mexico and in Peru that are expanding, this recession like global economy may be the best time to build a position in Southern Copper.
Disclosure: I have no positions in any stocks mentioned, and no plans to initiate any positions within the next 72 hours.