Every day, we hear stories about how crucial Black Friday, and indeed the entire holiday shopping season, is for traditional retailers. We also hear about how this will all be a barometer on the US economy. While many retailers will succeed, and many will fail, there is one that will rise above them all.
eBay (NASDAQ:EBAY) is the ubiquitous consumer auction site, and it is one of the few survivors of the dot com bubble. Founded in 1995, eBay has revolutionized commerce, and it has delivered huge profits for investors. Since the IPO, shares of eBay have soared by over 1,400%, trouncing the S&P 500's (NYSEARCA:SPY) 10.9% gain.
(Click charts to expand)

We think the shares have much farther to rise, for eBay is riding a number of secular trends to the benefit of its customers and shareholders. As a pioneer in e-commerce, eBay wins no matter what happens to overall retail sales. E-commerce is growing, and even if overall retail sales were to decline, eBay would still benefit from the shift to internet sales. It is at this point that readers may begin to wonder why we are recommending shares of eBay, and not Amazon (NASDAQ:AMZN), given that Amazon has become the "Walmart of the Internet." We have profiled Amazon before, and although we are still bullish on the stock, there are a number of factors that make the stock unappealing in the short term. Specifically, Amazon's razor-thin margins, and its nosebleed valuation. While we are confident in its long-term prospects, in this market environment, a cheaper, more stable company like eBay is preferable.
Black Friday has been an enormous success for eBay, across all of its channels. Global mobile payment volume processed through PayPal this Thanksgiving rose 511% over last year. Let us repeat that. 511%. That is a huge increase, and bodes well for eBay's prospects this quarter. Despite its name, the eBay auction website itself contributes less and less of eBay's overall profit. Below we breakdown eBay's profitability by division.
eBay Revenues by Division
| | | | | | |
| --- | --- | --- | --- | --- | --- |
| Division Revenues (in thousands) | Q3 2011 | Q2 2011 | Q1 2011 | Q4 2010 | Q3 2010 |
| Marketplaces (Transaction) | $1,353,660 | $1,349,640 | $1,284,755 | $1,259,179 | $1,185,562 |
| Payments (Transaction) | $1,032,816 | $991,118 | $942,709 | $926,161 | $797,826 |
| GSI (Transaction) | $148,444 | $16,060 | N/A | N/A | N/A |
| Marketplaces (Marketing & Other) | $299,246 | $313,799 | $268,507 | $264,996 | $225,761 |
| Payments (Marketing % Other) | $74,386 | $81,878 | $49,638 | $45,014 | $40,339 |
| GSI (Marketing & Other) | $54,174 | $7,779 | N/A | N/A | N/A |
| Corporate & Other | $3,035 | N/A | N/A | N/A | N/A |
| Q/Q Change | 7% | 8% | 2% | 11% | 2% |
| Y/Y Change | 32% | 25% | 16% | 5% | 1% |
From this breakdown, it is clear that PayPal is driving growth at eBay. Registered users reached 103 million in the last quarter, a 14% rise over last year. PayPal revenue set records each quarter, driven by continued merchant and consumer adoption, and soon PayPal will eclipse the core Marketplace division as the company's main business. But while we are most excited about PayPal, it would be wise to check on the state of the overall company, since we are not investing in PayPal, but rather eBay as a whole.
eBay's last quarter was a strong one, and the company was bullish on its prospects. eBay posted EPS of 37 cents a share on record revenue of $2.96 billion. Growth was solid across all business segments. PayPal transaction volume grew 31% to 29.3 billion, and gross merchandising volume, a key gauge at the Marketplace division, grew 16% over last year to $14.7 billion. CEO John Donahoe noted that, "Mobile commerce continues to accelerate as consumers change the way they shop and pay. We expect eBay mobile commerce to generate almost $5 billion in merchandise volume this year and PayPal mobile to exceed $3.5 billion in payment volume. Mobile is one way online and offline shopping are blending into a single commerce environment. We are focused on enabling commerce, helping consumers shop anytime, anywhere, and being the commerce partner of choice for retailers of all sizes." eBay is winning share across industries, and the results are showing. Growth was strong across all geographic regions, including Europe. International gross merchandise volume rose 18% to $9.1 billion as a result of strong sales in Europe, Korea, and currency changes. Although the operating margin did decline to 18.1% from 21.8% last year, this was due to a number of acquisitions and investments and is not due to underlying business fundamentals.
On the conference call, not a single analyst asked about Europe or the overall "state of the consumer." This is bullish, because the Street sees that success at eBay is not dependent on the health of the overall economy. Frankly, it does not matter what happens to overall retail sales. All that matters is that a larger percentage of those sales happen online, either through eBay's Marketplace division or the PayPal system. On the call, management was questioned repeatedly on growth, and CEO Donahoe was confident about the future. Specifically, he stated that:
as we look into 2012, our focus will continue to be looking at our global business as a portfolio. And we'll have -- we feel very good about the trend in our global business. The global commerce businesses, it's growing. And individual markets may go up or down along the way. The U.K. grew faster than the market last year and sustained that this year. We're delighted that the progress in U.S. this year, and we hope and believe it will extend into next year. But what we're confident, where we're most confident is that the global portfolio we will continue to improve our growth relative to the market.
While eBay may not be Amazon.com, the leader in e-commerce, it does not have to be. eBay is a different type of company meant for a different type of investor. Amazon operates on the razor's edge, and while this has worked in the past, there is no guarantee that this will continue to work. This holiday season will be yet another record for e-commerce. Despite this, Amazon has said it could very well lose money in what will be a record quarter for internet sales. eBay on the other hand, will most likely post record profits and revenue. Amazon trades at a P/E of more than 96, while eBay trades at a P/E of less than 21. Furthermore, the company's balance sheets could not be more different. Amazon.com leverages its balance sheet fully, investing every penny it can in the business. eBay, on the other hand, is far more careful, investing with precision and conservatism. And the results show. eBay has a net $4.5 billion in cash, which works out to $3.50 per share. eBay is committed to not only growing its cash, but also buying back stock and making smart, strategic acquisitions, such as Hunch and GSI Commerce.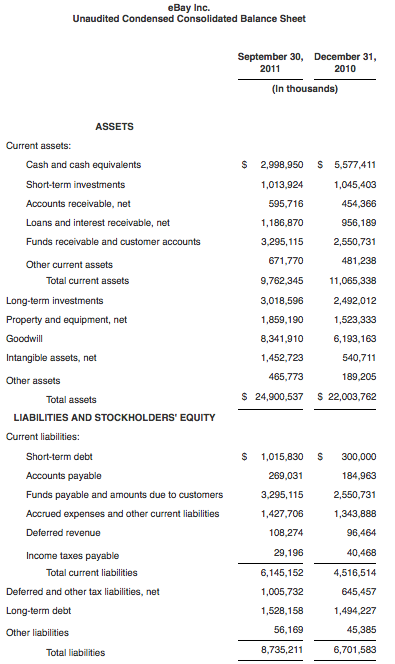 eBay is poised for continued success, regardless of the economy. Investors should take advantage of the current turmoil engulfing the markets to add to or initiate a position in eBay. And analysts agree. Argus & Credit Suisse sees the stock at $40, S&P sees it at $37. The Reuters average price target stands at $38.52, representing upside of over 36% from current levels. eBay is changing the world of online and offline commerce, connecting shoppers and merchants in new and innovative ways. And investors can connect to profits by investing in eBay.
Disclosure: I am long EBAY, We are long Amazon via the PowerShares NASDAQ Internet Portfolio, an ETF that tracks a basket of internet stocks trading on the NASDAQ. The ETF gives eBay an 8.3% weighting and Amazon.com a 7.69% weighting