One of the biggest temptations for traders is buying stocks based on an analyst's target share price increase. The bigger the upside to the price target, the more enticing it is. The scenario is common. Someone from Solid Gold Investments, LLC. puts a 200% premium on XYZ's share price, raising XYZ's price target from $5 to $15 per share. With XYZ currently trading at "only" $3 a pop, and bids rapidly upticking on the price target news, it's hard to resist buying such a "sure thing."
More often than not, however, the share price of XYZ will head north for a brief moment in time, but almost invariably come clanging back down as sellers line up to take advantage of the opportunity. Sometimes the price can take days or weeks to rise again to the price paid, or simply continue to descend. So what does it really mean when an analyst issues an outsized price target bump for a stock? Let's take a look at a recent example.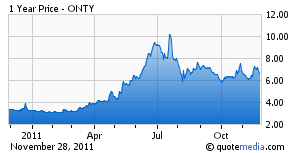 Two weeks ago, an analyst with Wedbush Morgan, a large and well-respected brokerage house, dramatically raised the share price target of Oncothyreon, Inc. (ONTY). Oncothyreon is a clinical-stage biopharmaceutical company. Its lead product, Stimuvax, is an anti-cancer vaccine designed to trigger an immune response to an antigen associated with several common cancers, including lung, breast and colorectal. Stimuvax is in Phase III clinical trials, and ONTY has an exclusive licensing agreement for the product with big pharma heavyweight Merck.
In his coverage, the Wedbush analyst boldly gave ONTY a new target of $31 per share, more than 100% higher than its previous ONTY target of $15. As expected, traders immediately jumped in and bid up shares of ONTY about 8%, driving the price from the low $6 level to almost $7 per share. In subsequent trading days, ONTY's share price fell back into the mid-$6 range, breached $7, fell back into the high $6 channel on general market selling, then jumped again to peak at about $7.70 each. By the end of the trading week, however, ONTY had settled back to about $7.15 per share. Not a bad move from $6, but a far cry from $31!
Now, sometimes a price target raise like this is directly related to the current price of an equity approaching the pre-existing target, precipitating a move higher. Not so, however, in ONTY's case, which as I mentioned was trading at around $6 per share at the time of the announcement - well shy of the pre-existing $15 target.
Other common catalysts for meteoric upside price target predictions include blowout earnings, increased revenue estimates, a significant contract win, general sector bullishness, or inside knowledge of some impending good news. Once again, none of these scenarios seem to apply in ONTY's case, with the possible exception of a groundbreaking announcement that's forthcoming. For that, we'll have to wait and see.
One thing you should always do if considering a "price target trade" is look for the obvious: does the company the analyst work for hold a position in the stock whose target is being raised, and if so, are they simply trying to buoy the price while they liquidate some or all of their position in the issue? Especially in uncertain market times like these, institutions have added motivation to reduce their exposure to risk until the markets stabilize. (With ONTY, there's no clear cut indication that that this premise applies. You can click here to check out the institutional activity in ONTY's shares.
After some basic due diligence, I come away neutral on ONTY. It's a company full of promising drugs in its development pipeline, with stout institutional support. Merck is in its corner, so ONTY has everything in place to begin banking big bucks if and when the first of its clinical stage drugs gains FDA approval. Until then, the bottom line is that ONTY remains a speculative play in market that, in recent months, has chewed up the valuations of money-losing companies like a beaver on steroids would chew up logs. That's probably not the best place to risk your money in a bear market.
Of course, an FDA approval for ONTY would almost invariably lead to a significant price pop in ONTY's share price. And keep in mind that when a stock is "in play" like ONTY, a growing level of short interest can lead to bursts of short-covering buying, which can then beget even more buying. That cycle alone can drive a stock price higher. Absent either of those dynamics, I can't find any compelling reason why ONTY shares suddenly have more potential to be worth $31, as opposed to $15.
In short, before you get too excited about one of those parabolic price target increases, put the stock on your radar screen and do your homework before taking the plunge. The news of the increase alone may good to leverage for some short-term trading gains. But unless there's an immediate, bona fide reason for optimism—grounded in something real and compelling—don't be surprised if the company's share price settles back into the range it occupied before the bullish analyst projection, no matter how high an analyst predicts the share to go.
Disclosure: I have no positions in any stocks mentioned, and no plans to initiate any positions within the next 72 hours.