In the U.S., new unemployment claims have been hovering near 7-month lows. Retailers have been benefiting from increases in consumer sentiment as well as increases in personal income. ("Black Friday" results are likely to verify the upswing.)
Meanwhile, corporate profits have been exceptional for 11 consecutive quarters. And the U.S. economy (GDP) has accelerated in every quarter of 2011, from 0.4% to 1.3% to 2.0%.
Still, moderate improvement in the United States doesn't count for much these days. Every aspect of the investment universe is being beaten down by extreme fear and uncertainty over the European Union.
The countries that comprise the "PIGS" -- Portugal, Italy, Greece and Spain -- all have new leadership in 2011; three heads of state came via resignations of prior prime ministers. Specifically, Berlusconi in Italy stepped aside to make way for Mario Monti, Papandreou resigned a few week ago to let Papademos run the Greek farce, Socrates in Portugal quit in March so that Coelho could take over and Mariano Rajoy ousted the Socialist leadership in Spain with a monumental election victory.
Why has there been so much change in Europe in 2011? In the past few weeks alone? The "PIGS" have over-borrowed and overspent, leaving the rest of Europe with the loathsome task of bailing them out. And while the debt crisis may be a European problem in theory, the PIGS problem is dragging on the global financial system.
European leaders will eventually make strides in restoring confidence in a functional Eurozone, though the shape of a union may change in form. The real questions are, "How long will it take?" and "How damaging will the process be for investors?"
Unfortunately, the answers to the questions are unknowable. The longer it takes, the more that investors will lose confidence; moreover, the longer the process, the more likely that assets will continue to fall in price.
That said, permanent gloominess never helped anyone achieve anything. The same folks who preached Armageddon in September found themselves scratching their heads last month in October – the best single month for worldwide stock markets since 1982.
In October, European leaders came up with a constructive plan for boosting the Eurozone bailout fund, thwarting the potential impact of an official Greek bankruptcy as well as helping banks endure their exposure to Greek debt. On the flip side, November is disappointingly negative because the EU is still struggling for an approach to limit the ongoing damage to larger economies like Italy and Spain.
Use the CurrencyShares Euro Trust (NYSEARCA:FXE) as your "risk" indicator. In essence, as long as FXE remains below a 50-day moving average, one should stay the conservative course. Employ unemotional stop-limit loss orders to sell investments that have dropped too far for personal comfort and invest in low volatility dividend payers. I like the PowerShares Low Volatility Portfolio ETF (NYSEARCA:SPLV) with an annual yield that is roughly 2x the 10-year treasury bond.
click to enlarge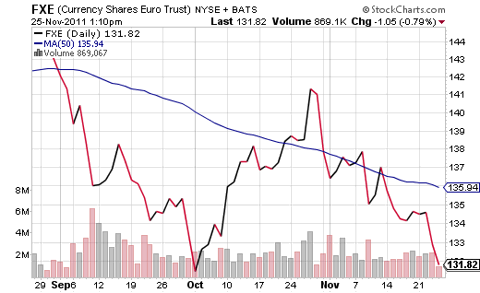 When FXE is able to reclaim the 50-day trendline, you are likely to do well with the same ETFs that soared in October. I would consider the iShares DJ Oil/Gas Exploration & Production Fund (NYSEARCA:IEO). Once again though, FXE is the key.
Disclosure: Gary Gordon, MS, CFP is the president of Pacific Park Financial, Inc., a Registered Investment Adviser with the SEC. Gary Gordon, Pacific Park Financial, Inc, and/or its clients may hold positions in the ETFs, mutual funds, and/or any investment asset mentioned above. The commentary does not constitute individualized investment advice. The opinions offered herein are not personalized recommendations to buy, sell or hold securities. At times, issuers of exchange-traded products compensate Pacific Park Financial, Inc. or its subsidiaries for advertising at the ETF Expert web site. ETF Expert content is created independently of any advertising relationships.