The market had its worst week in 10 over the shortened Thanksgiving week. There have been very few bright spots to this market in the month of November. Given the problems in Europe, the turmoil and volatility in equities should continue for a while. One silver lining is that many large blue-chip stocks have taken significant hits during the month and many are close to technical support levels that have held for at least a year. I am making a shopping list of these blue chips to buy should the market fall further. I think it is prudent to preach safety first given the real possibility that the situation in Europe could have a "Lehman" type freezing effect on the credit markets if not managed properly. To be extra defensive in putting new money to work, here are the criteria I am emphasizing in my current stock selection.
An impeccable balance sheet
A leader in its respective industry
Low historical valuation
Steady earnings and revenue streams
A solid dividend yield and/or record of significant dividend growth
Stock price close to the technical support levels that have held for at least one year.
Here are the five blue chips that are currently on my shopping list and that I am hoping to pick up if the market brings them down to my opportunistic target prices.
Johnson & Johnson (JNJ)
Credit Rating: AAA
Current Price: $61.27
Target Price: $58
PE at Current Price with current consensus EPS for FY2011: 12.3
PE at Target Price with current consensus EPS for FY2011: 11.6
Current Yield: 3.6%
Yield at target Price: 3.8%
(Click charts to expand)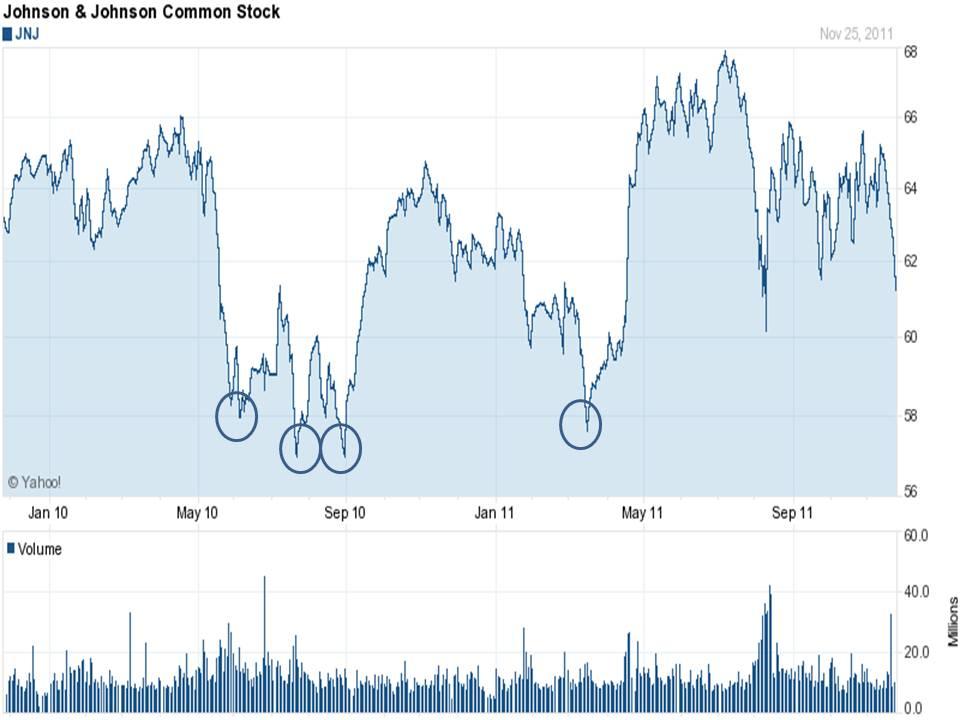 Exxon (XOM)
Credit Rating: AAA
Current Price: $73.90
Target Price: $68
PE at Current Price with current consensus EPS for FY2011: 8.7
PE at Target Price with current consensus EPS for FY2011: 8
Current Yield: 2.5%
Yield at target Price: 2.7%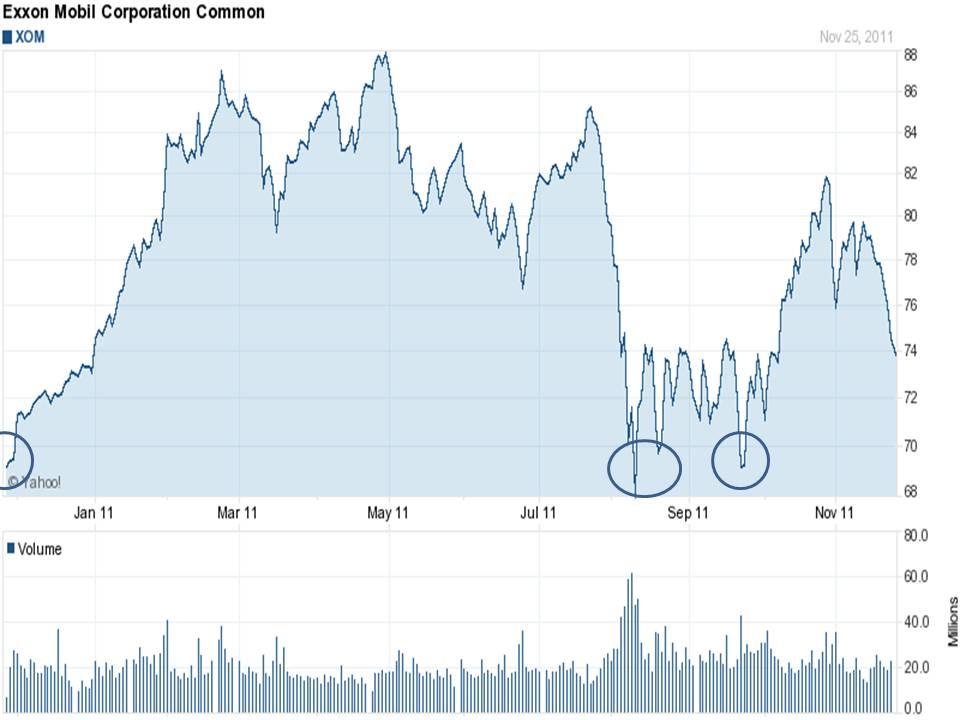 Pfizer (PFE)
Credit Rating: AA
Current Price: $18.45
Target Price: $17
PE at Current Price with current consensus EPS for FY2011: 8.1
PE at Target Price with current consensus EPS for FY2011: 7.5
Current Yield: 4.2%
Yield at target Price: 4.6%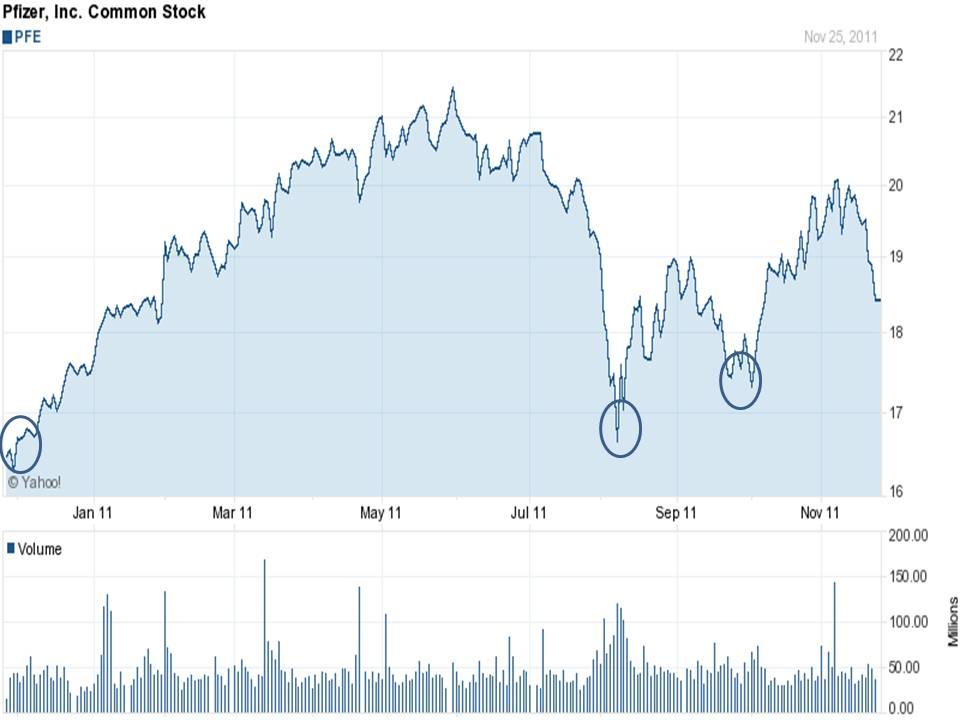 Intel (INTC)
Credit Rating: A+
Current Price: $22.73
Target Price: $19
PE at Current Price with current consensus EPS for FY2011: 9.3
PE at Target Price with current consensus EPS for FY2011: 8.4
Current Yield: 3.6%
Yield at target Price: 4.3%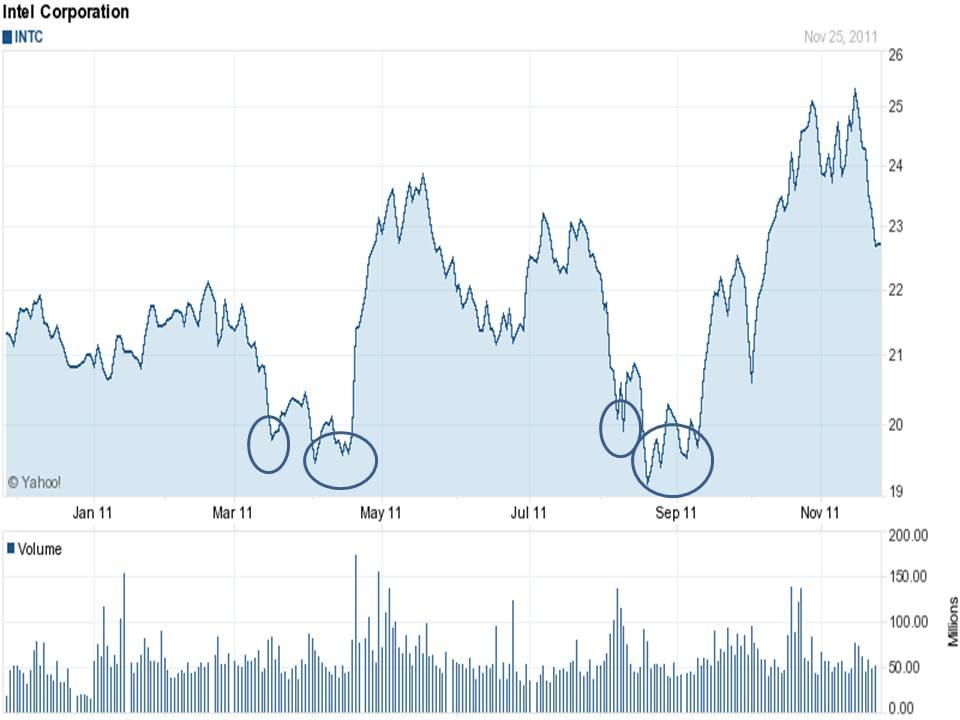 Coca Cola (KO)
Credit Rating: A+
Current Price: $64.74
Target Price: $62
PE at Current Price with current consensus EPS for FY2011: 15.6
PE at Target Price with current consensus EPS for FY2011: 14.9
Current Yield: 2.9%
Yield at target Price: 3.03%