Honeywell International Inc. (NYSE:HON) is a diversified technology and manufacturing company, serving customers worldwide with aerospace products and services, control, sensing and security technologies for buildings, homes and industry, turbochargers, automotive products, specialty chemicals, electronic and advanced materials, process technology for refining and petrochemicals, and energy efficient products and solutions for homes, business and transportation.
The company generates approximately $36 billion in sales, with more than half coming from outside of the US. Product sales generate about 80% of the revenue and services generate the remaining 20%. The trailing twelve month EPS is $3.49, this is more than double versus the EPS realized in 2003 ($1.54).
Business operations are managed through four businesses that are reported as operating segments:
Aerospace: The segment is a leading global provider of integrated avionics, engines, systems and service solutions for aircraft manufacturers, airlines, business and general aviation, military, space and airport operations.
Automation and Control Solutions: The segment is a leading global provider of environmental and combustion controls, sensing controls, security and life safety products and services, scanning and mobility devices and process automation and building solutions and services for homes, buildings and industrial facilities.
Specialty Materials: The segment is a global leader in providing customers with high-performance specialty materials, including hydrocarbon processing technologies, catalysts, adsorbents, equipment and services, fluorine products, specialty films and additives, advanced fibers and composites, intermediates, specialty chemicals, electronic materials and chemicals.
Transportation Systems: The segment is one of the leading manufacturers of engine boosting systems for passenger cars and commercial vehicles, as well as a leading provider of automotive care and braking products.
Graph 1 gives an overview of the revenue percentage per business segment based on the latest quarterly SEC filing: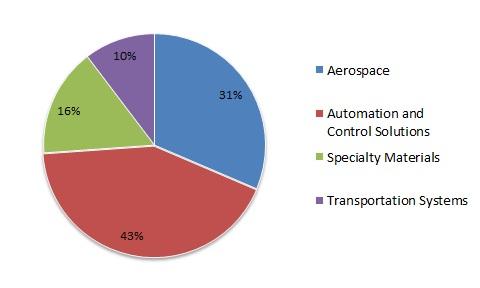 Honeywell's balance sheet looks good. The company has $3.88 billion in cash and $11.8 billion in stockholder equity, versus $8.2 billion in debt. Goodwill is around 25% of total assets. Average free cash flow over the last 3 years is approximately $3 billion. This is more than sufficient to support the $0.33 per share in quarterly dividend and the recent authorized repurchase of up to a total of $3 billion of Honeywell common stock. Financially, the company is in good shape.
There are a few risky areas investors should keep an eye on. The aerospace, transportation and specialty material divisions are short-cycle businesses, sensitive to economic cycles. Raw material inflation due to rising commodity costs, like benzene cost, can have a big impact on earnings of segments like specialty materials.
Additionally, sales to the U.S government amounted to $4.3 Billion last year (around 12% of revenue). The focus on government deficit reduction through budget cuts can put pressure on this part of the revenue.
In the last 5 years Honeywell has consistently achieved gross margins above 20%, EBIT margins above 8% and a Return on equity above 20% (Graph 2). Good results in an era of uncertain economic times and rising commodity costs.
5-Year Gross Margin, EBIT Margin and ROE Trend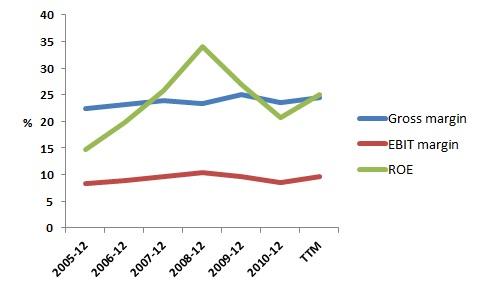 Honeywell is currently trading around $49, in between the 52-week low of $41 and high of $62. Current dividend yield is 3%. Using the discounted cash flow method, taking an EBIT percentage or 10%, tax percentage of 24%, discount rate of 10%, 10 year growth rate of 5% and a terminal growth rate of 0% gives an intrinsic value of $54 a share. I prefer to have at least 30% discount to intrinsic value when buying a stock. A price around $37 makes an attractive entry point to build a position.
Disclosure: I have no positions in any stocks mentioned, and no plans to initiate any positions within the next 72 hours.