Taomee Holdings (NYSE:TAOM) reports 3Q11 results some time today (November 28.) The Street expects the company to earn $0.09 per share on $12.37 million in revenue.
In Q2, Taomee earned $0.14 per share, compared with $0.19 in 2Q10, on $11.8 million in revenue (+22.6% year/year). Both revenue and EPS results beat the consensus estimates.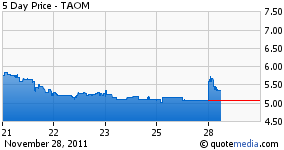 Online business revenue was $10.7 million (+19% y/y), driven by its new virtual world launched early this year. Offline business revenue was $1.1 million (+83% y/y), driven by strong merchandise and book licensing.
Total active accounts decreased 12% to 24 million from 27.3 million due to seasonality as the second quarter has fewer non-school days compared with the other three quarters of the year.
Despite being a small company, Taomee has a big ambition of becoming the Disney (NYSE:DIS) of China.
Since June, Taomee launched a fully animated TV show based on its top selling Mole's World franchise and an animated movie, "Legend of the Moles-The Frozen Horror," which generated $2.8 million in box office revenue. In addition, the company began beta testing "Seer 2," the second virtual world based on the Seer franchise, and released its animated movie, "Seer: The Search for the Sacred Phoenix," that generated over $6.2 million.
For the rest of the year and 1H12, Taomee is expected to continue to invest in R&D, advertising, and movie production to increase its brand awareness and total active accounts. However, the company will also likely see lower average revenue per user as a result.
Finally, a critical component of the company's future growth is "Taomee Bus," the first children's SNS in China. I expect internet users from the 7- 13 age bracket to drive the majority of the social networking site's growth because this age group is not drawn to other SNS sites such as Kaixin, Renren (NYSE:RENN), or Sina's (NASDAQ:SINA) Weibo, which are mostly used by people who are 15 years old and up. As of last quarter, the total active user base reached 2 million. Taomee Bus will likely generate user stickiness as Taomee plans to make the platform more interactively appealing to children by introducing social games later this year.

Disclosure: I have no positions in any stocks mentioned, and no plans to initiate any positions within the next 72 hours.