As Europe continues to falter, and the prospect of a new recession and possible market crack looms, it may be useful to see which large-cap or small-cap 3+% dividend stocks, if any, had positive total returns in the crash year of 2008 and the collar years of 2007 and 2009; and which also produced positive total returns in 2010 and year-to-date in 2011.
There are five stocks that pass that test, but of those five, three had comparatively healthy looking 2011 charts. They are:
These are not necessarily recommendations, but merely an indication of how few companies came through unscathed on the one hand, and perhaps some amazement that any came through at all.
This five-year weekly chart illustrates the performance of those three stocks versus the S&P 500 (proxy SPY, in black line) and U.S. aggregate bonds (proxy AGG, in gold line).
Click to enlarge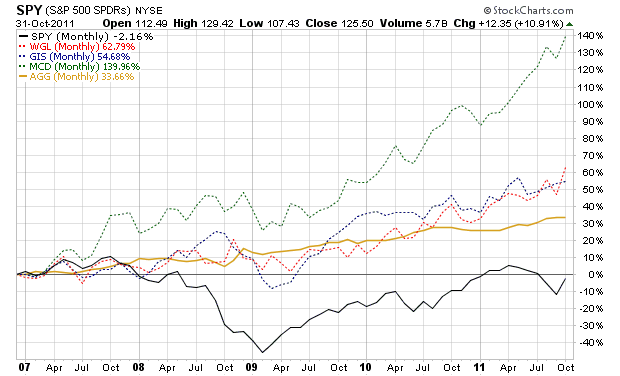 We favor the idea of being paid a "rent" for our money, whether it be in cash, bonds, stocks, real estate or other. Given that inflation has tended to be around 3%, and that until recently 30-year Treasuries were around 3%, we used 3% as a minimum "rent."
While we do hold a large cash allocation, and while cash effectively does not pay "rent" at this time, we view our cash as a tactical reserve waiting to grab good "rent" opportunities, and not an investment in and of itself.
McDonald's and General Mills are food companies, and WGL is a utility company, predominantly in natural gas.
Some of our client accounts prefer to be substantially in cash at this moment and have been since early August. For those with current risk exposure, we own McDonald's now, and do not own the other two. Similar to the other two, however, we own some other food related companies and some individual utility companies, as well as XLU (the S&P 500 utility sector) and GASFX (a gas utility mutual fund).
Here are some metrics for those three companies (yield, five-year dividend growth rate, PEG and EV/EBITDA):
WGL (3.8, 2.50, 3.51, 8.36)
GIS (3.20, 10.00, 1.83, 10.36)
MCD (3.00, 29.50, 1.76, 11.07)
We think utility valuations are a bit stretched right now, and the WGL data tend to show that with a PEG ratio of 3.51, but we are holding our positions nonetheless. We think that utilities can remain at stretched levels for an "extended" period, to use Federal Reserve terms. And the tax cost of switching out to other "rent" paying assets is a factor too.
General Mills and McDonald's may have commodity input cost squeezes, but it's hard to imagine shoppers abandoning those two brands. McDonald's, in particular, has its feet planted firmly around the world, including in developing economies, which is a good thing, while the over-leveraged developed world tries to unwind their debt and deficit excesses.
Disclosure: QVM has long positions in MCD, XLU, and GASFX in some accounts and does not have positions in any other mentioned security as of the creation date of this article (November 27, 2011).
Disclaimer: This article provides opinions and information, but does not contain recommendations or personal investment advice to any specific person for any particular purpose. Do your own research or obtain suitable personal advice. You are responsible for your own investment decisions. This article is presented subject to our full disclaimer found on the QVM site available here.