Global markets are rallying today on rumors about a possible IMF loan to Italy, vague plans about issuing "elite" euro-bonds but mostly as initial figures indicate that the US shopping season has started strongly.
Black Friday
Retailers saw sales for Black Friday increasing by some 17% to roughly $52.5bn. The 4-day sales period stretching from Thursday till Sunday lured shoppers to go bargain hunting. High-profile deals of LivingSocial Inc. and rare discounts at Apple (NASDAQ:AAPL) stores all boosted sales.
In total some 226 million shoppers were hitting the streets, up 7% compared with last year. Average spending was up 9% to $399 a person.
(Click to expand)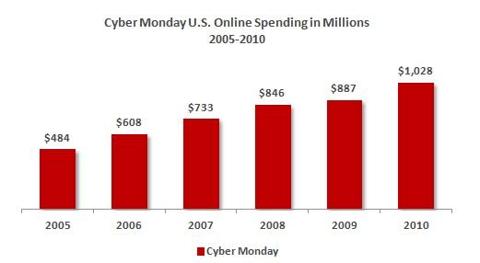 Click to enlarge
Cyber Monday
As if Black Friday was not enough to push consumer spending, Cyber Monday was introduced in 2005.
Consumers who were not able to do their shopping during the Black Friday period could now order more presents online at work on the Monday after the holiday weekend. Last year online sales on Cyber Monday breached the $1bn barrier for the first time. ComScore, expects sales of over $1.2bn for this year as consumers seek to take advantage of "free shipping" and steep discounts.
Retailers leading the market
While Cyber Monday already prolonged the Black Friday holiday season, some retailers go a step further and continue to offer special deals for the remainder of the week in order to stretch the holiday season as long as possible.
The encouraging initial sales data is pushing retailers higher on Wall Street.
Amazon.com (NASDAQ:AMZN) is up 5% after announcing it sold four times more Kindles compared with last year. Electronic Arts (ERTS) was up some 8% after CITI upgraded the stock and sales data indicated strong demand for video games.
Retailers Macy's (NYSE:M) and recently plagued Abercrombie & Fitch (NYSE:ANF) were up some 5%, with Foot Locker (NYSE:FL) adding 10% as UBS put a buy recommendation on the stock.
Some analysts say initial sales are important as they provide a lot of valuable inventory management information for retailers heading into the holiday season. A few others are worried about having such steep discounts so early in the season, wondering whether discounts are masking the true situation in which many traditional retailers find themselves as they have to compete with their online counterparts.
Disclosure: I have no positions in any stocks mentioned, and no plans to initiate any positions within the next 72 hours.