Since the S&P 500 peaked in early May, it has declined by about 15%. Many stocks, though, have suffered dramatically worse fates. In fact, over 6% of the S&P 500 has declined by over 50% from their 52-week highs. As tax-loss selling is likely nearing a peak, I thought it might be interesting to take a look at these losers to see if there might be any potential ideas. Here they are, sorted by best to worst within their economic sectors: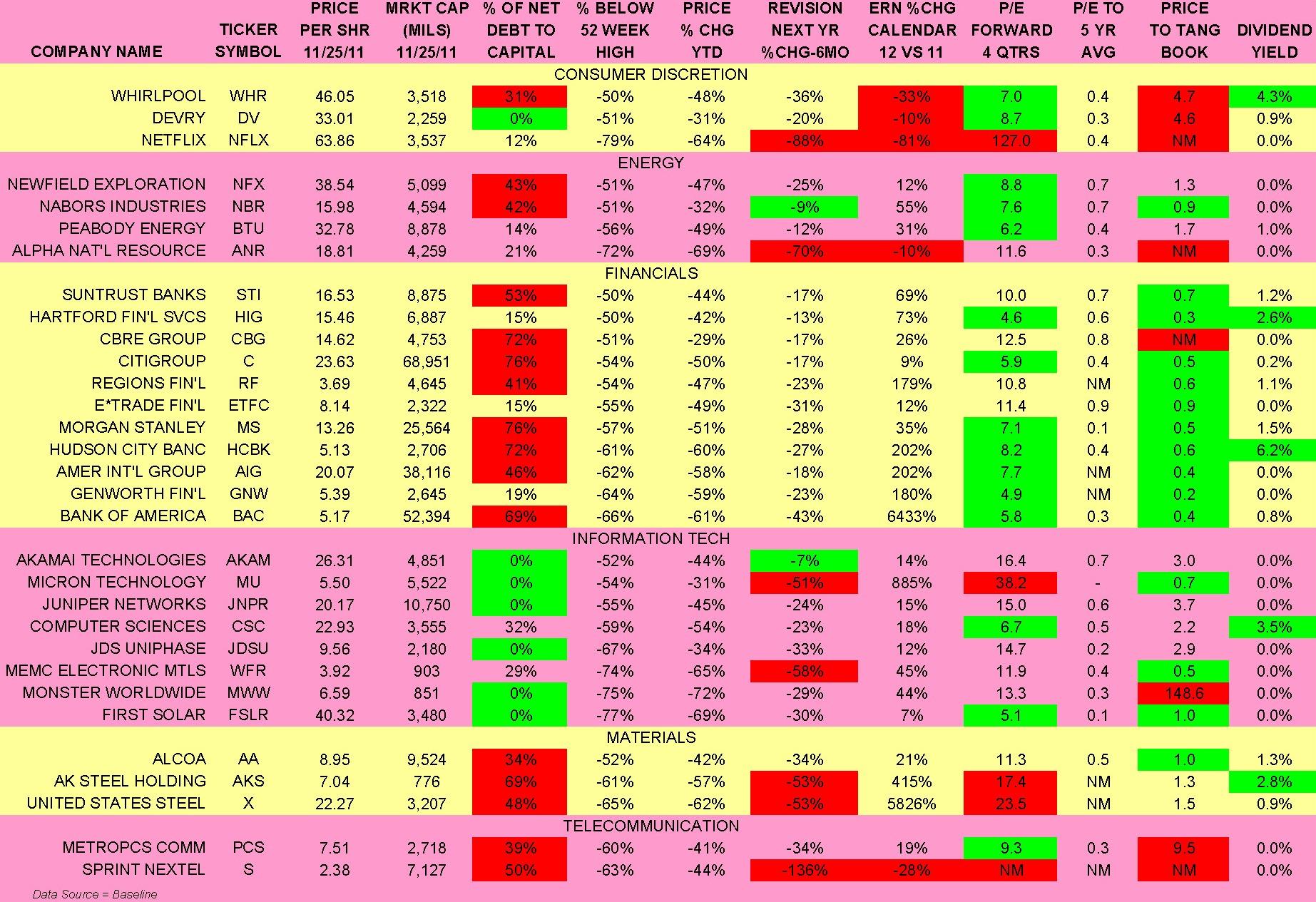 Click to enlarge
(Click to enlarge)
I have included several variables and color-coded them to help assess potential opportunities. In this environment of sluggish economic growth and the potential for another round of credit contraction, it makes sense to consider debt levels. While there are several different ways to do this, I have included net debt to capital. Companies with more cash than debt are highlighted in green, while those with 30% or greater are marked in red.
Valuations have been compressing in general this year, but some of these companies have seen their earnings estimates slashed while others have suffered more modest reductions. Those with revisions to next year's earnings over the past six months of less than 10% are highlighted favorably, while those with chops in excess of 50% are signaled in red.
While I didn't credit strong expected growth, I thought it was important to point out companies whose earnings are actually in decline.
Not surprisingly, many of the PE ratios are quite low, especially in the Financials sector. I have indicated favorably those below 10X on a forward basis and negatively those above 15X.
While there is no such thing as a floor above zero for stocks, often tangible book value can signal potential support. While almost all of the Financials trade below tangible book value (and are highlighted as such), several from other sectors meet this criterion as well. I have pointed out those with P/TB ratios in excess of 4 as well.
Finally, a few of these stocks offer above-market dividend yields, and I have highlighted them as well.
The three Consumer Discretionary stocks that have been cut in half are all expected to see lower earnings next year. Devry (NYSE:DV) and Netflix (NASDAQ:NFLX) suffer from potentially broken business models. Whirlpool (NYSE:WHR) seems to need a recovery in housing to reignite its fortunes.
In the Energy sector, Nabors jumps out as deserving a closer look given its valuation as well as its more modest reduction to earnings. In the past month, it has essentially tracked the market despite relatively weak performance in the Energy sector, a potential sign of seller's exhaustion. Peabody (BTU) too seems very inexpensive at 5X EV/EBITDA and its lowest PE ever.
Finding an attractive Financial from a valuation perspective is one of the easiest tasks today, assuming the numbers are actually close to being correct. With the sector itself down over 26% YTD, I am not so sure that scraping the bottom of the barrel is necessary.
Within the Technology sector, several of the names look interesting, especially considering that most of these companies are also flush with cash. I have followed Akamai (NASDAQ:AKAM) closely (it's the only one here on my watchlist) and find it to be an exceptionally well managed company. The constant knock is fears of competitive threats. Juniper (NYSE:JNPR), too, seems to be an excellent company, but growth has definitely slowed this year. Computer Sciences (NYSE:CSC) isn't a very exciting company, but it sure is cheap. The recent announcement in October that its CEO would be retiring within the next year has raised some speculation regarding the potential for the company to be acquired. First Solar (NASDAQ:FSLR) at 5 PE and trading at tangible book value just saw its CEO exit.
The trio of steel companies making the list tells me that it might be an industry issue rather than a company-specific problem. It's a commodity, and these guys don't have the lowest cost.
Finally, with ATT (NYSE:T) offering a 6.3% dividend yield and trading at 11.5PE and 5X EV/EBITDA, I am not so sure that the two small competitors can attract investor attention.
So, while it seems like a lot of the big losers might be damaged goods, there are a few names worthy of further investigation.
Disclosure: I have no positions in any stocks mentioned, and no plans to initiate any positions within the next 72 hours.