General Electric (NYSE:GE) is a company in recovery. I am optimistic that GE will continue to buy back shares, retire debt, increase dividends, and GE Capital will begin paying a dividend to its parent in 2012. Furthermore, the prevailing opinion among wall street analyst's is for a 13% dividend increase in early December, which would increase the current yield to 4.63% at current prices of $14.70.
General Electric is a diversified international company that operates in two basic divisions, which are GE Capital and Industrial products. GE Capital is expected to contribute 45-47% of GE's earnings in 2012, a reduction from the expected 50% in 2011. Recent weakness in the shares is largely the concern of GE's 300 million dollar loans in Italian and Greek debt. The current exposure to PIIGS (Portugal, Ireland, Italy, Greece, Spain) is presently $17B, reduced from $25B in 2010. GE has $91 billion in cash on the balance sheet.
Earnings for 2010 were $1.16. Estimates for 2011 are for an increase of 17% to $1.36 a share and a 15.5% increase to $1.37 in 2012. Longer term estimates are for $2.09 in 2014, which is close to GE's peak earnings of $2.14 in 2007. If GE were to restore the dividend to 80% of its former peak dividend the yield on cost at present levels would be 6.8%. A full recovery to the former quarterly dividend of $0.31 would yield 8.5% at today's prices.
Reasons to buy General Electric:
GE Capital contributing to earnings is increasing.
EPS are estimated to grow in excess of 15% per year.
Retirement of $4B in preferred debt.
Share buybacks of $2 billion in 2011.
$91 billion in cash on the balance sheet.
Current yield of 4%.
Expected 2011 dividend increase of 13%.
High backlog of $191B in industrial orders.
Risks to Ownership:
Uncertainly with euro debt.
Economic growth in question.
Weak pricing.
Decelerating growth in emerging markets.
GE Capital reduces market valuation.
Technical Analysis: Price is on excellent support on the 13-15 area. The bear market lows of single digit pricing should not be viewed as a concern.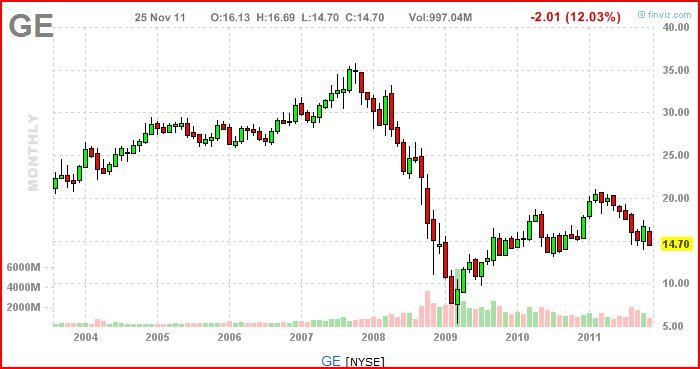 Click to enlarge
(Click to enlarge)
Conclusion: Some investors will not buy GE because of a dividend cut in 2008, ending a long history of annual dividend increases. That is understandable. For a previous article on dividend cuts look here. For those that consider that cut a rare occurrence, the shares deserve strong consideration for purchase at current prices. The dividend has been increased three times over the last two years from $0.10 to $.15 a quarter. Earnings are growing and currently projected to nearly match GE's peak earnings in 2007 by 2015. I consider shares a strong value in the $13.50 to 15 price area.
Disclosure: I am long GE.