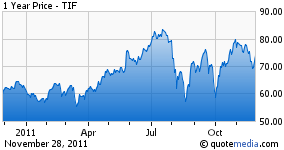 Tiffany (NYSE:TIF) reports its 3Q11 results on November 29th. The Street expects the company to earn $0.61 per share on $802.14 million.
In Q2, Tiffany reported net sale of $872.7 million (+30% y/y) and non-GAAP EPS of $0.86 per share. On a constant-exchange rate basis, comparable store sales rose 22%.
U.S. sales rose 25% to $438.2 million and comparable store sale increased 24%. The New York flagship store saw sale increased 41%, driven by strong Chinese, Japanese, and European tourist demand amid a weaker U.S. dollar.
Asia-Pacific sales rose 55% to $173.2 million and comparable store sale increased 41%, driven by strong sales from greater China region.
Sales in Japan rose 21% to $142.5 million and comparable store sale increased 8%, while Europe saw sales rose 32% to $101.3 million and comparable store sale increased 11%.
For the rest of the year, Tiffany expects sales to increase by the high-teens in the US, at least 30% increase in Asia-Pacific, at least 20% increase in Europe, and high-single-digit percentage increase in Japan.
Heading into the earnings, mixed macro overhang will likely weigh on the topline growth.
In the U.S., which accounts for 50% of the total revenue, Tiffany's domestic comps are highly correlated to the y/y change in the S&P 500, meaning that customers tend to adjust their purchasing behaviors at Tiffany based on the return of their investment portfolio. Because the S&P 500 Index has been volatile since the summer, U.S. sales could be negatively affected due to weaker consumer sentiment and lower Wall Street bonuses. However, strong tourist demand could offset the weak domestic demand. The steady rise in the Chinese Yuan (+4% YTD) and Japanese Yen (+5% YTD) are likely to attract oversea tourists who look for high-end purchases, positively impacting domestic sales.
In Asia, Japan is likely to see continued single digit sales growth amid weaker economy and socioeconomic changes. However, China is likely to offset this weakness with the emergence of its middle class that aspire to western luxury items. For example, weddings are becoming increasingly "westernized" over the past decade, which result in increasing demand for wedding rings and jewelry. With only 15 stores in the country, Tiffany expects to open additional 25 – 30 by 2015 when China surpasses the U.S. as the largest jewelry market.
However, like the U.S., China is also suffering from a weak stock market and stagnant real estate market. Prolonged weakness in the Chinese economy, as highlighted by the three straight months of slowing manufacturing growth, will be a major headwind for the stock price during the remainder of the year.
On a side note, Tiffany and Swatch (OTCPK:SWGAY) ended their 20-year watch agreement after three years of partnership. Ending the relationship with Swatch is positive for Tiffany because Swatch is known for its low quality watches and its brand is not comparable to that of Tiffany, in my view.
Tiffany's watch business probably contributed to less than 1% of Tiffany's revenue, but could have high growth potential in the Asia-Pacific region where the new super-rich are buying high-end items, such as jewelries, watches, and luxury cars to differentiate their status from that of the emerging middle class.
Like Louis Vuitton (OTC:MAGOF), whose brand is facing dilution, Tiffany could also lose its exclusivity amid its growing popularity and affordability among China's emerging middle class. Tiffany's current watch portfolio, which consists of mostly quartz movement watches, lack the quality, reliability, and sophistication exemplify by the mechanical watches. In order to truly capture the super-rich segment, Tiffany needs to develop a high-end watch portfolio that exhibits both sophistication and quality.
Disclosure: I have no positions in any stocks mentioned, and no plans to initiate any positions within the next 72 hours.