Apple (NASDAQ:AAPL) is known for low-balling its earnings guidance. For over 23 quarters, Apple has blown away its own earnings outlook by an average of 34%. For instance, even though Apple missed consensus estimates last quarter, EPS beat the company's own guidance by 28%. This quarter, I detect a change in plan: Apple's $9.30 estimate for the upcoming quarter isn't going to be beaten by much. I believe Apple is trying to reset expectations and is providing investors with a more realistic benchmark of the company earnings. My prediction is that Apple will surpass its guidance, but not by much. It would be a wise strategy. After all, investors have started to ignore Apple's forecasts simply because the company has clobbered them repeatedly. The company's $9.30 prediction is a tidy 45% increase over last year's quarter. This is the real McCoy of guidance. When you see the likely outcomes for the quarter, you'll see why.
For those of you unfamiliar with my trend analysis, we'll look at two metrics separately: Operating Income Per Device (OPD) and Number Of Devices Sold. OPD is simply operating income divided by the total number of units Apple sold for the quarter. Multiply OPD by number of devices sold and you get total operating income.
The graphs below plots operating income per device and number of devices sold by quarters. Q1 usually sees pressure on OPD because of holiday discounting and a higher proportion of weaker-margin iPod sales. We probably won't see a big volume in iPods this Q1 as these products have been cannibalized by the iPhone. However, we will see a low OPD due to discounting, deferred revenues, and weakening margins stemming from difficulty obtaining components due to Thai flooding. The likely range is $185 to $205 per device.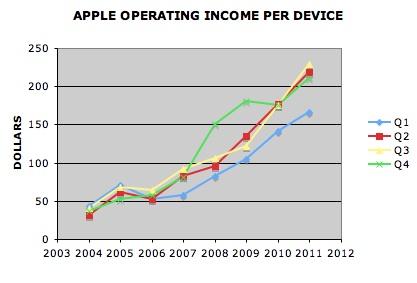 Apple Devices Sold Per Quarter
Apple's 4S sales are benefitting from pent-up demand, the product selling a record-breaking 4 million iPhones in its first weekend alone. iPhone sales were sluggish last quarter as customers awaited a new smart phone. Those sales will be pushed into this quarter, and iPhone sales should be strong. The iPad should sell well, while the iPod will continue to lag.
Extending the trend lines out, Apple will likely sell 55 to 65 million units. This Q1 will be 14 weeks. Taking the extra week into account, 59 to 69 million units should be moved.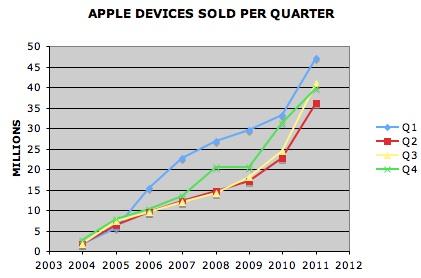 Using our OPD and number of devices sold figures, operating income should range from $10.9 billion to $14.1 billion, with $12.5 billion being the mean, and probably, most likely outcome.
Net income should range from $8.18 billion to $10.6 billion, with $9.38 billion.
My EPS estimates: range from $8.71 to $11.29, with $9.99 the likeliest target. EPS of $9.99 would represent a 55% increase in quarterly earnings.
At $9.99, Apple would beat its own guidance by 7% and analyst consensus by 28%. That small beat would represent a departure from its established pattern. For the last 23 quarters, actual EPS has come in 19% to 61% higher than guidance.
With its $9.30 EPS outlook, Apple gave investors a more reasonable number on which to base the upcoming quarter. Apple is managing earnings expectations differently this time around, providing more realistic guidance.
Disclosure: I am long AAPL.