Stock picking is an important part of making money in the market. But stock picking without good portfolio management will lose you a bundle. Starbucks (NASDAQ:SBUX) is a company that is on almost every watch list, but let's look on why it's a good stock and how we should play it. Right now the stock is in a little bit of recovery along with the rest of the market. As this graph provided by Barchart shows the stock currently is below its 20 day moving average but above its 50 and 100 day moving averages:
Click to enlarge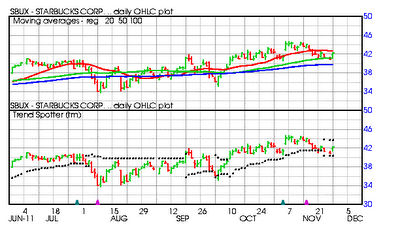 Starbucks purchases and roasts whole bean coffees. It operates 6,705 company-operated stores and 4,082 licensed stores in the United States, and 2,326 company-operated stores and 3,890 licensed stores in Canada, the U.K., China, Germany, Thailand, and internationally. The company provides regular and decaffeinated coffee beverages, Italian-style espresso beverages, cold blended beverages, iced shaken refreshment beverages, premium teas, packaged roasted whole bean coffees, and soluble coffees. Starbucks stores also offer various fresh food items, including pastries, prepared breakfast and lunch sandwiches, oatmeal and salads, as well as juices and bottled water.
In addition, it sells bottled Frappuccino beverages, Starbucks DoubleShot espresso drinks, and Discoveries chilled cup coffee, as well as markets and distributes Starbucks super-premium ice creams. Further, the company provides various coffee and tea products, and licenses its trademarks through other channels, such as licensed stores, grocery and national food service accounts. Its brand portfolio includes the Starbucks, Tazo tea, Seattle''s Best Coffee, and Starbucks VIA Ready Brew. Starbucks was founded in 1971 and is based in Seattle, Washington.
Factors To Consider
Barchart technical indicators:
Barchart uses various technical price momentum indicators from seven days to six months to analyze the current direction of a stock's price momentum
At the present time sell indicators are weakening and buy indicators are strengthening
16% Barchart overall technical buy signal - strengthening
Trend Spotter hold but this might become a buy near 44
The stock is only 5.57% off its one-year high
The stock is below its 20 day moving average but above its 50 and 100 day moving averages
The Relative Strength Index is 50.67%
Barchart computes a technical support level at 40.95
Recently traded at 42.22 with a 50 day moving average of 41.22
Fundamental factors:
21 Wall Street brokerage firms have assigned 26 analysts to follow the stock
Analysts project an increase in sales of 11.10% this year followed by another 10.40% next year
Estimates of earnings increases are 20.40% this year, an additional 20.80% next year and continue at an annual rate of 17.47% for the next five years
These consensus numbers resulted in 7 strong buy, 8 buy, 10 hold and a single under perform recommendation for their clients
The P/E ration of 27.14 is higher than the market P/E of 13.50
The dividend rate of 1.65% only 30% of projected earnings but lower than the market dividend rate of 2.40%
There is a growing market in China (now over 500 locations in China and some great joint ventures with Green Mountain Coffee Roasters (NASDAQ:GMCR) for K-Cup distribution and Pepsi (NYSE:PEP) and Dreyers for beverage and ice cream flavors
The coffee is also distributed in national and regional grocery markets
General investor interest:
This is a widely followed stock with over 7,442 readers of Motley Foll expressing an opinion on the stock
Readers voted 78% that the stock will beat the market
The more experienced and savvy All Stars voted a more optimistic 88% for the same result
The columnists Fool follows were 95% positive with their articles with Jim Cramer, Pat Dorsey and Gary B Smith offering positive comments
Competition is hard to find for Starbucks but some of the other major distributors of coffee and coffee products haven't done as well. While SBUX is up 37% McDonald's (NYSE:MCD) is up 20%, Nestle's (OTCPK:NSRGY) about even and Dunkin' Donuts (NASDAQ:DNKN) down 10%:
Click to enlarge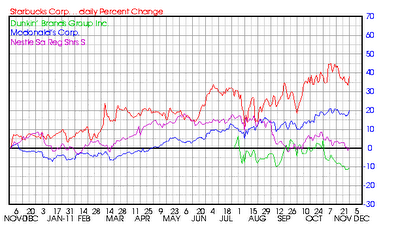 Summary: With Starbucks looking to have double digit increases of sales and earnings it is definitely a stock to be picked. The way to play the stock is to buy when its trades above its 20 day moving average and use the 14 day turtle channel or 50 day moving average as a stop loss. At the moment the stock is trading at 41.86 with a 20 day moving average of 42.64 and the lower 14 day turtle channel at 40.75. Keep your powder dry and look to get in now:
Click to enlarge