Click to enlarge
The market gapped up on Monday on the heels of good data about Black Friday as well as news out of Europe that the countries are working together to leverage the EFSF. There were other rumors out that the IMF would be helping out some of the struggling countries in the EU. Those rumors, however, may not have much truth to them. With Europe up, Black Friday sales up 7% from one year ago, and the market in a severe oversold condition, the market was due for a pop.
The market gave back most of its overall gains and ended up near where it started, but the positive news was welcome news for investors and traders as one of the worst Thanksgiving weeks in the market since the Great Depression. New home sales were out on the day as well. They came in at expectations at 307K, but the market has plenty of other data this week to get it moving.

There was no other data or earnings of significance on the day.
We had a nice day in the market as we came into the week fully bullish. Our positions long in Apple (NASDAQ:AAPL), Deere (NYSE:DE), Ralph Lauren (NYSE:RL), McDonald's (NYSE:MCD) and Nike (NYSE:NKE) improved drastically. We added to our mix with a new options play in Visa (NYSE:V). We sold the 85/82.50 bull put spread on Visa for Dec17 expiration for 0.25. That move can pay out 12% if they expire worthless. We went long on Smithfield Foods (NYSE:SFD) stock and complemented it by selling the $21 puts. The company looks very good moving into earnings.
Moving into tomorrow, we are looking to another round of data and earnings for more signals as well as the developments in Europe. We have consumer confidence, the Case-Schiller Index, and FHFA Housing Price Index for tomorrow. Additionally, we will be getting earnings from Tiffany (NYSE:TIF) in the morning before the open. Hopefully, we will continue to get some more data from the entire weekend of shopping.
We have our eye on two stocks - one for buy and one for sell right now. For purchase, we are looking at Panera Bread (NASDAQ:PNRA) right now. The stock looks like it is priming for a breakout. We have the stock Buy rated with a $155 price target. We think they would be a great buy to take advantage of more upside if the market can continue higher. The stock broke out of its upward price channel and was holding up very well during the latest pullback. Any pullback would be a great buying opportunity as well as more upside in the market.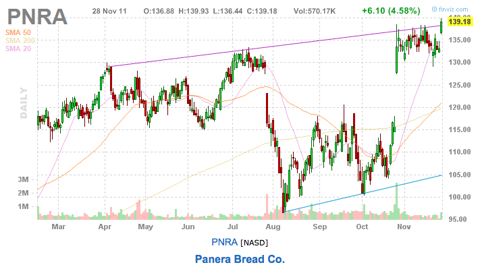 Click to enlarge
Annaly Capital (NYSE:NLY) continues to look weak in this market. It is most likely the 42% drop in EPS this year along with continuing weakness in financials. The stock looks like it does not have a ton of upside in this market. It is in a strong downward price channel, and it does not look like it has a ton of upside from here. We think a bear call spread on NLY would be able to pay off even in a good market ... if we get one.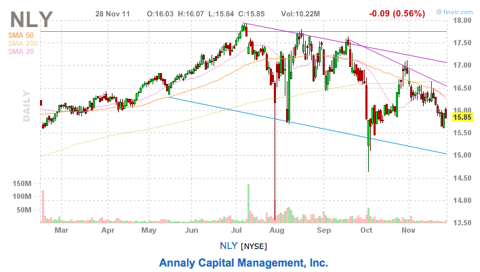 Click to enlarge
Disclosure: I am long AAPL, DE, RL, NKE, MCD, V, SFD.
Additional disclosure: I may short NLY. I may go long PNRA.